MS DAILY BRIEF – March 23 th, 2023
The Maritime Security Forum is pleased to provide you with a product, in the form of a daily newsletter, through which we present the most relevant events and information on naval issues, especially those related to maritime security and other related areas. It aims to present a clear and concise assessment of the most recent and relevant news in this area, with references to sources of information. We hope that this newsletter will prove to be a useful resource for you, providing a comprehensive insight into the complicated context of the field for both specialists and anyone interested in the dynamics of events in the field of maritime security.
MS Daily Brief will be published from Monday to Friday. Saturday will be published Weekly Brief

MS DAILY BRIEF – March 23 th, 2023
Cupons
A US F-22 intercepts a Russian TU-95 bomber escorted by two SU-35s –Video presentation.
Update from Ukraine | Drone attack on Russian ship in Sevastopol | Russia sent more old tanks – Video presentation.
Depleted uranium ammunition for tanks | DEADLY DARTS-Video Presentation.
Multinational exercise "Sea Shield 2023": Military manoeuvres were carried out to defend critical infrastructure in the Black Sea (Photo).
Le Figaro: Several Ukrainian pilots reportedly train in France on Mirage 2000 fighter jets, Kiev denies the information.
US B-52H strategic bombers – eight-hour mission in the Mediterranean. Italy and Greece overflown for exercises 
PSRL-1, the US version of the Soviet RPG-7 portable anti-tank grenade launcher, is a perfect fit for Ukrainian troops 
The MQ-9, the drone so coveted by the Russians, dramatically improves US Navy and NATO strike capabilities 
The Pentagon has completed its cost-benefit analysis on "MQ-9 in the Black Sea" and decided: U.S. drones to change routes after Russian jet incident.
The Russians claim to have repelled a new drone strike on Sevastopol. Several explosions were heard in the city 
NATO's Black Sea border is the southern shore of the Caspian Sea.
SIGNAL: Managing China's proliferation challenges – Virtual event – Online only – 05 April 2023.
How to save the US Navy – by Seth Cropsey.
Russia to cut oil production by 500,000 bpd by end of June.
Intermodal service from Moscow to Kaliningrad via St. Petersburg launched.
New Direct service from China to St. Petersburg.
'Tsunami' of strikes threatens the North Sea.
A product tanker burns off the Portuguese coast.
22 Mar 2023 #f22 #su35 #tu95
US F-22, supported by E-3 airborne warning and control system and KC-135 refuelling aircraft, intercepted two Russian Tu-95 bombers escorted by two Su-35 fighter jets
To understand why DU is a good anti-tank weapon, you need to enter Alice in Wonderland's world of high-energy collisions. When metal meets metal at five times the speed of sound, hardened steel shatters like glass. The metal flows like putty or simply vaporises. A faster projectile doesn't necessarily pass through more armour, but, like a pebble thrown into a pond, it makes a bigger splash.
Armour penetration is increased by concentrating the force of a shell in as small an area as possible, so projectiles tend to look like giant arrows. The denser the projectile, the stronger the impact for a given size. DU is almost twice as dense as lead, which makes it very suitable. The other metal used for anti-tank projectiles is tungsten, which is also very hard and dense. When a tungsten rod hits an armour, it deforms and mushrooms, making it progressively blunter. Uranium is 'pyrophoric': at the point of impact, it burns and turns to vapour, so the projectile remains sharp. When it pierces, the burning DU turns the inside of a vehicle into an inferno of white gas and sparks.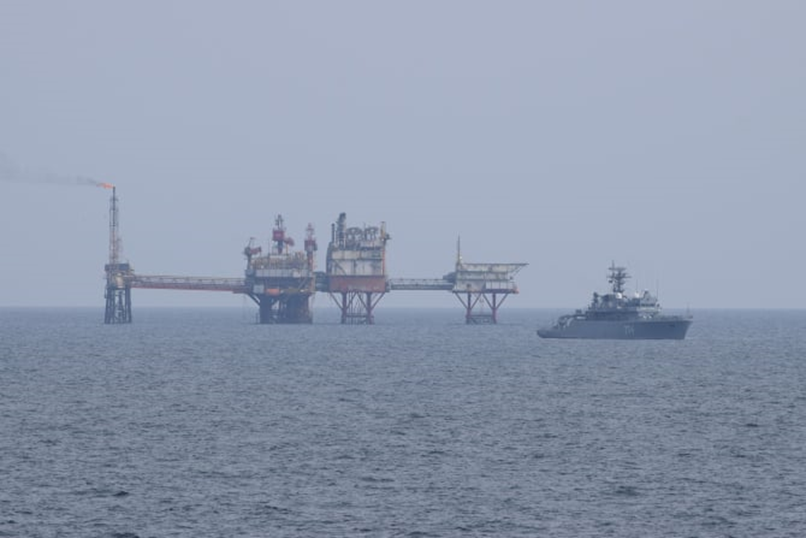 The Romanian Naval Forces are organising the multinational exercise "Sea Shield 2023" from 20 March to 2 April. Photo source: Romanian Naval Forces.
The Romanian Naval Forces are organising the multinational exercise "Sea Shield 2023" from 20 March to 2 April, planned to take place in the area of responsibility in the south-east of Romania, at sea, on the river, in the Danube Delta and in the coastal area. For a start, military manoeuvres to defend critical infrastructure in the Black Sea took place at "Sea Shield 2023".
Around 3,400 military personnel and representatives of several institutions from the national defence system, as well as from 12 other allied and partner states (Albania, Bulgaria, France, Georgia, Greece, Poland, Portugal, the United Kingdom of Great Britain and Northern Ireland, the Kingdom of the Netherlands, the Republic of Moldova, the United States of America and Turkey) will conduct complex training activities in all environments.
More than 30 military vessels of the Romanian Naval Forces, two military vessels of the Bulgarian Naval Forces, 14 aircraft from France, Romania, the United States of America and Turkey, 15 fast intervention craft and patrol vessels of the institutions of the national defence system, 57 military vehicles and other combat capabilities, such as mobile launchers, detachments of special operations forces and divers for incursion combat and against explosive devices, specialists in CBRN (Chemical, Biological, Radiological and Nuclear) defence and platoons of infantry and military paratroopers will execute the training sequences planned by the Romanian Naval Forces.
The multinational exercise "Sea Shield 2023" is the most complex training event planned and conducted by the Romanian Naval Forces, through the Naval Component Command, in the training year 2023, and contributes to the promotion of Romania's regional and international initiatives and interests, as well as to increasing the level of interoperability between the participating forces.
The exercise is also included in NATO's Combined Joint Enhanced Training (CJET) and Enhanced Military Training Exercise Programme (eMTEP).
"Sea Shield" is a complex concept for training Allied forces and was proposed by Romania at the NATO Summit in Warsaw in 2016 to strengthen security measures on the south-eastern European flank.
https://www.defenseromania.ro/exercitiul-multinational-sea-shield-2023-au-fost-desfasurate-manevre-militare-de-aparare-a-infrastructurii-critice-din-marea-neagra-foto_621800.html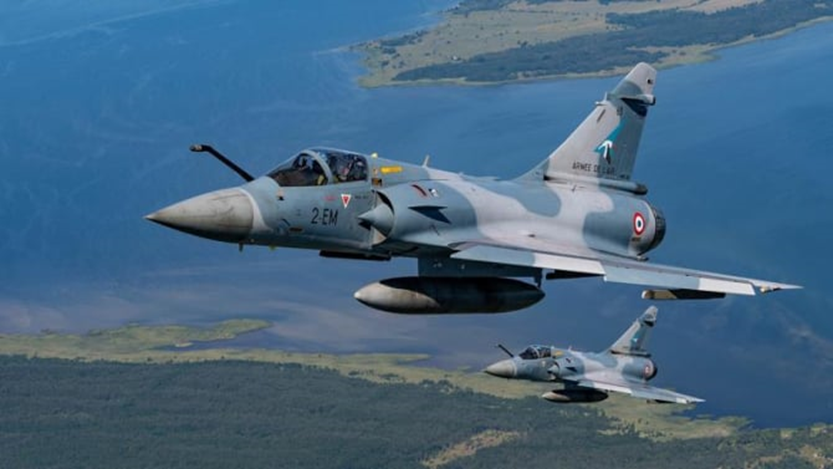 French Mirage 2000 aircraft, photo: French Ministry of Defence
Ukrainian pilots have been training for a month and a half in France on Mirage 2000 multi-role fighter jets, according to French newspaper Le Figaro. According to the newspaper, about thirty Ukrainian pilots have been undergoing an accelerated training period on French Mirage 2000 fighter jets at the Mont de Marsan and Nancy air bases for more than a month and a half.
The decision to train Ukrainian pilots was taken ahead of Ukrainian President Volodimir Zelenski's visit to Paris on 8 February. If a political decision is taken, France could provide the Ukrainian Air Force with more fighter jets.
The French Air Force currently has 195 fighter jets – 96 Rafale and 99 Mirage 2000 in various configurations, with a further 40 such aircraft in service with the French Navy.
Lately, France has been phasing out the Mirage in favour of the Rafale, but the Mirage 2000-C is considered a pretty good aircraft which, but after further upgrades, this type of aircraft may be sold to countries willing to make a purchase
Earlier in March, French Defence Minister Sébastien Lecornu told a meeting with members of the Senate that France had not yet taken any decision on the supply of fighter aircraft to Ukraine or on the training of Ukrainian pilots, but acknowledged that the subject was under intense discussion.
The issue of supplying fighter jets to Ukraine is a highly sensitive one. In the end, it all comes down to cost-benefit assessment, and Westerners are of the opinion that the huge sums of money that would have to be set aside for the transfer of aircraft could be put to much better use if equipment such as artillery systems or anti-aircraft equipment were transferred to the Ukrainian army.
However, according to the Bfmtv media channel, during hearings in the Senate at the beginning of March, French MPs asked Minister Sebastien Lecornu if he intended to transfer 12 Mirage 2000-C planes, which had been taken out of service and stored in the summer of 2022.
The Ukrainian Air Force denied the information published in the French newspaper Le Figaro
Ukrainian Air Force spokesman Yuri Ignat said that information appearing in the French newspaper Le Figaro about Ukrainian pilots training in France on Mirage jets is not true.
"There are now reports that our pilots have been training for a month and a half in France on Mirage planes. I would like to refute this immediately," the Ukrainian Air Force spokesman said, according to Ukrainska Pravda.
"We have trained our air traffic controllers in France, organized survival courses for airmen, but we are not talking about training pilots," he stressed.
Information about training Ukrainian pilots on the Mirage 2000, indigo with information about training on the F-16
Ukrainian General Serhii Holubtsov, head of the Ukrainian Air Force Command, recently told The Times that Ukrainian pilots, who were in the US during this period where his skills were assessed, would be ready to fly F-16s after less than six months of training. General Serhii Holubtsov makes this point by referring to an assessment that the Americans have already reportedly made of Ukrainian pilots.
It should also be noted that the six months of training that the Ukrainian general refers to as sufficient for Ukrainian pilots to fly F-16s is certainly the period for basic training and not for combat training.
General Serhii Holubtsov told The Times that two of the Ukrainian Air Force pilots returned to Ukraine last week after undergoing rigorous evaluation in the United States. General Serhii also said that Ukraine is losing its best military pilots in anticipation of the F-16.
The Ukrainian Air Force officially confirmed two weeks ago the presence of two Ukrainian pilots in the US. The information was communicated then in the context of countless rumors about the transfer of F-16 jets to Ukraine.
What is certain is that rumours of Western fighter jets for Ukraine are growing, despite the fact that Washington officially denies such a transfer.
"They spent three weeks there and were trained on an F-16 simulator. The results were very good: Ukrainian pilots can learn to fly and operate weapon systems on the F-16 in less than six months," said Ukrainian General Serhii Holubtsov.
At the same time, the Ukrainian military points out that Ukraine needed a large number of fighter jets of the same type.
"We are not strict on a particular model, but on technical characteristics – if there are other platforms that can hold and use the same ammunition and have the same characteristics [as the F-16], we can use that platform. We focused on the F-16 because we know there are more than 4,000 globally – it will be easy to replace them and get spare parts," said Serhii Holubtsov, chief of aviation of the Ukrainian Air Force.
https://www.defenseromania.ro/le-figaro-mai-multi-piloti-ucraineni-s-ar-antrena-in-franta-pe-avioanele-de-lupta-mirage-2000_621804.html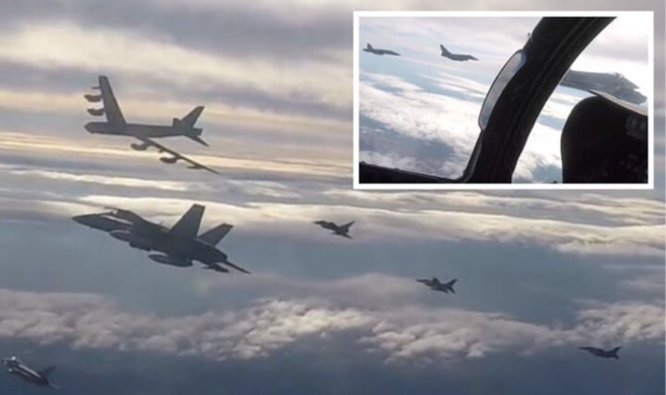 US B-52H strategic bombers recently brought to Europe flew in the area of Norway, the Baltic Sea region or near the Black Sea on 22.03.2023. Photo Source: NATO.
After previously flying US B-52H strategic bombers recently brought to Europe in the Norwegian area, in the Baltic Sea region or in the vicinity of the Black Sea, on 22.03.2023, the US B-52H strategic bombers will perform specific missions in the Mediterranean Sea.
Thus, two B-52H Stratofortress aircraft, capable of carrying nuclear weapons, flew for more than eight hours in the airspace of Italy and Greece, where they carried out exercises in cooperation with local armies.
The bombers with radio call signs NOBLE31 (registration number 60-0026) and NOBLE32 (registration number 60-0056) took off from Moron Air Base in Spain.
It should be noted that only the aircraft with the NOBLE31 radio call sign had the transponder on at all times and was visible throughout the mission. The aircraft with the radio call sign NOBLE32 was only mentioned in Twitter and Telegram posts by aviation monitoring users, but could not be tracked on the downgrade route.
After taking off from Spanish territory, the two US strategic bombers crossed the Mediterranean Sea and entered Italian airspace, where they flew for several hours over a district southeast of Perugia.
They then flew south to Italy, again over the Mediterranean Sea and into Greek airspace. Presumably in cooperation with Greek Air Force aircraft, the US bombers flew over an area south-east of Larissa and then returned to their temporary base in Spain.
Four US B-52H Stratofortress strategic bombers are in Europe on a Bomber Task Force mission starting 24 February 2023. The aircraft are stationed at Moron Air Base in Spain. So far, they have already performed several complex flights on the European continent, where they will continue to operate in the coming weeks.
Two of the aircraft, registration numbers 60-0056 and 60-0026, are capable of using nuclear weapons, while the other two are capable of using cruise missiles and other conventional munitions.
https://www.defenseromania.ro/bombardierele-strategice-americane-b-52h-misiune-de-opt-ore-in-zona-marii-mediterane-italia-si-grecia-survolate-pentru-exercitii_621805.html
Ukrainian servicemen in Bahmut were seen in early March using a modified American version of the popular Soviet-made RPG-7 portable anti-tank grenade launcher. Dubbed the PSRL-1 (Precision Shoulder-fired Rocket Launcher-1), the portable launcher is produced by Texas-based AirTronic USA usually for export to US allied or partner countries accustomed to Soviet weaponry, and from social media posts it appears to have a more than symbolic presence on the Ukrainian front.
In 2009, AirTronic USA unveiled its upgraded version of the RPG-7, dubbed the RPG-7USA, which was later developed into the PSRL-1. The launcher underwent a registration program with the US Special Operations Command until 2015, and in mid-2016 the PSRL-1 entered production.
Compared to the RPG-7V2, the PSRL-1 is made of quality steel (high carbon content – 4140/4150) to withstand over 1,000 launches, is slightly lighter at (6.35 kg, unloaded and without optical sighting device), comes with accessory rail and can be disassembled in two pieces for compact transport.
The manufacturer claims a 90% hit probability at 800 metres with the standard sighting device, and by using guided ammunition the range can be extended to 2,000 metres.
Although the AirTronic launchers were designed to be compatible with Soviet ammunition for the RPG-7, the US company also produces its own ammunition to which it has exclusive intellectual rights.
There are three ammunition variants: the SR-H1, a 93 mm, 3.82 kg high-explosive anti-tank warhead (HEAT) capable of piercing 500 mm rolled homogeneous armour (RHA); the SR-T1, a 93 mm, 3.82 kg inert, armour-piercing training warhead; and the SR-T2, a 70 mm, 2.12 kg inert, armour-piercing warhead with no destructive capability.
Anti-tank weapons are essential in the conflict in Ukraine, where neither side is able to provide effective air support due to the high presence of short-range air defence systems.
The first confirmed sales to the Armed Forces of Ukraine were made in 2017. AirTronic has not released specific details on the number of PSRL-1 units delivered to Ukraine, but reports surfaced in the local press at one point that the National Guard received a first batch of 500 US-made PSRL-1 anti-tank grenade launchers in 2018. It is not known how many more have been received in the meantime or since the start of the Russian invasion, but it is known that at least one has been captured by Russian forces.
ttps://www.defenseromania.ro/psrl-1-versiunea-americana-a-lansatorului-portabil-sovietic-de-grenade-antitanc-rpg-7-se-potriveste-perfect-trupelor-ucrainene_621803.html
Photo Credit: US Air Force
The US Navy has integrated a world-first UAV into its kill chain to simulate hitting a naval target. A US Air Force MQ-9 unmanned aerial vehicle (UAV) conducted Operation Jackpot Hooligan III on 23 February during Exercise Neptune Strike 23.1 in the Mediterranean Sea.
"During the event, the UAV was integrated with air and naval forces to execute a simulated long-range missile strike on a simulated adversary ship," the US Sixth Fleet said in a 15 March press release, just a day after a UAV of the same type was shot down by the Russians in the Black Sea.
"The cutting-edge capabilities provided by the MQ-9 have enabled airmen on the other side of the world to have a direct positive impact on combat operations in the middle of the Ionian Sea, giving NATO's Naval Strike and Support Forces the ability to make real-time decisions that lead to decisive combat victories," said Captain Alex Hampton, commander of Carrier Air Wing 7. "This is an example of what MQ-9 can do for the U.S. Navy to continually enhance NATO's military capabilities in all areas of warfare."
Operation Jackpot Hooligan aims to achieve a kill chain at a long enough range so that manned combat aircraft, at the time of missile launch, are out of enemy strike range. The first phase of the operation was to develop procedures and verify them on US soil. The second phase, conducted in the Mediterranean Sea (December 2022), involved several technical integration exercises, including experts from the North Dakota Air National Guard.
 The conduct of Operation Jackpot Hooligan III in the Ionian Sea, 23 February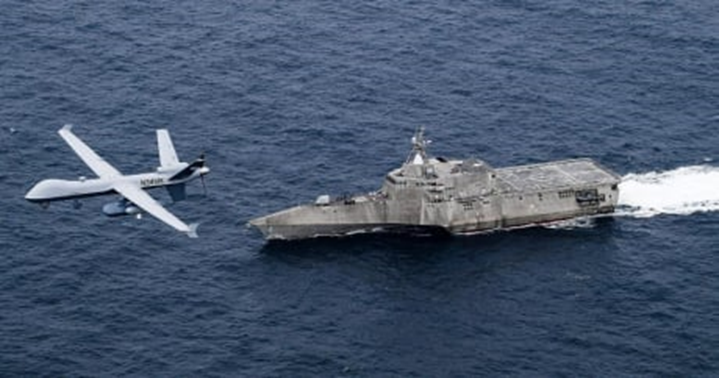 NATO's Allied Air Command (AAC), made up of airmen from France and the UK, located the (opposing) ship in the southern Ionian Sea using long-range synthetic aperture radar.
The AAC team developed a battle scenario for destroying the ship and sent the information to an MQ-9.
The UAV further transmitted the coordinates of the enemy ship to an E-2D Hawkeye early warning aircraft in CSG-10 (Strike Group 10 based on the US aircraft carrier George H.W. Bush).
Subsequently, the E-2D Hawkeye directed a strike force of American F/A-18s and Spanish AV-8B Harriers into a safe area away from simulated enemy air defences.
The strike force launched the missiles from the safe area using information provided by UAVs
Throughout the attack, the MQ-9 maintained positive identification of the enemy ship and conducted scans around it to ensure that the strike force's weapons would target only the chosen ship, eliminating collateral damage to civilian ships in the area.
After the strike, the UAV used its powerful full-motion video camera to complete the post-attack mission assessment, transmitted data via radio, chat and Link- 16 to both the NATO Strike Force and the Alliance countries.
The officer, who was delegated by the U.S. Air Force to participate in the integration of the MQ-9 with Naval Forces, noted the success of the operation, which he characterized as a pathbreaker in the integration process between the Air Force and Navy.
"Since we began working with CSG-10 six months ago, we have increased our combined lethality and reduced the time it takes to work on our standard chain-of-destruction process. This strike exercise is the first of many great things for U.S. Air Force and Navy integration," said Maj. Matt Mraz, MQ-9 liaison officer, embarked aboard the Nimitz-class aircraft carrier USS George H.W. Bush (CVN 77).
Inserting the MQ-9 into the kill chain means that the UAV is actually transmitting the missile homing signal to the target, although the Phase Two and Three releases for Operation Jackpot Hooligan do not explicitly state this.
Thus, the MQ-9, equipped with advanced radar and opto-electronic systems (allowing high-fidelity target tracking), as well as high-speed, long-range communications equipment (communicating with both the missile and other connected entities) makes the necessary adjustments to the missile trajectory for moving targets, such as fighter ships.
If the F-18 aircraft launches an AGM-158B JASSM-ER missile at a range close to the maximum range of 925 km, from launch to impact, a moving target may move out of the detection range of the missile's terminal attack sensor. In this case, the MQ-9 is more than useful to make the necessary corrections.
In addition, fighter aircraft, which launch the missiles, can become simple weapon carriers, with the UAV operator doing the targeting and actually picking up the missiles. These aircraft don't even need to know details of the targets or the operation, they just need to be at a certain time, at certain coordinates to launch missiles in a certain direction and then head for the carrier.
The electronic systems (communications, radar, sensors, etc.) on board the MQ-9 now allow a near "Long Range Kill Chain" of over 500 kilometres for moving targets, which is an absolute world first.
Under these circumstances, for all potential US adversaries, the MQ-9 drone and especially the on-board software is a high priority in getting them.
Russia has an electronic research vessel permanently deployed in the Mediterranean Sea to monitor electromagnetic emissions of interest. Operation Jackpot Hooligan has certainly given Russian military leaders pause for thought, and they don't just react nervously when a drone flies into international airspace.
The Long Range Kill Chains programme for moving targets (not fixed targets) is still in its infancy, the need for it dictated by China's and possibly Russia's (the latter not so much confirmed in the Ukraine war) highly technologically advanced and hard-to-surpass A2/AD systems (with aviation), as well as the US building hypersonic weapons with ranges of over 1,000 kilometres in the next few years. In principle, this programme will rely on satellites in low-Earth orbit, with the Space Forces requesting $1.2bn in funding over the next five years.
Source: https://www.defenseromania.ro/mq-9-drona-atat-de-ravnita-de-rusi-imbunatateste-dramatic-capabilitatile-de-lovire-ale-marinei-americane-si-nato_621787.html
MQ-9 Reape drone at Câmpia Turzii. Source Photo: Video capture Cluj24.ro
After the incident involving the US MQ-9 Reaper drone and two Russian Su-27 jets, the Pentagon has decided that US UAVs will continue to fly over the Black Sea, but has changed their routes away from Crimea.
According to CNN, US drone flights in international airspace continue, but from now on they will have a slightly modified flight plan, moving away from the airspace around the Crimean Peninsula and eastern parts of the Black Sea.
The US has conducted an assessment of drone operations in the Black Sea area. The Pentagon analyzed the overall costs and benefits of these missions, comparing the potential intelligence value of a particular route versus the risk of escalation with Russia. The solution the experts arrived at: US drones will alter their flight paths.
So a US official told CNN that the new routes are intended to avoid provocations, because the Joe Biden administration does not want to provoke an incident that could escalate into a direct conflict between US and Russian forces.
According to the official, US drone flights are still taking place on new routes, but the US prefers to return to routes that will pass closer to territory controlled by the Russian Federation.
The publication's sources also said that Russia may try to unilaterally announce airspace closures over a larger area around southern and eastern Ukraine in an attempt to push US drones as far away as possible.
CNN notes that Pentagon press secretary Pat Ryder confirmed that the US continues to use drones in the Black Sea region, but declined to say whether their routes have changed.
"For operational security reasons, I'm not going to go into details about routes, missions, time frames," Ryder said.
Recall that the US Air Force issued a statement on 14 March reporting that a Russian Su-27 fighter jet, damaged an MQ-9 reconnaissance drone flying in the Black Sea, following which the drone had to be sunk.
John Kirby, noted that while Russian intercept flights over the Black Sea are not unusual, Tuesday's episode was unique in terms of how "dangerous, unprofessional and reckless" Russia's actions were.
Russia accused the US of violating the airspace it claims to have created for its "special military operation" in Ukraine – a designation the US does not accept.
Source: https://www.defenseromania.ro/pentagonul-a-incheiat-analiza-cost-beneficii-in-cazul-mq-9-in-marea-neagra-si-a-decis-dronele-sua-isi-vor-schimba-rutele-dupa-incidentul-cu-avioanele-rusesti_621789.html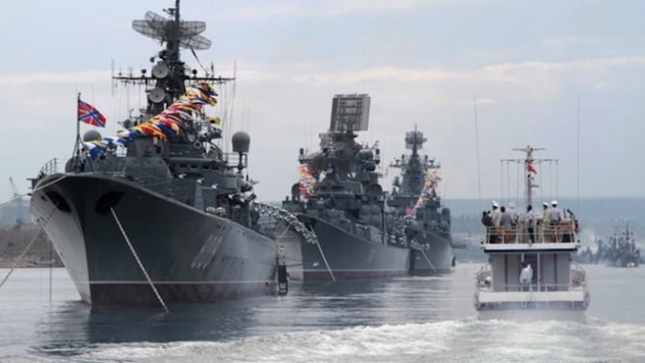 Russian warships in the port of Sevastopol in Crimea.
Sevastopol Governor Mikhail Razvozhaev reported on his Telegram channel that on the morning of 22.03.2023, the Russian Black Sea Fleet repelled a maritime drone attack on the city.
"Early this morning, our fleet repelled a surface drone attack. A total of three objects have been destroyed so far. The drones attempted to penetrate the bay, but our sailors fired small arms fire at them. Anti-aircraft defences against aerial targets also worked," Razvozhaev said.
As of 8:00 a.m., shipping is not working in Sevastopol: the road is closed, boats and ferries are not passing through Sevastopol Bay, Ukrainian media reports, saying that in the area of the South Bay of Sevastopol, shortly before 5:00 a.m., the first loud explosion was heard, after which locals heard several similar ones, as well as sounds of gunfire.
According to him, Russian warships were not damaged in the attack, but windows of several buildings were broken by the blast.
"As a result of the explosions, the windows of the Moscow House on Lenin Street 2 were broken. No casualties were reported," the governor said.
As Razvozhaev concluded, the army has repelled the enemy drone attack and the situation is under control. All services in the city are operational.
Earlier, on the night of 21 March, several drones were also shot down in the area of Dzhankoy on the Crimean Peninsula, where the air defence system was activated. One person was injured as a result of the attack, according to the head of Crimea, Sergei Aksyonov. The mayor of Dzhankoy, Igor Ivin, said that drone fragments were found on two streets. In addition, a grocery store caught fire in the center of town near the school and a private house on Yuzhnaya Street was also damaged.
Author's comment: According to Russian representatives, the sea drone attacks of the Armed Forces of Ukraine are carried out from the territory of the Nikolaev Region, i.e. from the area of the locality of Ochakov. It is not excluded that in the coming period Russian forces will launch response attacks on the southern Ukrainian region.
On 21 March, following the Dzhankoy drone strike, the Russian air force struck the Shkolny airfield in Odessa, from where aerial drones allegedly take off to Crimea. Representatives of the Southern Operational Command of the Armed Forces of Ukraine announced that two H-59 air-to-ground missiles were shot down in the Odessa area, which were launched by Russian Su-35 fighter jets in the direction of the Black Sea.
Sources:
1. https://www.defenseromania.ro/rusii-sustin-ca-au-respins-un-nou-atac-cu-drone-asupra-sevastopolului-mai-multe-explozii-au-fost-auzite-in-oras_621791.html
2. tass.ru, topwar.ru. t.me.
Russia's large-scale invasion of Ukraine in February 2022 has led to renewed attention to the geopolitical importance of the Black Sea. What the North Atlantic Treaty Organisation has overlooked is Russia's use, often in coordination with Iran, of the Caspian Sea to advance its war aims in Ukraine.
The Caspian Sea provides Russia with strategic depth to strike distant targets in a relatively safe manner, is currently the only way Russia strengthens its Black Sea fleet, and serves as a shipping channel allowing Iran to provide military assistance to Russia for use against Ukraine.
As Admiral Sir Tony Radakin, the UK's Chief of Defence Staff, said recently, "The flow of Iranian weapons to Russia's war in Ukraine demonstrates that there is no easy geographical distinction in defence matters."
In the context of regional security, US and NATO military planners should see the most extreme point of the Alliance's Black Sea border as the southern shore of the Caspian Sea.
A geopolitical black hole
Official documents rarely mention the Caspian Sea. The most recent US National Security Strategy, the most recent US Central Asia Strategy and the most recent NATO Strategic Concept make no mention of it.
The 2022 Position Statements for US European Command (EUCOM) and US Central Command (CENTCOM) – the two combatant commands covering the region – have a combined word count of over 16,000 words, and the Caspian does not appear once.
In US strategic thinking, the Caspian Sea is a geopolitical black hole. In reality, the Caspian Sea lies at the heart of the Eurasian continent and is a crucial geographical and cultural crossroads linking Europe and Asia.
For centuries, the region has proved strategically important to many countries for military and economic reasons. After Russia's invasion of Ukraine in February 2022, the Caspian Sea region has attracted the attention of policymakers in the West, but they have focused on energy and transport.
Seeking fast and reliable alternatives to Russian energy, the European Union rushed to the region to secure new energy deals. Last year, for example, the EU signed an agreement with Azerbaijan to double the amount of gas it transports from the Caspian Sea through the Southern Gas Corridor by 2027.2
Russian power projection
However, in the wider discussion of the Caspian, NATO has paid little attention to security. For Moscow, the Caspian Sea plays a key role in projecting Russian power in a way that Western capitals fail to understand. This role has direct implications for NATO security in the Black Sea for three reasons.
1. Transport via the Volga-Don Canal One of the two canals linking the Caspian Sea to the outside world is the Volga-Don Canal, which connects it to the Black Sea via the Sea of Azov. This canal is 63 miles long and, as the name suggests, connects the Don and Volga rivers. Its main purpose is commercial transport. However, in the spring and summer months, when the canal is not frozen, Russia uses it to move warships and military supplies between the Caspian and Black Seas. Russia's Caspian Flotilla ships played a direct role in supporting Russia's invasion of Ukraine in 2022. With Turkey's closure of Turkish straits into the Black Sea, Russia's Caspian Flotilla serves as the only means of strengthening the Black Sea Fleet. Realising how important the channel is, Moscow recently announced a $1bn investment to modernise the waterway. This will not only make the canal more reliable for transporting supplies and military equipment between the Caspian and Black Seas, but will also increase trade opportunities with Iran.
2. Missile launches Russian warships operating from the Caspian Sea have launched cruise missiles against Ukraine. In the past, Russian cruise missiles from the Caspian Sea have also hit targets in Syria. Using the Caspian for cruise missile launches at sea gives Russia a strategic depth and degree of protection not found in more contested areas such as the eastern Mediterranean or the Black Sea. Using naval assets in the Caspian Sea to strike targets in Ukraine and Syria helps Moscow with both military objectives and Caspian geopolitics. These missile strikes send a strong signal to other countries in the Caspian region that Russia is the dominant military power in the region.
3.         Russia-Iran cooperation Iran and Russia share many objectives in the Caspian region.
Russia-Iran cooperation in the Caspian threatens the wider region, including NATO and its partners. Iran has delivered drones that Russia has used against Ukraine either through the Caspian and Volga-Don Canal to occupied Crimea or through an air corridor over the sea.
Russian and Iranian navies are also conducting joint military exercises in the Caspian Sea. Experts have long suspected that Iran has been transporting oil to Russia using the Caspian Sea as a way to avoid economic sanctions.
Targets in the region After years of neglecting the region, the US has few options for advancing its national interest in the Caspian Sea. This has not always been the case. More than two decades ago, following the 9/11 attacks, the US took the region seriously as an important gateway to Afghanistan.
Senior US officials made regular visits to the region, mentioned it in combatant command position statements3 and included it in strategic thinking. The US started the Caspian Guard Initiative (CGI) in 2003. At the time, the CGI was described as "an initiative that established an integrated airspace, maritime and border control regime for the nations of Azerbaijan and Kazakhstan."
During this time, the US Coast Guard gave Azerbaijan three cuter ships. In a twist of geopolitical irony, these ships traveled from the US to Azerbaijan via the Black Sea, the Sea of Azov and the Volga-Don Canal to the Caspian Sea. This is unimaginable today.
As for the maritime situation in the Caspian Sea, the main strategic goal of the US should be to help regional partners maintain a balance between the five Caspian powers so that one country (Iran or Russia) does not have overwhelming maritime power in the region.
It is unrealistic to believe that a single Caspian state will match Russia's firepower. That should not be the goal. Instead, U.S. policymakers should strive to help friendly countries in the region mitigate, balance, and deter any possible malign Russian or Iranian activity. Ultimately, this approach will bring stability to the region in line with US interests.
With a sizable portion of Russia's Caspian Fleet dedicated to operations in the Black Sea and Sea of Azov, this goal has never been more achievable. At the tactical level, the main US objective in the Caspian region should be to help friendly countries secure their maritime borders, protect vital energy infrastructure, stem the flow of terrorists, prevent terrorist attacks, ensure the free flow of trade, and prevent the transfer of illegal arms and drugs.
The way forward
The ability to move warships from the Caspian Sea to the Black Sea (and vice versa) allows Russia to project power in an important part of the world, while giving Russian policymakers flexibility and options in times of conflict in the wider region. The Caspian Sea is a strategic, if often overlooked, region for the transatlantic community.
Russia sees the Caspian and Black Seas as a geopolitical space – as do US and NATO military planners and policymakers. Although the US is limited in what it can achieve in the Caspian region for now, this is no excuse to ignore it. There is a huge policy space between doing nothing and the US flag pointing to Caspian waters.
To achieve its geopolitical goals in the region, the US should take the following steps.
1. Increase US diplomatic presence in the region. The last US Secretary of State to visit Azerbaijan was Hillary Clinton in 2012. The last US Secretary of Defense to visit was Robert Gates in 2010. The high-level diplomatic presence on the eastern shore of the Caspian Sea is hardly better. Secretary Antony Blinken most recently visited Kazakhstan in March 2023, but this was three years after Mike Pompeo's visit in early 2020. John Kerry was the most recent secretary of state to visit Turkmenistan in 2015. The most recent visits to Kazakhstan and Turkmenistan by a US defence secretary were appointed by Donald Rumsfeld in 2004 and 2002 respectively. Meanwhile, senior Russian, Chinese and Iranian officials routinely visit Baku, Astana and Ashgabat. Once the US begins to engage more with the region to build trust and relations, there will be more opportunities to work with friendly Caspian countries.
2. Get creative with US maritime engagement. Since the U.S. Navy will never have a presence in the Caspian Sea, the U.S. should provide opportunities for training, officer exchanges, and equipment upgrades whenever possible. One of the biggest gaps in maritime capability in the Caspian Sea is maritime domain awareness, so the US should focus its support in this area by providing coastal radar stations, ship radar, and communications equipment to help improve command and control.
3. Remember the US Coast Guard. The types of security challenges faced by U.S. partners in the Caspian Sea are issues often handled by the U.S. Coast Guard. NATO should not ignore this important asset when developing a strategy for US engagement in the Caspian region. The U.S. Coast Guard has much to offer regional countries in terms of training and has experience operating around the world to advance U.S. interests. Due to the complex geopolitical situation facing some Caspian countries with Russia, Iran and China, cooperation with the US Coast Guard instead of the US Navy could sometimes be politically easier.
4. Help regional countries improve security and defence capabilities. In the Caspian region, sovereignty equals security. It means respecting the sovereignty of other countries and being able to defend your own sovereignty. The US should work bilaterally and, where appropriate, through NATO to improve the security and military capabilities of partners in the region. In particular, the US should work with Turkey to improve the security and military capabilities of partners in the region. In some countries, such as Turkmenistan, the US should seek to deepen defence and security ties, but not in an overt or public way.
5. Assist regional countries to apply Ukraine's lessons in the Black Sea to the Caspian Sea. The battle-tested maritime defence capabilities that Ukraine has rapidly developed offer an opportunity to improve Caspian Sea security. Ukraine's domestically produced Neptune anti-ship cruise missile, combined with disruptive weapon systems it has creatively used and adapted, such as Bayraktar TB2 drones, Harpoon anti-ship missiles and Naval Strike missiles, has proven effective in coastal defence. NATO could apply the lessons Ukraine has learned to a new generation of coastal defence and a new concept of operations (CONOPS) – centred on robotic warfare capabilities, information superiority and anti-ship missile advantage – that could be relevant in places like the Caspian Sea. Sea.
6. Provide military and security assistance to deserving regional partners. The U.S. government should base its decision to provide military assistance to another country on American security interests, not lobbying. Section 907 of the Freedom Support Act is an unfair impediment to action in US security interests.
Source: https://www.hudson.org/security-alliances/natos-black-sea-frontier-southern-shore-caspian
Please join us for an event focusing on a recent Hudson study that assesses how to improve China's implementation of its non-proliferation commitments. Participants include Richard Weitz, Senior Fellow to the President of Japan, Komei Isozaki, as well as Youngjun Kim from Korea National Defence University, Yeseul Woo from King's College London and Maximilian Hoell from the European Leadership Network.
They will identify opportunities to limit the growth of China's nuclear forces, enhancing Chinese support for stopping horizontal nuclear proliferation with regard to North Korea and Iran, and increasing China's contribution to denying non-state actors access to nuclear weapons.
Speakers: Richard Weitz ,Senior Fellow and Director, Center for Political-Military Analysis
Youngjun Kim, Korea National Defense University
Yeseul Woo, King's College London
Komei Isozaki Japan Chair Fellow
Maximilian Hoell, Senior Policy Fellow, European Leadership Network
Source: https://www.hudson.org/events/managing-china-related-proliferation-challenges
Naval power is typically applied near land masses where commercial and military ties between states are clustered. The great naval battles of history from Salamis to Actium and Lepanto to Trafalgar, the Straits of Tsushima and Midway took place near contested land positions. The Battle of the Atlantic in World War II was fought across the entire length of the North Atlantic, but the enemy's aim, through the refusal of the United States to supply its allies with war material, was to subjugate the whole of Europe.
The stakes of naval warfare are fundamentally linked to global trade and commerce. Whoever controls the global seas controls global trade. The dominance of the United States as a maritime power since World War II has protected the unfettered use of the seas for international trade.
A basic element in the gathering Chinese-American competition is US protection of global free trade and the certainty that China, if it became the superior maritime power, would use its primacy as an economic tool against competitors large and small.
China would harm US international trade as its autarkic colleague Russia has tried to harm Ukrainian trade. Thus, the US Navy is the guardian of America's pre-eminence as an international trader.
But the navy, some critics note, has a technology problem. It has old weapons on older ships that are far too vulnerable to modern missiles to survive in a conflict with China. Like a corporation whose adaptability is key to its success, the US Navy must transform itself. It must embrace cutting-edge unmanned technologies and decision-centric capabilities to fight in a distributed and lethal manner.
While this critique has merit, and the list of technologies it identifies as the future of naval warfare is supported by evidence, it misses the fundamental point: structurally, the Navy has a fleet it can modify to fight modern warfare.
It simply needs officers and commanders who are willing to creatively connect old and new systems and focus on preparing to fight a war – and who are confident that the Navy will be given a budget to support its expansion. This is where the most significant change needs to happen.
The US Navy is in crisis.
It is overstretched, with a high operational tempo driven by a shrinking fleet and static, if not growing, requirements. The Navy is about half the size of its Cold War peak, but it is still tasked with presence patrols in the Euro-Atlantic, Middle East and Indo-Pacific littorals. And now it is expected to be the main service in a war with China, even as it withdraws ships and submarines every year, with anticipated replacements in a future more distant than the likelihood of a conflict in the Taiwan Strait.
The reality, we are told by the service and analysts fixated on future technologies, is that the navy needs to recapitalise, using cost savings from divesting old platforms to fund new ones. Specifically, these new platforms are a fleet of small, distributed, unmanned aerial, surface and submarine vehicles that, when coupled with decision technologies, can amplify the lethality of the modern force.
This argument is based on two premises – one political, one military-technological – both of which are contested. The reality is that while the development of these systems is essential, the US Navy must reframe how it views new programs and the "legacy" fleet as it tries to match them to the demands of modern warfare.
The Navy's older capabilities create a specific fleet, one that has a handful of highly visible elements. Most visible is the Carrier Strike Group (CSG), a force consisting of a 100,000-ton supercarrier and its 100-aircraft wing; several large surface combatants packed with missiles; and support ships. This is an exceptionally intimidating collection of warships, one that can deliver more combat power than many military services – two CSGs combined certainly exceed the collective combat power of the UK's Royal Air Force and Royal Navy.
CSGs and large surface combatants have a primarily military role. They are warships designed to fight in combat. But they also serve a political role as a forward presence to remind adversaries of the US Navy's ability to deliver combat power credibly and quickly during a crisis.
This presence has held back American adversaries in the recent past. After the US killed Quds Force Commander of the Islamic Revolutionary Guard Corps Qasem Soleimani and Iranian proxy leader Abu Mahdi al-Muhandis, the deployment of a US carrier group to the Persian Gulf undoubtedly convinced Iran that anything other than a token response – an intentional theatrical but ineffective bombing of a US military position in Iraq – would trigger a major American retaliation. Similarly, the near-constant presence of a US CSG in the eastern Mediterranean since early 2022 has undoubtedly changed Russia's escalation calculus.
Russia has never actively used its warships and submarines in the Levant Basin to pressure NATO during the invasion of Ukraine. Presence counts for deterrence, especially when US adversaries rarely get more than a slap on the wrist for bad actions. The Navy, more than any other service, provides that presence. Moving to a fully distributed, unmanned force with a much lighter, less visible footprint would undermine the Navy's ability to deter US adversaries.
In turn, wholeheartedly embracing a distributed army misses current trends in military technology today. Contemporary warfare is, in fact, not so different from 20th-century warfare. This is not only because of its industrial component, fully exposed in Ukraine, but because there has been no transformation in the nature of fire.
Between 1880 and 1914, there was a revolution in warfare: the imposition of the third dimension on the battlefield. Long-range aviation from land and sea transformed the way distance mattered in combat. The battlespace expanded on land to include what is now called the operational level of warfare, as victory in close combat had to be coupled with victory in a long-range contest of logistics and coordination.
Air power did not fundamentally change this dynamic, but impressed upon modern commanders what this new aspect of warfare – three-dimensional space – actually meant. The same technological trends that transformed land combat were present at sea.
It is no coincidence that heavy artillery and long-range naval artillery were developed at the same time. The dreadnought battleship, with its full armament of big guns and sophisticated fire control system, was the naval counterpart of the artillery battery.
Naval air power, in turn, further extended the range at which ships could strike each other, but did not fundamentally change the way combat could be thought of intellectually. Specifically, the pace of firing changed – from a salvo model, dominated by battleships firing salvo after salvo of heavy naval shells, to a pulse model, in which aircraft descended on their target, consumed their weapons, and then rearmed.
What happened between the mid-20th century and the primacy of the aircraft carrier and today is a shift not from centralized to decentralized military equipment at sea per se, but from a model in which the types of fires depend on the delivery mechanism – air or ship? – to a model where multiple platforms can deliver similar types of fires.
This change comes from the guided missile. Functionally identical weapons can be deployed from surface combatants, fighters, strike aircraft, submarines, and even ground launchers. Conceivably, one could generate salvo fires or pulses from radically different launch mechanisms. This change is one that the US Navy needs to recognize and embrace. Distributed unmanned systems are part of a new fleet. But the fundamental change is one that disconnects platforms and types of fires. The critical systems for procurement are not simply autonomous distributed ships, aircraft and underground vessels, but missiles that can be launched from multiple platforms and, where appropriate, capabilities that extend the range of existing platforms. CSG provides an excellent example. The air wings of US aircraft carriers typically deploy at about two-thirds of their potential power and, following the withdrawal of organic refuelling and long-range strike aircraft, lack the range to hit targets in enemy territory without exposing carriers to hostile fire.
The MQ-25 Stingray unmanned refuelling aircraft is a first step towards remedying this problem, as it greatly extends the range of the aerial wings. But the Navy needs to deploy more refueling planes per carrier than it currently plans to – expanding the squadron on each ship from five to 15 planes – to ensure it can support the operations of an entire air wing. The small questions of ammunition and logistical support are fundamentally more critical than the larger questions of force transformation and long-term technological change.
The bottom line is that the US Navy's problems, structurally, are not insurmountable. They need the service to sustain their priorities and fight for a bigger slice of the budget pie and a larger defense budget overall. And they demand energetic leaders to keep sailors engaged and morale high. They are asking, in other words, that the Navy move to war readiness. Shifting leaders' thinking from today's goal of operating in peace to combat is the biggest challenge facing the U.S. Navy today.
Seth Cropsey is the founder and president of the Yorktown Institute. He is a former naval officer and Deputy Assistant Secretary of the Navy and the author of Mayday and Seablindness.
Source: https://yorktowninstitute.org/how-to-save-the-us-navy/ with reference to https://asiatimes.com/2023/03/how-to-save-the-us-navy/
The Russian Federation's decision to voluntarily cut oil production by 500,000 barrels per day will be in effect by the end of June, the RF government press office said, citing RF Deputy Prime Minister Alexandr Novak.
"The world oil market is currently under unprecedented pressure from unnatural, politically forced factors, resulting in high volatility and uncertainty. These factors include short-sighted energy policies of Western countries aimed at depriving traditional energy sectors of investment, forcing illegal restrictions on the free movement of energy goods, and implementing embargoes on trade in oil and products," Novak said.
Ongoing attempts to introduce the price cap mechanism are no less dangerous, he continued.
"The risk of extending these attempts leads to the destruction of the investment climate in cyclical industries and impacts consumers. The set of low-quality, politically motivated solutions presented creates significant risks to global energy security," Novak said. He recalled that Russia continues to insist that illegal restrictive measures are totally unacceptable and has announced a voluntary cut in oil production by 500,000 barrels per day since March.
According to Novak, Russia is approaching the voluntary reduction target and expects to reach it one day. "Taking into account the current market situation, the decision to voluntarily reduce oil production by 500,000 barrels per day will be in force by the end of June 2023," he concluded.
Source: https://seanews.ru/en/2023/03/22/en-russia-to-cut-oil-production-by-500-000-bpd-till-end-of-june/
Containers are loaded onto a train at Bely Rast station in the Moscow region and transported to the port of Bronka in St Petersburg on the FESCO Moscow Baltic Shuttle (FMBS) rail service.
At Bronka, containers are loaded on board FESCO ships for shipment to Kaliningrad via FESCO's recently launched regular cabotage service between Bronka and Baltiysk in the Kaliningrad region.
The first FMBS train carrying 120 TEU arrived in Bronka on 16 March. The next train is scheduled to depart from Bely Rast on 21 March. Transit time by rail from St Petersburg to Moscow is two days, transit time by sea from Bronka to Baltiysk is also two days. The services are mainly for the transport of building materials, equipment, paper, toys and sanitary products.
Source: https://seanews.ru/en/2023/03/21/en-intermodal-service-from-moscow-to-kaliningrad-via-st-petersburg-launched/
On 17 March, First Container Terminal in St Petersburg received the first call of the new regular container service launched by Torgmoll from China, Global Ports announced.
The service operated by Hainan Yangpu Newnew Shipping Co, part of the Torgmoll holding company, runs five 2,500 TEU vessels with a frequency of twice.
The service's route is Qingdao – Shanghai – Huangpu (Guangzhou) – St Petersburg. At FCT, block trains will be loaded to deliver imports to the Moscow region by rail.
According to Global Ports, in 2023, Torgmoll is to open a branch in St Petersburg, in addition to existing offices in Moscow and the Russian Far East.
Source: https://seanews.ru/en/2023/03/20/en-new-direct-china-service-to-st-petersburg/
Maersk Supply to be divested Unite the Union warns that up to 1,500 North Sea rig workers may choose to strike in a pay dispute; AP Møller-Maersk signs $685 million deal with private investment firm AP Møller Holding to divest Maersk Supply Service.
The Unite union has warned of a "tsunami" of industrial unrest that could close dozens of North Sea oil and gas rigs. The potential action includes electrical, production and mechanical technicians, in addition to deck crew, scaffolders, crane operators, pipe fitters, plate fitters and installers working for Bilfinger UK, Stork Construction, Petrofac Facilities Management, Wood Group UK Ltd and Sparrows Offshore.
The results of an industrial action ballot at Worley Services on the Harbour Energy platforms, involving around 50 workers, are announced on 24 March. In total, Unite estimates that around 1,500 offshore workers could choose to strike if their demands are not met.
Labour strikes scheduled for 29 March to 7 June on BP's North Sea platforms were called off after nearly 50 workers reached a deal to secure an extra three weeks paid leave for BP assets.
The Unite the Union union said the deal was equivalent to a 10% pay rise. Unite members, who include crane workers, crane maintenance, hoisting and deck crew, are employed by engineering firm Sparrows Offshore to work at BP's Andrew, Clair, Clair Ridge, ETAP, Glen Lyon and Mungo facilities. AP Møller-Mærsk plans to divest OSV owner Maersk Supply Service under a $685 million deal with private investment firm AP Møller Holding. The agreement is subject to regulatory approval expected in Q2 2023. Until then, Mærsk Supply Service will continue to operate as a subsidiary of AP Møller-Mærsk.
AP Møller-Mærsk CFO Patrick Jany said the company plans to focus fully on integrated logistics. Mærsk Supply Service has a fleet of 36 offshore vessels, supported by 1,300 crew and 300 onshore staff. The company will continue to trade under the same name, using Mærsk's seven-pointed star logo as part of its brand. The Japanese offshore market will rebound after JX Nippon Oil & Gas Exploration Corp reached an agreement to acquire the nation's only offshore contractor, Japan Drilling Co (JDC). JDC – with its fleet of five jack-ups, one semi-submersible and one drillship – will become a consolidated subsidiary of JX.
The acquisition aims to enhance JX's competitiveness in the emerging carbon storage business. Drilling wells to inject and store CO2 underground is a crucial technology component of the carbon storage value chain, and the acquisition of JDC strengthens the offering of JX and its parent, ENEOS Group.
In contract news, Dolphin Drilling announced that Blackford Dolphin has signed a new agreement with Peak Petroleum Industries Nigeria to keep the semisubmersible committed for a minimum of 120 days, potentially increasing to 485 days, in direct continuation of its current 12-month drilling contract. with General Hydrocarbons Ltd, which was due to start earlier this month. Peak Petroleum's contract has an effective daily rate of $325,000, including mobilization fee, for the minimum firm period.
Eni announced a new discovery offshore Mexico this week. Located in the Southeast Basin, Yatzil-1 EXP is the eighth successful well drilled by Eni in the basin where the oil major owns the rights to eight exploration and production blocks. The company estimates that the new discovery may contain around 200 million barrels of oil.
Indian conglomerate Larsen & Toubro's (L&T) hydrocarbon business has secured several offshore packages from an unnamed overseas client, the company said in an exchange filing. Details of the client and project location were not shared, but L&T called it a major deal, ranging from 5 billion lei to 7 billion lei (USD604 million ~ USD846 million).
The scope of work for L&T Energy Hydrocarbon includes engineering, procurement, construction and installation of offshore structures and upgrading of existing facilities. Saipem will hail its new jack-up, Perro Negro 12, ahead of its charter to Saudi Aramco. Built by Singapore's CIMC Raffles shipyard and commissioned in late February, Perro Negro 12 is capable of operating at a water depth of 91m and can drill to a depth of 9,150m. The rig will complete its upgrading work in the Middle East before commencing drilling and workover operations for Aramco.
The Noble Innovator jack-up will also see maintenance work undertaken by Scottish contractor Semco Maritime. The rig is currently moored at the South Harbour in Aberdeen Port and is due to be redeployed to the North Sea where it will carry out decommissioning work for BP. When the rig arrives in Aberdeen for a special periodic survey, Semco Maritime has been contracted to provide a range of support services including project management, hull rebranding, quay support, scaffolding and the provision of blue collar personnel.
Source: https://www.rivieramm.com/news-content-hub/rigs-report-maersk-supply-service-to-be-divested-threat-of-strikes-looms-over-ukcs-platforms-75445
Portuguese authorities are working to control a fire aboard a product tanker off the coast, while also hoping to tow the vessel further out to sea. So far, the fire is believed to have engulfed the rear of the vessel and not reached its cargo of jet fuel and diesel and there has been an oil spill.
However, the fire continues to burn, and onlookers along the shore are posting photos of the burning ship, which is less than two miles off the coast.
The tanker Greta K (24,768 dwt) was heading for the port of Leixões, having already boarded its pilot when the fire was reported at around 15:30.
Marinha Portuguesa is monitoring the situation reporting that the Port Authority managed to quickly dispatch three tugs to the vessel. In addition, the port captain of Douro and Leixões sent two additional tugs to assist. They evacuated 12 of the 19 Filipino crew members on board the vessel. The other seven remained on board to help with the fire.
Local media report that the fire was kept aft and is suspected to have started in the engine room. Black smoke can be seen from the stern. Fire ships are spraying water on the aft sections of the ship, while others have been assigned to cool the topsides of the cargo tanks. Crews are concerned there could be a secondary ignition and are trying to prevent the fire from reaching the cargo. There is no crude oil on board, but they have not yet reported how much fuel the ship is carrying or the volume of cargo on board.
The Greta K is registered in Malta. The vessel is seven years old, built in 2016. Equasis lists the owners as San Giorgio Del Porto of Genoa and the managers as K-Ships, also of Genoa. The product tanker is used to transport fuel supplies from neighbouring Sines to Leixões.
According to reports, the local refinery has closed, leaving the region dependent on tankers for fuel. Emergency crews are also on standby and prepared with pollution response equipment.
Marinha Portuguesa is helping to calculate the drift, partly in preparation for an oil spill from the vessel, as well as calculating the ship's movements. This evening, they were reportedly putting a towline on the burning vessel in an effort to move it further offshore.
Source : https://www.maritime-executive.com/article/product-tanker-burning-off-portuguese-coast