MS DAILY BRIEF – June 05 th, 2023
The Maritime Security Forum is pleased to provide you with a product, in the form of a daily newsletter, through which we present the most relevant events and information on naval issues, especially those related to maritime security and other related areas. It aims to present a clear and concise assessment of the most recent and relevant news in this area, with references to sources of information. We hope that this newsletter will prove to be a useful resource for you, providing a comprehensive insight into the complicated context of the field for both specialists and anyone interested in the dynamics of events in the field of maritime security.
MS Daily Brief will be published from Monday to Friday. Saturday will be published Weekly Brief

MS DAILY BRIEF – June 05 th, 2023
Cupons
Update from Ukraine | Wagner attacked by Ruzzia | Ukraine went to Bakhmut and the south of the country-Video presentation. 1
Russia's invasion of Ukraine 'petrifies' another European country; here's why Moldova could be next in the firing line – June 5, 2023, By Ritu Sharma, EurAsian Times. 1
France revolutionises naval warfare and launches SIGNAL strategy. With future IDF frigates the French Navy enters a fully digital era-04 Jun 2023, 10:40. 3
Russia's nuclear-capable Iskander missiles, which threaten all of Europe, go off in Ukraine war – by Ashish Dangwal, June 5, 2023, EurAsian Times. 5
Chinese Navy 'explodes' with power and force, US Navy looks to Japan and South Korea to counter PLA Navy – by Parth Satam, June 5, 2023, EurAsian Times. 7
Chinese warship nearly 'collides' with U.S. ship in Taiwan Strait; Beijing not bothered by Russia's failure in Ukraine-By EurAsian Times Desk, June 4, 2023, contains video. 10
China recruits German ex-military pilots for big bucks to get secret data, sparking Berlin's fury-03 Jun 2023, 21:14 13
Russia claims to have thwarted 'large-scale' attack in Ukraine-Published on 5 Jun 2023, AlJazeera Times 15
Wave of Ukrainian drones over Crimea. Russia claims air defenses successfully shot down 9 drones in Crimea-04 Jun 2023, 12:22 pm.. 16
Tiananmen Square massacre, 34 years on. China still imposes total censorship on repression of 1989 democracy and political reform movement-04 Jun 2023, 11:38am.. 19
First collision between Trump and DeSantis, but with gloves. The big differences between them and a scenario for the 2024 showdown with Joe Biden-04 Jun 2023, 09:40. 20
Stoltenberg asked Erdogan again for Turkey to lift veto on Swedish NATO membership- 04 Jun 2023, 20:46 22
Pro-Ukrainian fighters capture Russian soldiers during a raid on Russian territory – by James Kilner, June 4, 2023 , June 4, 2023,The Telegraph Times. 23
Kremlin offers Russian Orthodox Church a 15th-century masterpiece in return for war support – by James Kilner, June 4, 2023, The Telegraph Times. 25
Huge bunker to be built under elite hospital as war reaches Moscow – by James Kilner, June 4, 2023, The Telegraph Times. 26
Russia's belligerence continues to wreak havoc in Ukraine. The outbreak of war is already threatening peace in Moldova. The Eastern European country is increasingly worried that once it wins in Ukraine, Moscow will turn its fury on Moldova.
The Republic of Moldova sees accelerated EU membership as the only guarantee against Russian aggression. For their part, NATO allies, fearful of Russia's nefarious plans against the small country, trapped by Ukraine on three sides, have decided to strengthen the Eastern European country's defences.
The country of 2.6 million people, sandwiched between Romania and Ukraine, was once part of the former Soviet Union. Moldova has had a tumultuous relationship with Russia in recent decades.
It was granted EU candidate status in June 2022, along with Ukraine and Georgia. It will begin negotiations for formal EU membership, which will take several years.
The long-running invasion of neighbouring Ukraine has turned the country into a tin can. Moldova shares a 1,200km-long border with Ukraine, and Russian long-range missiles have entered its airspace on several occasions. Moldova's growing rapprochement with the EU has not gone down well with Moscow.
Anticipating Russia's plans against Moldova, the EU decided to help Moldova strengthen its air surveillance, logistics and cyber defence.
A statement issued by the European Council reads: "The assistance measure adopted is worth €40 million over a period of 36 months and will finance non-lethal equipment, goods and services for units of the Armed Forces of the Republic of Moldova, including technical training where necessary. Approved equipment includes aerial surveillance, mobility and transport, logistics, command and control and cyber defence equipment."
This is the third assistance measure from the European Union. Previously, €40 million in defence aid was granted in June 2022, and before that €7 million in December 2021.
On June 1, forty-seven heads of state from the EU, Ukraine, Turkey, the UK and other Balkan countries gathered in Moldova for the European Political Community summit, which delivered a message to the Kremlin from the EU and the pro-Western Moldovan government.
Moldova aspires to join the EU by the end of this decade. Ukrainian President Volodymyr Zelenskyy also attended the summit held just 20km from the Ukrainian border.
The summit was a show of force by the western country in support of Moldova. In view of the FPC summit, the British Royal Air Force RC-135W Rivet Joint spy plane also carried out its first reconnaissance sortie inside Moldovan airspace, alongside other surveillance aircraft patrolling the Romanian side of the border.
Online flight-tracking websites have recorded flight plans of the RC-135W which departed the UK, flew east over the English Channel, the Netherlands, Germany and Poland before continuing over Slovakia, Hungary and Romania before crossing the Republic of Moldova.
In Moldova, it flew along the border. The plane is one of the powerful weapons of electronic intelligence gathering. It gathers details of air defence radars and other signal transmitters in the adversary's territory. The aircraft helps generate 'electronic orders of battle' (ORBAT) for future wars by documenting potential hostile capabilities.
European countries fear Moldova will be the next target of Russian aggression if it succeeds in Ukraine.
Apart from long-range missiles passing through its territory, Moldova also has a problem with the presence of the Russian military under its nose. The breakaway region of Transnistria – a narrow strip of land between the Dniester River and the Ukrainian border – broke away from Moldova in 1990.
The international community does not recognise its status as a self-proclaimed state, and the de facto government, which remains at loggerheads with Moldova, is supported economically, politically and militarily by Russia, which has about 1,500 troops in Transnistria.
With veiled threats, Russia has warned Moldova not to become another "anti-Russia". The Kremlin has also accused Moldova of having plans to seize its breakaway region of Transnistria.
Moldovan President Maia Sandu is pushing for faster EU membership, which she sees as a guarantee against becoming Russia's next target.
"We believe that Russia will continue to be a great source of instability in the coming years and we have to protect ourselves," Sandu said on the sidelines of a Council of Europe summit in Iceland two weeks ago.
The European Bank for Reconstruction and Development (EBRD) pumped €525 million into the country's economy last year. This is a record investment from the EBRD as the country struggles with high inflation and the aftermath of war.
The bank has given Moldova a €300m loan to diversify its energy suppliers. Until two years ago, Moldova was completely dependent on Russia for natural gas supplies. Today, imports of natural gas and electricity from Russia are zero.
The EU has also provided €87 million in civilian aid and is now supporting it by opening a civilian mission in Moldova's capital. Staffed by up to 50 officials, the mission will open on 6 June and will have a two-year mandate.
In a statement on the civilian mission, Josep Borrell, the European Union's top diplomat, said that under the common security and defence policy, the EU bloc will step up "its support to Moldova [to] protect its security, territorial integrity and sovereignty" against Russia.
Vladimir Putin
Archive image: Vladimir Putin
Officials confirmed that the mission will focus on "crisis and hybrid threat management, including cyber security and countering foreign intelligence manipulation and interference".
On 3 June, a large stockpile of arms, ammunition and equipment was sent by Poland to the Moldovan police. After revelations about Russia's attempt to destabilise the country, Poland is sending weapons in six transport planes – two Hercules and four CASAs. Polish Interior Minister Mariusz Kaminski announced this on Twitter.
"Independent and sovereign Moldova, which resists attempts of internal destabilization, needs our support. That is why I have decided to hand over a huge load to the Moldovan police," the minister wrote on Twitter.
On 31 May, the first consignment of EU equipment from the European Peace Facility for the Moldovan army arrived in Moldova. This €7 million aid package includes drones, laptops, explosive ordnance disposal equipment, ultrasound equipment and more.
By the end of the year, Moldova will also receive ambulances, engineering robots, metal detectors, radars, vehicles and medical equipment as part of this aid, said Moldovan Defence Minister Anatolie Nosatyi.
FDI frigate Photo source:Naval Group
Military operations in the 21st century will rely on near-total information and "what if" scenarios. In addition, new digital technologies will also be reminiscent of the 20th century, the century of speed, except that the speed of information processing will be on the order of nanoseconds, decisions will be made in minutes, and the duration of carrying out first battle orders will be seconds to tens of minutes, but less than an hour.
Against this backdrop of technological possibilities unimaginable 20 years ago, the French Naval Forces recently unveiled in Toulon its Strategy for Information Superiority for Naval Warfare [SIGNAL], which sets out the principles for the use and integration of new information technologies in naval operations, as well as in the routine activities that the French Navy carries out.
With its future defence and intervention frigates [Frégates de défense et d'intervention – FDI], the French Naval Forces will enter the "fully digital era", Admiral Pierre Vandier, Chief of Naval Staff [CEMM], said recently during a hearing in the National Assembly, according to the publication Zone Militaire (2 June).
SIGNAL strategy, after France deployed and tested several technologies
The SIGNAL strategy comes after the French Navy has already implemented and verified several state-of-the-art technologies and information systems, integrating weapons on combat ships with both its own sensors (for threats, environment, etc.) and external information sources (satellites, information received from allies and partners, etc.).
The first samples of the new digital future appeared a few years ago with the Naval Cooperative Watch [VCN] capability, tested by air defence frigates [FDA] and multi-mission frigates [FREMM].
"Three or four years ago, with the advent of the first digital ships, we had an intuition that data at sea would become a major topic. The Navy's Center for Data Services [CSD-M] has developed like a start-up: we are working with suppliers (of data – author's note), collecting data from combat systems, having our first data lakes (very large databases – author's note) and producing use cases (extremely rapid development of actionable intelligence by processing, correlating and interpreting multiple data and information – author's note)," Admiral Vandier also explained to MPs.
The new strategy is also intended as a guide both to understanding as well as possible the events in the information space (most of them seemingly unrelated to the purpose of an operation) and how to use these events more effectively in the operational interest.
The generalisation of digital technologies makes information space a field of conflict and manoeuvre in itself.
"This technological upheaval has resulted in an increase in the importance of digital systems for the assessment of maritime space as well as for the conduct of operations," summarised the French Navy. Moreover, if technological superiority is a necessary condition for hoping to make a difference in combat, it may not be enough.
"The relationship between naval tactics and technology is as crucial as it is precarious and unstable: technology cannot move away from tactics without which it wanders aimlessly, while tactics must constantly feed from the sources of technology, at the risk of becoming sclerotic (a fixed idea according to which tactics must, permanently, integrate new technologies – author's note). This results in a relationship of mutual interdependence, which the tactician has every interest in balancing," explain Captain Thibault Lavernhe and Commander François-Olivier Corman in their book "Vaincre en mer au XXIe siècle" ("Winning at sea in the 21st century").
"In naval combat, technological advance does not mechanically translate into a decisive tactical advantage. The abundance of information also induces specific risks for operational units or command structures. Thus, to effectively integrate digital disruptions […], it is necessary to balance them with the needs of resilience, autonomy and scalability specific to naval platforms," argues the French Navy.
However, the public presentation in Toulon did not go into the details of this "information superiority strategy", except that it is divided into six axes (chapters – author's note).
The French Navy is already working with highly advanced algorithms
The more data collected, the clearer the big picture becomes – this is the first imperative of the SIGNAL strategy. This means that the French Navy is already working with highly advanced algorithms that allow a huge amount of data and information to be processed and integrated automatically and in real time.
Thus, the first chapter aims at "diversifying data collection sources", based on the possibilities offered by New Space [private space sector – note Zone Militaire]. Next, it will be about increasing "connectivity capabilities without sacrificing their resilience" while optimising the fusion of "real-time tactical information" [reminiscent of the "weapons link at sea" of "Admiral Raoul Castex" ], according to Zone Militaire. Raoul Castex (27 October 1878, Saint-Omer – 10 January 1968, Villeneuve-de-Rivière) was a French naval admiral and military theorist.
And this goes hand in hand with improving on-board data to "strengthen the understanding of situations and decision support", as well as an information flow that is both faster and more fluid in terms of command and control [C2]. Finally, it is about opening up "new tactical capabilities in the battlefields".
This last point is crucial because, as Captain Thibault Lavernhe and Frigate Captain François-Olivier Corman point out, "the role of the tactician does not stop at knowing his weapons and constantly seeking to improve them, but above all consists in seeking consistency between the tactics he intends to implement and the equipment he has or will have".
https://www.defenseromania.ro/franta-revolutioneaza-razboiul-naval-si-lanseaza-strategia-signal-cu-viitoarele-fregate-fdi-marina-franceza-intra-intr-o-era-complet-digitala_622969.html
Russia's Iskander missiles are failing to hit their intended targets, according to the Ukrainian military. Ukrainian air defenses effectively intercepted and neutralized all ten missiles launched by Russia on the night of June 1.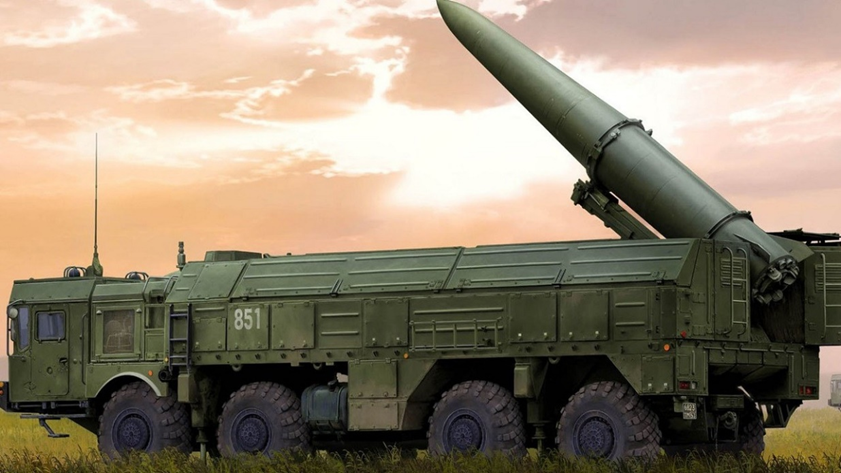 In an operational update, the General Staff of the Ukrainian Armed Forces reported that Russian forces launched a series of attacks on the Ukrainian capital, starting around 2:45 a.m. local time on June 1.
The Ukrainian Armed Forces said ten Iskander missiles were launched from the Russian region of Bryansk, located northeast of Kiev. Ukrainian defenses successfully intercepted seven Iskander-M ballistic missiles and three Iskander-K cruise missiles.
Although specific air defence systems used by Ukraine to intercept the Iskander-launched missiles have not been disclosed, Kiev's Western backers have offered military aid to strengthen Ukraine's air defence capabilities.
These aid packages include the inclusion of advanced systems such as the US-made Patriot air defence system.
Improving Ukraine's air defence capabilities aims to provide better protection against missile threats, including those posed by the Iskander system.
Moscow's forces have consistently relied on the Iskander missile system to deliver accurate strikes on Ukrainian targets. The Iskander stands out as a mobile ballistic missile system, with an impressive range of 400 kilometres and the ability to deploy nuclear warheads if necessary.
This weapon system is seamlessly integrated into a rapid attack sensor and missile network system, enabling rapid and coordinated attacks on targets across the theatre of operations.
In general, strikes involving Iskander missiles have occurred predominantly during night-time operations. However, on 29 May, the Ukrainian military said that Russia conducted a daylight assault on Kiev using 11 Iskander missiles in a barrage.
According to a statement by Ukrainian officials, the enemy has changed its tactics, deviating from their previous pattern of exclusively night attacks.
The Russian ballistic missiles were deliberately aimed at Kiev during daylight hours, when many residents were at work or on the streets, creating additional challenges for the defence forces.
Key requirements for Ukraine to defeat Russia?
While the Ukrainian military has received advanced weapons systems from its allies and is actively seeking to acquire F-16 fighter jets, an Austrian military analyst has identified key requirements he believes are necessary for the Ukrainian military to effectively counter and defeat Russia.
In an interview with NV on 29 May, Austrian military expert Tom Cooper said the Ukrainian armed forces do not need F-16s. Instead, he stressed the urgent need for numerous artillery missiles.
Cooper believes that a significant increase in artillery ammunition is crucial to substantially change the situation on the frontline for Ukraine.
"In January, February and March, it was demonstrated that you need a lot of artillery shells in the first place," Cooper said.
Cooper said his idea goes beyond simply sending a few hundred thousand artillery shells every month.
He suggested that Ukraine should receive millions of shells every month until it had such an abundant supply that the military would no longer have to worry about rationing or conserving them.
The second priority identified by Cooper was the supply of heavy infantry weapons, specifically automatic grenade launchers and heavy machine guns. These weapons are essential to enhance the firepower and capabilities of Ukrainian infantry units.
Thirdly, Cooper stressed the need to provide heavy equipment, such as tanks and armoured personnel carriers, to the Ukrainian armed forces. These armoured vehicles play a crucial role in providing protection and offensive capabilities on the battlefield.
"Right now, you are still equipped with NATO Class 2 weapons," Cooper explained. "You're getting old tanks, you're getting old armoured personnel carriers, you're not getting enough infantry fighting vehicles," he explained.
Cooper mentioned in particular the recent purchase of modern infantry fighting vehicles from Sweden, such as the CV90, which has a 40mm cannon and offers excellent protection.
He also praised this equipment as excellent and well suited for advancing and conducting various military operations. Cooper was of the opinion that the acquisition of more such modern infantry fighting vehicles would significantly enhance Ukraine's battlefield capabilities.
The fourth item on Cooper's priority list was the purchase of additional air defence systems, including Patriot, IRIS-T, NASAMS and Hawk systems. He stressed the need for an air defence system to be deployed alongside frontline troops, providing crucial protection.
The fifth element identified by Cooper was the "Israeli-made Rampage fast hypersonic missile", which he considered a superior weapon compared to long-range options such as the British Storm Shadow missile and HIMARS missiles.
Cooper claimed the Rampage missile, launched from an F-16, flies at near-ballistic speeds, covering a distance of 150 kilometres with high accuracy.
Cooper's reasoning behind favouring the Rampage missile over other options is its impressive speed, in contrast to the slower speeds of the Storm Shadow and HIMARS missiles.
He felt that faster weapons such as the Rampage are crucial and should be procured in significant quantities to effectively strengthen Ukraine's military capabilities.
Plans to move forward-deployed warship refits to Japan and South Korea are being pushed to encompass shipbuilding to match the growing armada of China's People's Liberation Army Navy (PLAN).
However, experts and policymakers are divided on this suggestion. Some warn of the temporary economic consequences of pulling production out of the country, others stress the speed with which ships will be available to the USN, meeting its immediate needs.
Supporters of the plan also point to the sophistication of warships produced in frontline allies Japan and South Korea (especially the former), which naturally complement their larger strategic, political, economic and military alliance with the US.
The Pentagon estimates that the Chinese navy currently has about 340 warships, while the US has fewer than 300. It expects the Chinese fleet to grow to 400 in the next two years, while it will take the US fleet until 2045 to reach 350.
Korean and Japanese shipbuilding – alongside the best
A CNN report talks about the Chinese Type 055 destroyer, considered the most advanced in the world. But observers then sing the praises of South Korea's Sejong the Great and the Japan Maritime Self-Defense Force's (JMSDF) Maya and Mogami destroyers for their sophistication, which matches Chinese naval technology.
Japan Maritime Self-Defense Forces (JMSDF) Mogami-class destroyer.
The report quoted diplomatic and military experts on the sidelines of the recently concluded Shangri La Dialogue who addressed the repercussions of the plan. This follows an earlier report about US officials considering Japan and South Korea for ship repair instead of sending them back to the US mainland and unloading shipyards there.
Blake Herzinger, a researcher at the United States Studies Center in Australia, and Carl Schuster, former director of operations at the US Pacific Command's Joint Intelligence Center in Hawaii, said those countries' warships are the only ones that match up to Chinese technology.
Alessio Patalano, professor of warfare and strategy at King's College London, says the Maya-class 96 VLS (Vertical Launch Silo) cells can also launch anti-ballistic missiles with "state-of-the-art sensors and systems". Although on a par with the US Arleigh Burke-class destroyers, the Japanese ship is also half the price of its $2.2 billion counterpart.
In addition, the Japanese and South Korean warships also carry US technologies such as the Aegis combat system and SPY radars for interoperability. Given their complete familiarity with American systems, this makes naval engineers from these countries better suited to build warships for the US.
Japan's status as a builder of sophisticated warships also justifies a cursory look at the distinction of its shipbuilding industry's evolution. Its naval architects have established a tradition of pursuing "sound" technological and engineering practices that have spawned many formidable destroyers with stable hulls, advanced sensors and weapons.
A report in The National Interest notes how Japan has developed a state-of-the-art military-industrial manufacturing ecosystem by investing just one percent of its GDP in defense. Its engineering decisions have also chosen proven and established technical concepts in hull design, combined gas and gas power plants (COGAG) and weaponry such as VLS systems.
After rigorous experience and full mastery of these technologies, they gradually introduced newer hull concepts and propulsion systems such as gas-electric hybrid and AESA radars.
"The U.S. Navy must be constantly reminded that great acquisition programs are not born when the Navy tries to cram an inordinate number of revolutionary technologies into a single program," the report states.
Existing US laws do not allow US ships to be built abroad or to buy ships from foreign builders and are "fraught" with "political" risks, some experts warn. Others, however, say the measures would only be temporary, until the urgent shortfall to China is covered and investments are made to address capacity problems in US shipyards.
A senior Navy officer acknowledges China's leadership
Endemic problems in the US shipbuilding industry bolster the case for sourcing ships from foreign partners.
The US has seven shipbuilders, with four public shipyards, including Portsmouth Shipyard, Norfolk Shipyard, Pearl Harbor Shipyard and Puget Sound Shipyard. The other three private military shipbuilders are Huntington Ingalls of Virginia, Bath Iron Works of Maine and General Dynamics Electric Boat of Maine, the USN's main submarine builder.
At an event in February this year, Secretary of the Navy Carlos Del Toro praised China's shipyard capacity and shipbuilding capability far above that of the US. "They have 13 shipyards; in some cases, their shipyard has more capacity – one shipyard has more capacity than all of our shipyards combined. That poses a real threat," he argued.
Constraints ranging from a lack of skilled labor due to high U.S. employment rates, post-Covid supply chain disruptions, and other economic and financing issues have plagued U.S. shipbuilding.
US shipyards – underestimated modernisation costs, creaking infrastructure
The Government Accountability Office (GAO) captured the situation in a May 2022 report. Delays in shipyard maintenance directly affect the Navy's readiness, hampering its ability to conduct training and operations. For example, in August 2020, GAO found that aircraft carrier maintenance delays between 2015 and 2019 resulted in ships being unavailable for 1,128 days.
This is equivalent to losing the use of more than 0.5 aircraft carriers each year. For submarines over the same period, maintenance overruns resulted in a total of 6,296 days of submarine unavailability. This was equivalent to losing the use of more than three submarines each year.
That same year, the Navy began a 20-year, $21 billion effort to modernize and optimize its shipyards, known as the Shipyard Infrastructure Optimization Plan (SIOP).
But the detailed plans for the shipyards won't begin to be realized until 2025. Their realization is subject to the delays that follow and are commonplace, from the start of physical work and monetary allocation to the inevitable revision of deadlines.
The lack and obsolescence of key shipyard infrastructure, such as dry docks, 17 of which are either in a state of disrepair or would be incompatible with the new generation of large ships such as the Gerald R. Ford class aircraft carriers, needs to be addressed. While in 2018 the USN estimated $4 billion to modernize the 17 dry docks, it later found that the price tag for modernizing just the first three dry docks exceeded $4 billion.
Interestingly, the $21 billion estimate for the SIOP itself was reached without taking into account much overhead. "(This includes) inflation, utilities, environmental remediation, and historic preservation not included in the original SIOP estimate, which could add billions," the GAO report states.
The USN's unprioritized approach to its modernization programs has also been responsible to some extent for the poor condition of its shipyards. According to officials interviewed by the GAO, USN leadership often places the procurement of platforms such as aircraft, submarines, and ships "above sustainment of facilities because of the perceived greater importance they place on accomplishing assigned missions."
Shipbuilding and manufacturing industries are intertwined
Shipyard modernisation and expansion is a smaller subset of the manufacturing and engineering products industry. Shipyards involve capital goods such as cranes, sheet metal rollers, lathes, furnaces and power tools.
Most of these are products whose imports into the US have increased because of the decline in US manufacturing that has characterized the last two decades of its socio-economic, electoral and foreign policy scene.
Research by the McKinsey Global Institute identifies some of these as precision tools, automotive parts, semiconductors, medical devices and communications equipment. The firm says the US share of global manufacturing has fallen from 25% to 17%.
China's Luyang III-class guided-missile destroyer made an unsafe maneuver near the destroyer USS Chung-Hoon in the Taiwan Strait, forcing the latter to slow down to avoid a collision, the US Indo-Pacific Command said Saturday.
"In accordance with international law, USS Chung-Hoon (DDG 93) and HMCS (Her Majesty's Canadian Ship) Montreal (FFH 336) conducted a routine south-to-north transit of the Taiwan Strait on June 3 through waters where high seas navigation and overflight freedoms apply. During the transit, PLA(N) (People's Liberation Army Navy) LUYANG III DDG 132 (PRC LY 132) executed maneuvers in an unsafe manner in the vicinity of Chung-Hoon," the command said in a statement.
The statement added that Chung-Hoon maintained course and slowed down to avoid a collision. The closest point of approach to the Chinese warship was 150 metres (137 yards), "and its actions violated the 'Maritime Rules of the Road' of safe passage in international waters," the statement said.
In late May, the command said the Chinese J-16 fighter jet performed an "unnecessarily aggressive manoeuvre" while intercepting the US RC-135 aircraft over the South China Sea on May 26.
China firm on invading Taiwan
A leading strategic think tank, the International Institute for Strategic Studies (IISS), recently published a report stating that there is no evidence that Russia's stumbled invasion of Ukraine has altered China's intentions regarding a potential invasion of Taiwan.
Russia's invasion of Ukraine has caused the United States and virtually the entire West to invest in the bloody war raging in Europe over the past year. However, in a scathing analysis, the report says China remains "the main long-term challenge" to the existing international order.
Contrary to the view that the war in Europe could slow defence spending in Asia and discourage China from new adventures, the report says the protracted conflict in Europe may also accelerate trends of increased military spending and efforts to develop military capabilities in the Asia-Pacific region.
The report was published ahead of the Shangri La Dialogue, also hosted by the IISS, later this week. The dialogue has already sparked controversy, with Beijing declining a request from Washington for a meeting between the two countries' defence chiefs.
The conflict and its effects on the Asia-Pacific region, as well as the intensifying rivalry between the US and China, will be the focus of the security conference, which has long served as a place for senior security officials to interact in person.
This makes the report's findings significant, as it is an annual assessment of Asia-Pacific security, written by experts at the think tank.
Analysing the overall global effect of the war on the Asia-Pacific region, the report argues that there is no evidence that the war in Ukraine has "altered Chinese thinking on the timing or methodology" for a potential attack on Taiwan.
"Beijing's view of Taiwan as an internal challenge has shaped its assessment that a Chinese use of force to retake the island would be entirely different from war in Ukraine," the report said. However, according to the report, Chinese military analysts examined the effects of Western assistance to Ukraine and the elements that contributed to Russia's underwhelming military performance.
The report went on to say that it is "impossible to predict" whether China will use force to annex Taiwan in the future and that Beijing's decision will be influenced not only by "an assessment of military capability, but also by an analysis of likely non-military responses by the US and allies," including potential economic effects.
This statement is significant because since Russia launched its unprecedented invasion last February, military observers have said that China has been watching Russia's military effort closely to learn from Moscow's mistake if/when it decides to invade Taiwan.
Earlier this year, Taiwan's defense ministry said the Chinese military was learning from Russia's invasion of Ukraine that any attack on Taiwan would have to be swift to be successful.
"The war between Russia and Ukraine has taught them great lessons – they will seek speed," Taiwanese defence minister Chiu Kuo-cheng told reporters.
Russia launched a massive blitzkrieg-style military operation against Ukraine last year. However, it was met with a tough and skilful defence from Ukraine, in part because of intelligence assessments provided to Kiev by the West in the days before the invasion.
To invade, or not to invade Taiwan
In recent years, Beijing has rapidly increased the size of its navy, militarized islands in the South China Sea, pressed for security pacts in the South Pacific, and stepped up rhetoric over disputed territorial claims, raising concerns in the US and across the region about China's growing assertiveness.
Given China's growing assertiveness and the incremental increase in confrontational rhetoric, Taiwan has received more attention as a potential security hot spot in Asia following the Russian invasion of Ukraine.
For its part, China has repeatedly hinted that it intends to occupy the self-governing island state of Taiwan and integrate it into mainland China, even if it has to resort to the use of force. Moreover, since last August, it has stepped up military preparations to carry out an invasion.
On several occasions, the Chinese PLA has simulated an armed invasion of Taiwan as part of a large-scale military exercise in which it has rehearsed an amphibious assault, encircling the island, cutting off external access to the island, etc. Beijing is ignoring the fact that an invasion could be only a matter of time.
The report also claims that Asia-Pacific leaders are still concerned that Russia's actions in Ukraine have lowered the bar for an armed confrontation in Asia, attributing to an argument that Japanese Prime Minister Fumio Kishida has openly accepted. These concerns focus mainly on China and the potential for Beijing to be encouraged to use force against Taiwan or its neighbours.
"At one level, it seems reasonable to conclude that Russia's frustrations on the battlefield in Ukraine would give pause to Beijing, which may be thinking about its own military adventures. However, Chinese officials rarely comment publicly on such matters, so there is little conclusive evidence on how Russia's 'special operation' against Ukraine will affect the chances of a possible future Chinese invasion of Taiwan."
The report then suggests that it might be more fruitful to focus on the broader development lessons that the PLA could learn from the performance of Russia's and Ukraine's armed forces, rather than on the possibility of China engaging in military adventurism.
In many cases, the report argues, these lessons are likely to help the PLA's current priorities and modernisation plans, such as the value of improving its own proficiency in joint operations or combined arms and how to make creative use of new technologies, such as the evolution of drone warfare.
The report also says: "Ukraine's military successes suggest an additional, potentially pre-emptive, lesson for the Asia-Pacific: Western military training and capacity-building efforts – provided to Ukraine after 2014 – can bear strategic fruit. While media attention has focused on providing weapons systems since the invasion, the Ukrainian armed forces have benefited from training, equipment and skills transfer, under US and UK leadership, in the pre-war phase, preventing a quick Russian fait accompli in 2022."
"Ukraine could come to be seen as one of the most successful cases in recent history of military capability building ahead of full-scale hostilities – with potential lessons for Taiwan."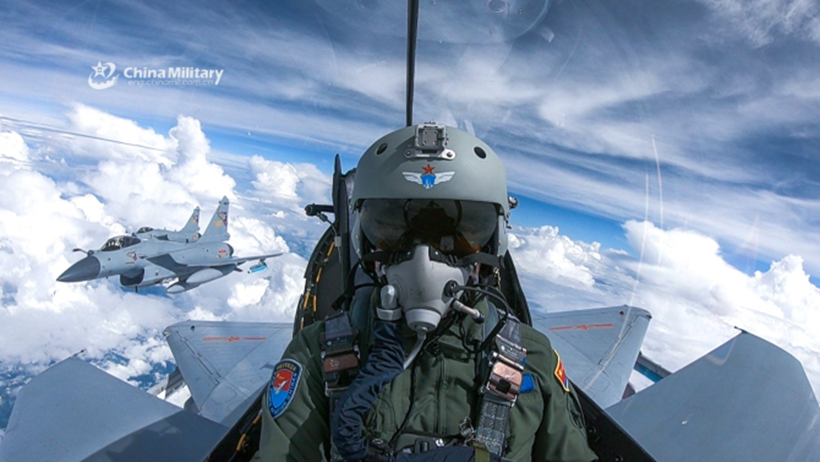 Chinese pilots during a military exercise. Photo Credit: China's Ministry of Defence
German Defence Minister Boris Pistorius on Saturday called on China to stop recruiting former German air force (Luftwaffe) pilots to train Chinese pilots, a move that could allow Beijing to obtain NATO secrets, reports Agerpres, citing AFP.
"I raised the issue of German Bundeswehr pilots who were apparently recruited to provide training to Chinese military pilots," Boris Pistorius told the press after a meeting with his Chinese counterpart Li Shangfu Li on the sidelines of a security conference in Singapore.
"I made it clear that I expect this practice to stop immediately and told him that he probably wouldn't be very happy if I tried to do the same," the German minister said. According to him, the Chinese minister "did not deny, but relativised the matter from his point of view", Pistorius continued.
The German weekly Der Spiegel and German public television ZDF reported on Friday that several former German army pilots had been recruited in recent years by China to train its military pilots. The German pilots were paid through front companies in the Seychelles, and some of them were allegedly hired by the company of a member of the Chinese intelligence service.
According to the two German media, the affair has been under the scrutiny of the intelligence oversight committee of the Bundestag, the German federal parliament, for several weeks. "We are concerned that these military personnel, having worked for the German state, may have jobs where they betray state secrets," Konstantin von Notz, chairman of the committee, told ZDF.
The German pilots were trained on Eurofighter fighters and had taken part in NATO exercises. Berlin fears that NATO tactical and intervention secrets may have come into China's possession.
The German defence ministry is considering opening an investigation after similar cases have been revealed in recent years in the UK and US.
https://www.defenseromania.ro/china-recruteaza-pe-bani-multi-fosi-piloti-militari-germani-cu-scopul-de-a-obtine-date-secrete-starnind-furia-berlinului_622967.html
Two US F-16s intercepted a plane before it crashed in the US. In Washington a supersonic boom has created panic-05 Jun 2023, 08:05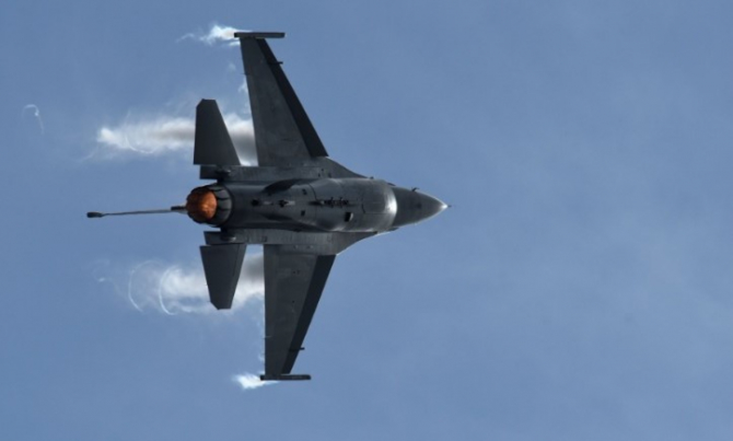 Photo Credit: U.S. Air Force
A supersonic boom occurred in Washington on Sunday as two F-16 Fighting Falcon fighter jets tried to intercept an unresponsive aircraft before it crashed in the US state of Virginia, according to officials cited by AFP, Agerpres reports.
Residents of the US federal capital and its suburbs reported hearing a deafening noise that rattled windows and walls for miles around and raised many questions on social media.
The two fighter jets took off from Andrews Air Force Base in Maryland, a Pentagon official told AFP, in pursuit of an aircraft described by the US Air Force (FAA) as a Cessna Citation light aircraft that then crashed in a mountainous area of southwest Virginia.
The aircraft had taken off from Elizabethton, Tennessee (east) for Long Island, New York (northeast), according to the FAA.
Flight-tracking websites showed the private plane turned around after reaching its destination, heading south.
"The loud noise heard in the Washington metropolitan area was caused by an authorized Department of Defense flight. This flight caused a supersonic bang," the Office of Emergency Management in the city of Annapolis, about 30 miles east of the federal capital, tweeted.
The aircraft that fighter jets were trying to intercept crashed near Montebello, Virginia, about 270 kilometres southwest of Washington, around 3.30pm, (1930 GMT), the FAA reported.
So far, no information has been released about the pilot and any passengers on the plane.
Preliminary information is yet to be released by the FAA and the North American Aerospace Defense Command (NORAD).
https://www.defenseromania.ro/doua-f-16-americane-au-interceptat-un-avion-inainte-de-prabusire-in-sua-la-washington-un-boom-supersonic-a-creat-panica_622976.html
The claim comes as Ukraine prepares for a major counteroffensive to retake territory occupied by Russia.
Ukrainian servicemen behind a military truck. Their faces are not shown.
Ukraine prepares to launch a new counteroffensive to retake territory occupied by Russia [Image: Dimitar Dilkoff/AFP]
Russia said its forces thwarted a major Ukrainian offensive in Ukraine's Donetsk region, killing 250 Ukrainian soldiers and destroying tanks and armoured vehicles.
"On the morning of June 4, the enemy launched a large-scale offensive in five sectors of the front in the direction of southern Donetsk," the Russian Defense Ministry said Monday morning on its Telegram channel.
There has been no update from Ukraine on the alleged offensive. In its evening update on June 4, the General Staff of the Armed Forces of Ukraine said Moscow is focusing its military efforts on fully occupying the Luhansk and Donetsk regions.
Donetsk is one of four Ukrainian territories that Russia annexed last September, along with Luhansk, Zaporizhia and Kherson.
"Over the course of the day, the occupiers carried out 23 attacks, but all of them were repulsed by units of the defence forces," he said.
It was not immediately possible to verify Russian or Ukrainian claims.
The Russian Defence Ministry said Ukraine launched the attack using six mechanised battalions and two tank battalions.
"The enemy's aim was to pierce our defenses in the most vulnerable, in its opinion, sector of the front," the defense ministry said. "The enemy did not accomplish its tasks, it was not successful."
Ukraine is preparing for a counteroffensive to retake territory occupied by Russia since it began its full-scale invasion of Ukraine in February 2022, as well as the Crimean peninsula, which it seized in 2014.
But it has given mixed signals about what the counteroffensive would entail – preliminary, limited strikes to weaken Russian forces and military installations, or a simultaneous full-scale assault along the entire 1,100-kilometer (684-mile) front line.
Russia said its forces killed 250 Ukrainian soldiers and also destroyed 16 tanks, three infantry fighting vehicles and 21 armoured fighting vehicles.
Drone footage Russia says shows armoured vehicles moving in an undisclosed location. The images are grainy and show an expanse of green fields with several black dots and several explosions. A row of trees can be seen in the background.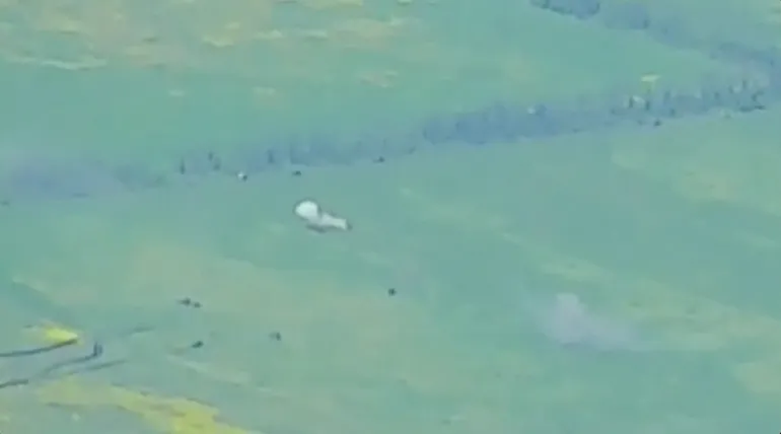 Drone footage released by Russia which it says shows armoured vehicles moving [Russian Defence Ministry/Handout via Reuters].
The ministry added that Russian Chief of General Staff Valery Gerasimov "was at one of the forward command posts" at the time.
Ukrainian President Volodymyr Zelenskyy made no mention of the alleged attack in his evening video address on Sunday night. He had previously said Kiev was prepared to act.
Ukraine has been trying in recent weeks to weaken Russian positions. Late last month, a senior official said preliminary operations, such as destroying supply lines or blowing up warehouses, had already begun.
A drone attack set fire to an energy facility in Russia's Belgorod region in the early hours of Monday, and regional governor Vyacheslav Gladkov reported several incursions by pro-Ukrainian armed groups, the anti-Kremlin Russian Volunteer Corps and the Russian Freedom Legion.
The fighters said they had also taken Russian troops captive and would hand them over to Ukraine.
The Belgorod region borders Ukraine and has been under frequent shelling in recent weeks.
https://www.aljazeera.com/news/2023/6/5/russia-claims-to-have-thwarted-major-ukraine-attack
Switchblade 600 kamikaze drones
Russia's anti-aircraft defenses shot down up to nine drones over the Crimean peninsula on Saturday night, the pro-Russian head of the annexed peninsula, Sergei Axionov, said, according to Agerpres, citing EFE.
Anti-aircraft batteries shot down five of the drones, while the rest were disabled by radio-electronic warfare systems and did not hit their targets at Djankoi, Axionov said on his Telegram account.
However, the fall of one of the drones caused damage in the town of Djankoi, where it damaged two cars and smashed the windows of three houses.
He also said that an unexploded drone landed in the yard of a house, forcing the call of engineers and the evacuation of about 50 people.
Earlier, a Moscow-installed official in the Crimean peninsula, annexed by Russia in 2014, said a drone was shot down in Djankoi, Crimea.
In recent weeks, local authorities have reported several massive drone and missile attacks against the peninsula annexed in 2014.
One of the main targets is the Russian Black Sea Fleet base in the port city of Sevastopol, which has had to strengthen its land, sea and air defences.
Because of this, Crimea has been unable to hold its traditional naval parade on 9 May, Victory over Nazi Germany Day.
The West has received assurances from Ukraine that it will not use the heavy weapons provided by its Western partners to attack Russian territory, which does not include Crimea.
Russia has a military air base near Djankoi. Ukrainian officials say the town and its surroundings have become Moscow's biggest military base in Crimea, according to Reuters.
ww.defenseromania.co.uk/val-of-Ukrainian-drones-over-Crimea-russia-sustains-that-anti-aircraft-attack-successfully-shot-down-9-drones-in-crimea_622972.html
Grom-2 missile systems with a range of 500 kilometers, the unused ace up Ukraine's sleeve? But there are some big question marks-03 Jun 2023, 13:21
Ukrainian Grom-2 operational-tactical missile system. Photo source: @Dylan Malyasov Defence-Blog.com
Ukraine has been insisting for months on receiving long-range ATACMS (300-kilometre) missiles that can be integrated onto US-made HIMARS systems, systems that played a key role in stopping the Russian advance last year and in the autumn 2022 counteroffensive. The Ukrainians, however, had Grom-2 systems that could strike at a range of 250-500 kilometres, but they have hardly appeared on the war landscape.
Recall that Ukraine's requests to also receive ATACMS missiles with a range of 300 kilometres have been consistently denied by the United States.
The Americans justified their decision by avoiding escalation of the war, amid fears in Washington that Ukraine could use American missiles to strike targets on Russian territory.
The Pentagon has instead delivered missiles with a range of 80 kilometres.
Grom-2 missiles with a range of 500 kilometres, Ukraine's ace in the hole?
General (r.) Dan Grecu brought up an interesting topic: the Grom-2 operational-tactical missile complexes that the Ukrainians have produced and which have a range equal to or even greater than ATACMS.
Either the Ukrainians keep the missiles as an ace up their sleeve, as their numbers are limited, or they no longer exist. As for production capabilities, there are question marks in the context of the occupier's first-phase strike on Ukrainian factories.
"Ukraine has Grom-2 operational-tactical missile systems that no one mentions. The systems have tactical missiles, but they have upgraded them, the export version is 250 kilometers, but there is also a 500-kilometer version that was probably kept for them. There hasn't been much information on their use on Russian positions. Ukraine may have used Grom-2s in the Sevastopol attack because their range is longer than the HIMARS missiles the Americans handed over.
The Ukrainian press speculates that the armed forces kept the 500-kilometre-range Grom-2 missiles they produce, but it's a big question mark. At the beginning of the invasion the Russians hit the production plants in the first stage of the war," said General (r.) Grecu in a dialogue with DefenseRomania, adding that "one of the explanations for the Russian objective to occupy Kharkov is not only that it is the second largest city in Ukraine, but that it is also home to the largest armoured factory and one of the largest in the former USSR."
"Today the Russians operate armoured vehicles made in Kharkov," he concluded.
Did Ukraine use Grom-2 missiles during the 15 months of war?
As for the Grom-2, the declared maximum launch range of the missile complex is 500 kilometres, so when launched from the Odessa Region it could reach Crimea. Its warhead weighs 480 kilograms and is capable of forming a five-metre-deep funnel.
Ukrainian defence companies have been actively working on creating their own weapons since 2014. Thus, before the start of the Russian invasion, the Vilkha multiple reactive missile launchers and Grom-2 operational-tactical missile systems were created.
In March this year, Russian military experts reported that the attack on Crimea was carried out with an operational-tactical Grom-2 missile complex belonging to the Ukrainian military. Indirect confirmation of this was also provided on the Rybar Telegram channel, which noted that a huge funnel-shaped crater about five metres deep had formed at the site of the projectile's fall.
Rumors about the use of Grom-2 had also appeared in the Russian press last autumn.
So far the information has not been officially confirmed.
https://www.defenseromania.ro/sistemele-de-rachete-grom-2-cu-raza-de-500-kilometri-asul-nefolosit-din-maneca-ucrainei-sunt-insa-cateva-semne-mari-de-intrebare_622961.html
Today marks the 34th anniversary of the Tiananmen Massacre, yet another subject under total censorship by the Communist regime in Beijing. The Tiananmen Square Massacre, also known as the Tiananmen Square Incident, took place in China in 1989. It was a major event in which the Chinese government brutally suppressed the movement for democracy and political reform taking place in Beijing's Tiananmen Square.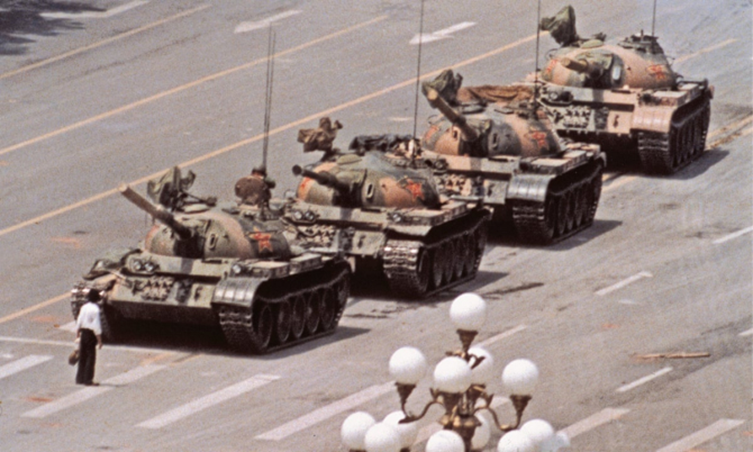 The Tiananmen Square protests began in April 1989, with students and other social groups demanding political reforms, more freedom of speech and a reduction in corruption within the Chinese Communist Party. The protesters, made up of students, workers and other social groups, held public rallies and demanded significant political changes.
At first, the protests were peaceful and had the support of large numbers of people in Beijing and other cities. However, on 3 and 4 June 1989, the Chinese government decided to intervene militarily to suppress the movement. Armed forces were sent into the square, using tanks and heavy weaponry against the peaceful protesters.
The exact number of casualties in the Tiananmen massacre remains unknown, as the Chinese government has never provided official figures and there has been a strict closure on information about the event. However, it is estimated that hundreds or perhaps thousands of people were killed, and many others were injured or arrested.
The Tiananmen massacre attracted international attention and led to widespread condemnation of the Chinese government's actions by the international community. Following the events, China introduced strict censorship and surveillance measures to control information about the massacre and prevent possible riots or protest movements in the future.
It is important to note that the Chinese government still considers the subject of the Tiananmen massacre to be a sensitive issue and censors any discussion or information about it in China.
Today, the regime in China is trying to erase the events that took place exactly 34 years ago from memory for good, through total censorship in the media.
https://www.defenseromania.ro/masacrul-din-piata-tiananmen-dupa-34-de-ani-china-impune-in-continuare-cenzura-totala-asupra-reprimarii-miscarii-pentru-democratie-si-reforma-politica-din-1989_622970.html
EXCLUSIVE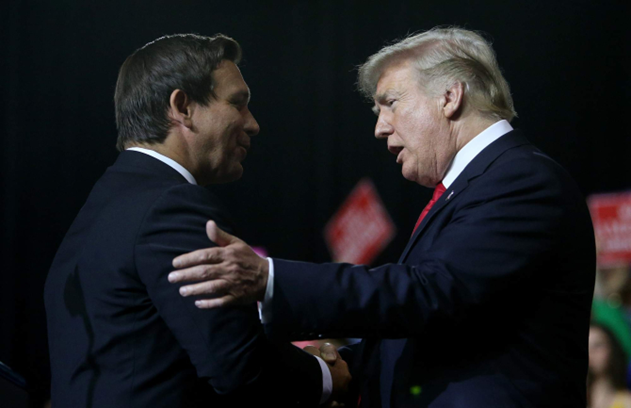 Photo source: Ron DeSantis @OfficialFacebook
Donald Trump and his main Republican primary challenger had a first-ever, long-distance gloves-off in the US state of Iowa. Republicans kicked off the campaign to choose the frontrunner to face Democrat Joe Biden in the 2024 presidential election later next year.
To understand how Republicans choose their candidate to fight for the White House, it should be noted that the US electoral system of so-called primaries requires US citizens registered in voter databases as Republicans – there is no concept of party membership in the US – to choose their favourite based on campaigning and debates. The candidate who gets the most voters in the 50 US states will be designated the presidential nominee.
Of course, it's not just Donald Trump and Florida Governor Ron DeSantis who are running. Other Republican heavyweights will enter the race, such as Tim Scott and Nikki Haley, but Mike Pence, Donald Trump's former vice president, is also in the running.
But Donald Trump is the big favourite, followed by Ron DeSantis. Polls conducted – but before DeSantis' official candidacy was announced in a dialogue with Elon Musk – had Donald Trump the clear favourite, by a comfortable margin over DeSantis. But it has been proven far too many times that the best poll is the vote. Even the 2016 polls when Trump swept the Republican primary were far from indicating such an outcome.
This week in the US state of Iowa Donald Trump and Ron DeSantis, once close, had their first showdown. Iowa will be among the first to vote in the primaries, the state's importance being more psychological, an electoral springboard. As an element of can-can in Democratic primaries no candidate who has won Iowa since 2000 has lost the party's presidential nomination.
The first to "hit" was Trump. His campaign team launched an attack on the Florida governor, including his handling of the pandemic. There were also spots on Iowa TV stations accusing DeSantis of raising taxes, a sensitive issue among Republican voters.
Ron DeSantis, Fox's new "star", also responded in Iowa, recalling that just six months ago the former US president publicly declared his support for him, including for the way the current Florida governor handled the pandemic. He later commented wryly to the public's delight: Trump used to say how great Florida is. Are you kidding me? His whole family moved to Florida during my tenure.
Trump and DeSantis, similar, but so different. Why DeSantis is starting second against Trump, but paradoxically has a better chance of beating Joe Biden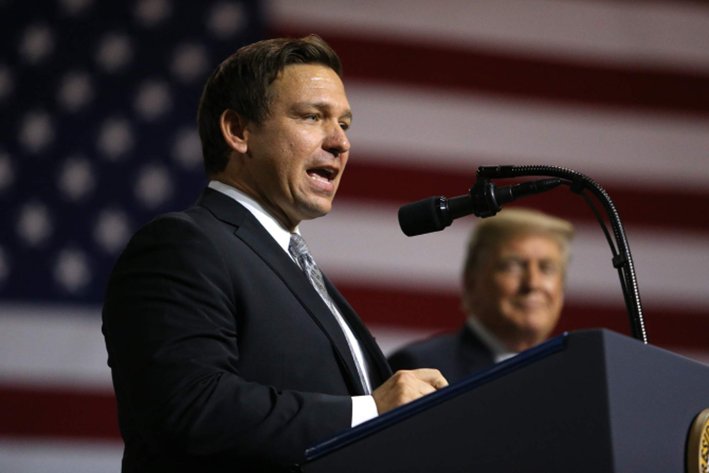 Photo source: Ron DeSantis @OfficialFacebook
Neither has launched into furious campaigns and accusations against the other though. DeSantis, just 44, is well aware of the massive support Trump has among the radical right-wing electorate that he not only doesn't have to antagonize, but from which he has to break to win the primary. On the other side Trump is aware of the danger coming out of Florida and the fresh breath that is pushing his young, not long allied, challenger.
From an ideological perspective and political vision the two are close. Domestically, policies on sexual minorities, tax cuts and migration, and ideological ultraconservatism – DeSantis banned abortion in Florida from six weeks of pregnancy – unite rather than divide them. On the foreign front, similar visions are also found in tough issues such as Russia's war against Ukraine, the Middle East and the showdown for global supremacy with China. Only on the climate issue is DeSantis' vision malleable.
But the similarities end there. Compared to Trump, a former Democrat who is now a Republican and identified as anti-establishment, a position from which he also defeated Hillary Clinton in 2016, DeSantis is a product of American politics. Unlike DeSantis, the former president never won the popular vote.
Though with similar political views, Ron DeSantis has never engaged in the misogynistic attacks, attacks on the person, and below-the-belt bashing that made Trump so palatable to the general public. It's precisely this elegance that makes him dangerous, and it's what the Democratic camp fears. Lacking Trump's charisma, DeSantis scores on age. In the context of the leadership crisis in the American political establishment, DeSantis, three decades younger than Trump and Biden, may be appealing to a part of the electorate looking for a new lease of life.
His big drawback, however, is that for the moment Ron DeSantis is a "local" politician, he is in the process of crossing the borders of Florida and the other 49 US states, as far as the American citizen is concerned for whom politics is far from dominating the daily agenda.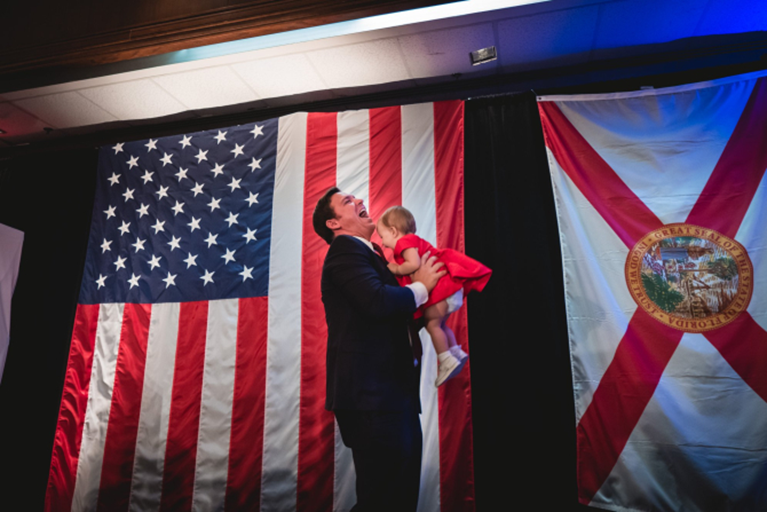 Photo source: Ron DeSantis @OfficialFacebook
Based on the idea that the many dossiers Trump is embroiled in won't block his run in the Republican primary, we can expect Trump to recalibrate his attacks on the person to other Republican candidates in the coming months, avoiding a direct collision with DeSantis and continuing his cloak-and-dagger attacks. Both are aware that they need the votes of the other electorate.
The paradox is that while DeSantis will have a harder time beating Trump in the primary, the current Florida governor has a better chance than the former president in 2024 against Joe Biden, given that he has the ability to "bite" much more of the Democratic electoral pool and especially the neutral electorate. On Trump the division is deep, tertium non datur: You're either with Trump or against him.
Democratic pundits know this. But haunted by the ghost of Trump, would any Democrat today ever risk another Donald Trump presidential term if they were faced with a choice between Trump and DeSantis?
But this very strategy of avoiding a direct confrontation with DeSantis could pave the way for a scenario that would substantially increase Trump's chances in 2024 if he wins the Republican primary: A Trump president-DeSantis vice presidential tandem, which could be a springboard for Florida's young governor ahead of the 2028 election. And the primary winner's choice of vice president from among his former challengers is a common practice in the American political landscape. It happened in the Joe Biden – Kamala Harris case.
https://www.defenseromania.ro/prima-coliziune-intre-trump-si-desantis-dar-cu-manusi-marile-diferente-dintre-ei-si-un-scenariu-pentru-confruntarea-cu-joe-biden-din-2024_622968.html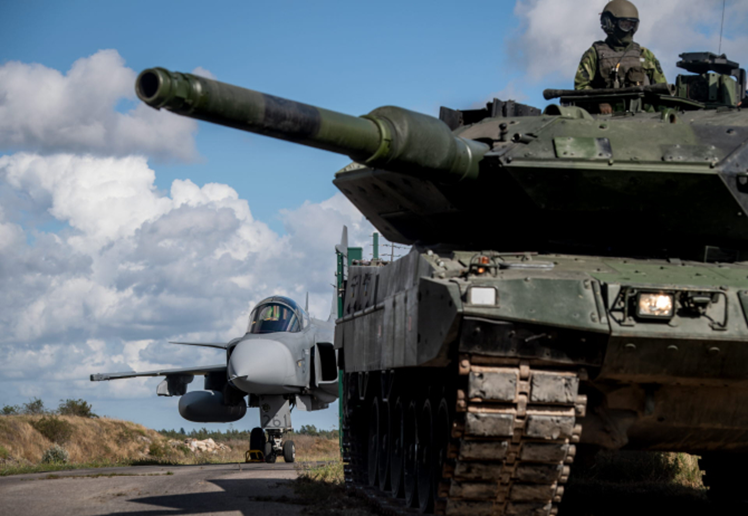 Swedish Stridsvagn tank, source photo: Swedish Ministry of Defence – Forsvarsmakten.se
NATO Secretary General Jens Stoltenberg on Sunday urged Turkey to drop its objections to Sweden, "which has fulfilled its obligations", and to finalise its accession to the Alliance "as soon as possible", reports Agerpres, citing AFP.
Stoltenberg, who hailed "a productive meeting", was speaking to the press at the end of a two-hour meeting at Istanbul's Dolmabahce Palace with President Recep Tayyip Erdogan, who was re-elected the day before for a new five-year term as head of state.
Turkey has been blocking Sweden's entry into the Atlantic Alliance for thirteen months, blaming it for indulging the Kurdish militants it hosts on its territory.
For Stoltenberg, "it's time" for this accession to be confirmed before the alliance summit in Vilnius on 11-12 July.
To this end, he announced the creation of a "permanent mechanism" between NATO and Turkey, with the next meeting scheduled for "the week of 12 June", without specifying where it would take place.
"Sweden's accession to NATO will strengthen its security, but it will also make Turkey stronger," Stoltenberg said.
Turkey remains the only one of NATO's 31 members, along with Hungary, that has not yet ratified the enlargement after Finland was given the green light.
The NATO secretary-general, who attended Saturday's swearing-in ceremony in Ankara for President Erdogan, who was re-elected on 28 May, also thanked Turkey for deploying reinforcements to Kosovo, which is in the midst of violent unrest.
Ankara is participating in KFOR, the Atlantic Alliance-led multinational force in Kosovo.
https://www.defenseromania.ro/stoltenberg-i-a-cerut-lui-erdogan-din-nou-ca-turcia-sa-ridice-vetoul-privind-aderarea-suediei-la-nato_622975.html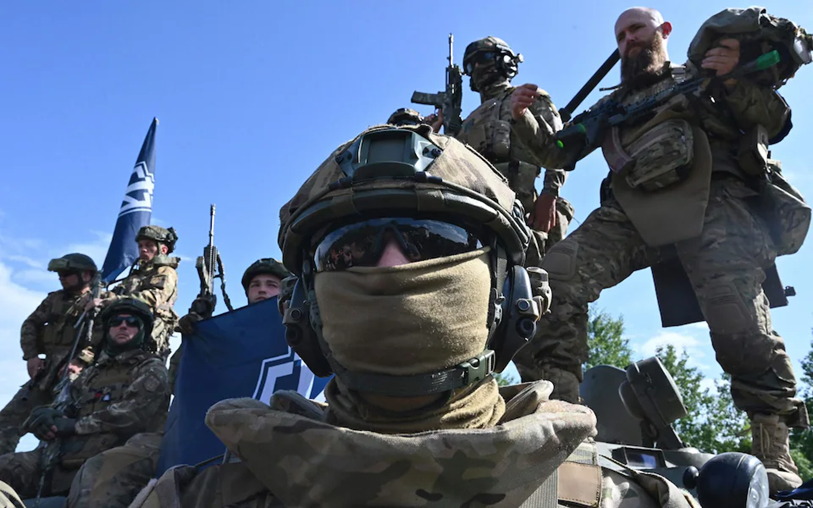 Russian Volunteer Corps fighters CREDIT: Getty
Pro-Ukrainian fighters say they captured at least two Russian soldiers during a cross-border raid on Russian territory.
Denis Kapustin, leader of the Russian Volunteer Corps, which is allied with Kiev, introduced the alleged prisoners in a video filmed in what appears to be a hospital operating theatre.
The move is another major escalation for a group that is causing chaos in southern Russia and embarrassing the Kremlin by launching attacks in the country with apparent ease.
In the video aired Sunday, one of the prisoners was standing, but the other was lying under aluminum foil on an operating table.
"As a gesture of goodwill, we are ready to offer you these prisoners, ordinary Russian soldiers, to have the opportunity to communicate with you personally," Mr Kapustin said in a message to Vyacheslav Gladkov, the governor of the Belgorod region in southern Russia.
The fighters, Russian citizens who attacked from Ukraine for the second time in a week on Thursday, destroyed several buildings and caused hundreds of residents to flee.
The Russian Defense Ministry said Russia deployed fighter jets and artillery to repel the attack, killing 30 fighters.
Mr Kapustin's mockery appeared to undermine those claims, as did videos posted by the Russian Legion of Freedom, a group allied with the Russian Volunteer Corps, showing what it said were its fighters moving into the Russian border town of Shebekino.
Russian officials said shelling of Shebekino and its outlying villages has intensified in the past week. Mr Gladkov has ordered people to leave the area and also rejected an offer to meet Mr Kapustin.
"I have seen the call of scoundrels, murderers and fascists who supposedly want to meet with me," he said as he declined the meeting in the border village.
"A battle is now taking place in Novaya Tavolzhanka."
Yevgeny Prigozhin, head of the Kremlin's Wagner mercenary unit, responded by offering to send one of his senior commanders to the meeting instead.
Thousands of people have fled Shebekino, a town of 40,000, since Thursday. Many are now living in gyms in the town of Belgorod or have been sent to neighbouring towns and regions.
They accuse regional officials of ignoring deteriorating security in favour of projecting a sense of normalcy by organising flower and dumpling festivals.
The incursions by pro-Ukrainian Russians, some of whom are known neo-Nazis, since Thursday appear to be the worst since the start of the full-scale war in Ukraine 15 months ago. Photographs from Shebekino show burned buildings.
A little-known group called the Polish Volunteer Corps also said it was involved in the attacks. The group has previously said it fought around Bakhmut, a town in the Donbas region of eastern Ukraine, where the fighting was most violent.
Poland's government has denied any links to the Polish Volunteer Corps, according to reports.
In Ukraine, officials said Russian missiles hit an air base near the town of Kropyvnytskyi, 200 miles south of Kiev.
"The cruise missiles did not destroy everything," a Ukrainian air force spokesman said. "But unfortunately they hit the operational airfield."
Ukrainian officials said the Kremlin had changed tactics, targeting military command and logistics centres instead of civilian infrastructure, in a bid to disrupt Ukraine's counter-offensive.
On Sunday, local media reported that several TV channels in Russian-occupied Crimea were hacked to show a video recording in which the Ukrainian defence minister said he would not announce the start of the counter-offensive.
Meanwhile, a two-year-old girl was also killed yesterday in Ukraine and 22 people were injured in a separate Russian rocket attack near Dnipro.
In Russia, police detained 45 people protesting against the imprisonment of Alexander Navalny, probably Russia's most prominent opposition leader. His supporters called on people to protest on his 47th birthday.
https://www.telegraph.co.uk/world-news/2023/06/04/pro-ukrainian-fighters-capture-russian-soldiers-belgorod/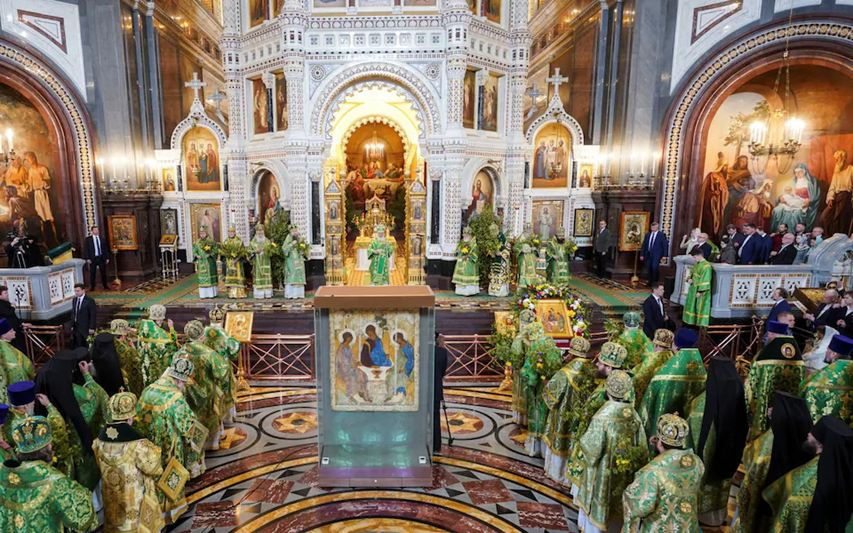 Patriarch Kirill of Moscow and All Russia leads a Holy Trinity Mass with the icon of the Trinity, a 15th-century work of art by Andrei Rublev, at the Cathedral of Christ the Saviour in Moscow on June 4 CREDIT: Moscow Patriarchate Press Service/Reuters
Vladimir Putin has given one of Russia's most famous religious icons to the Russian Orthodox Church, apparently in gratitude for its support of his invasion of Ukraine.
The decision to move the 600-year-old painting from a museum has been criticised as reckless because of its fragile condition.
Patriarch Kirill, head of the Russian Orthodox Church, presided over a Sunday mass at the Cathedral of Christ the Saviour in Moscow alongside the 15th-century painting of the Trinity by medieval painter Andrei Rublev.
"President Putin has made a historic decision to return this miraculous icon," he said. "The icon will be in the Cathedral of Christ the Saviour for a year, so that both Muscovites and guests of the capital can worship at this great shrine."
Art experts describe "Trinity" as a masterpiece by "Russia's most important medieval artist". It depicts three angels believed to be the Holy Trinity and the embodiment of unity, peace, harmony, love and humility.
Video footage showed thousands of Russians queuing to see the work, held in a glass case and guarded by two policemen.
But art experts said it was deeply irresponsible of the Kremlin to move the masterpiece and allow it to be displayed outside the sterilised confines of a modern museum.
"Moving the icon, whose condition is already bordering on emergency, will only accelerate the process of its destruction, which will be extremely difficult to stop," the Russian Academy of Sciences said in a letter to the Russian culture minister.
The painting was originally housed in the Holy Trinity Cathedral of the Holy Trinity Serghii Lavra in the old Russian town of Serghiev Posad, northeast of Moscow, until the 1920s, when the Communists handed it over to the Tretyakov Museum. Trinity Cathedral briefly displayed the icon last summer, and the Orthodox Church said it plans to house it there permanently.
Patriarch Kirill, an alleged former Soviet spy, has been a fervent supporter of Mr Putin's war in Ukraine and a key element of his propaganda.
Mr Putin believes the Church has influence over millions of Russians, especially in rural areas where they are more religious, and makes sure he is seen in church on religious holidays.
https://www.telegraph.co.uk/world-news/2023/06/04/putin-gives-russian-orthodox-church-artwork-trinity-rublev/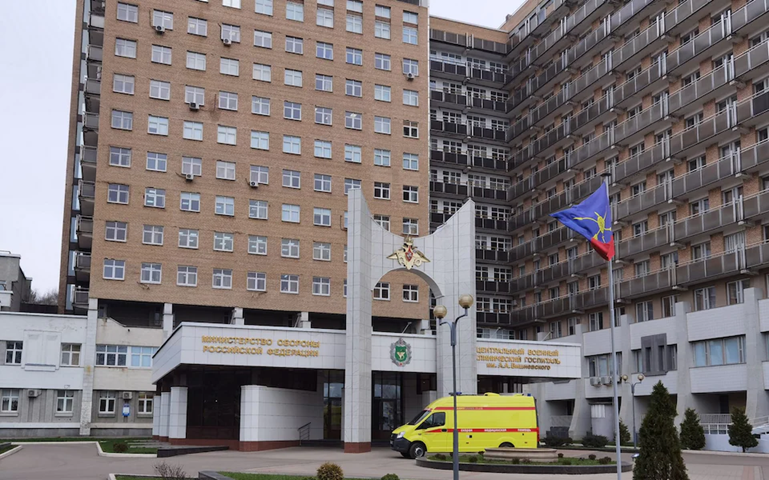 A hospital for Moscow VIPs
The Kremlin plans to build a bunker under a VIP hospital in Moscow CREDIT: Maksim Gulyachik/Shutterstock
The Kremlin plans to build a bunker under a VIP hospital in Moscow to protect Russian elites from Ukrainian drone and missile attacks.
Plans for the 800-person bunker, with filtered-air cooling systems, were revealed after a Ukrainian drone attack on an upscale Moscow suburb.
The 35 million ruble (£350,000) bunker will be able to cleanse the air of "gaseous weapons of mass destruction" and will be able to "perform wartime medical procedures", according to media reports quoting the tender document.
As the Kremlin rushed to announce plans for a bunker beneath the exclusive Central Clinical Hospital, some Muscovites criticized officials for not protecting ordinary people.
At least three drones reportedly evaded air defense systems around Moscow on Tuesday and then crashed in Rubylovka, an upscale residential suburb where many of Russia's wealthy live. One of Vladimir Putin's residences is near Rubylovka, and analysts said it was likely the target.
No one was hurt, but images of Russian FSB officers looking over the charred remains of Ukrainian drones on a Moscow street and damage to "elite" apartment blocks have unnerved some locals.
A Moscow metro station designed by Soviet engineers to withstand a nuclear attack CREDIT: Alamy
"Where do we run to?" one woman wrote on social media app Telegram after the first blast echoed across Moscow. "Where is the bunker?"
Instead, people living in Kiev have had to develop a well-thought-out plan to deal with the drone and missile attacks that have become part of their nightly routine. They derided the Muscovites for finally getting a taste of what they have had to endure over the past 15 months.
Moscow has a deep underground system designed by Soviet engineers to withstand a nuclear attack. The deepest metro station is Park Pobeda, which lies 275 metres underground, three times deeper than an average London underground station.
However, the headache for many Muscovites is that the metro stations are sparsely spread. The Russian press has already reported that rental prices for apartments near metro stations have already risen.
Not that this is a concern for some Russian millionaires, who have started building private bomb shelters.
In November, Nikita Malezhik, the founder of BunkerHouse, was quoted in the Russian press as saying that demand for custom-built air-raid shelters has risen 430% since Vladimir Putin ordered Russia's first mobilisation since World War II.
On its website, BunkerHouse says it can build a private air raid shelter in Moscow within 21 days of receiving an order.
"Equip your safe house, just 10 metres from you," it says alongside photos of air-raid shelters equipped with wine cellars, luxury kitchens and home cinemas. "You'll no longer have to worry about being late, and you'll have time to get everything you need, calmly and without haste."
https://www.telegraph.co.uk/world-news/2023/06/04/russia-builds-bunker-vip-hospital-moscow-ukraine-drones/