MS DAILY BRIEF – September 23 th, 2023
The Maritime Security Forum is pleased to provide you with a product, in the form of a daily newsletter, through which we present the most relevant events and information on naval issues, especially those related to maritime security and other related areas. It aims to present a clear and concise assessment of the most recent and relevant news in this area, with references to sources of information. We hope that this newsletter will prove to be a useful resource for you, providing a comprehensive insight into the complicated context of the field for both specialists and anyone interested in the dynamics of events in the field of maritime security.

MS DAILY BRIEF – September 23 th, 2023
Coupons
Update from Ukraine | The Ukrainian Strike on the Ruzzian Black Sea Headquarters | ATACMS approved
Polish PM tells Ukraine's Zelenskyy to 'never again insult' Polish people-23 Sep 2023, AlJazeera Times 1
US F-16s landed in Romania. MApN also announced the number of planes the US has deployed to Borcea- 22 Sep 2023. 3
Crimean headquarters of Russia's Black Sea Fleet under missile attack-22 Sep 2023. 3
Ukrainian forces' armoured vehicles broke through the main defence line in the Zaporizhia area – ISW-22 Sep 2023 4
F-35 operating from highways. Norway is the first country to use a capability considered a "game changer"-22 Sep 2023. 6
China takes over from USSR: US revives major submarine surveillance programme abandoned at end of Cold War-22 Sep 2023. 8
Abrams tanks will arrive in Ukraine as early as next week, Biden confirms. ATACMS missiles delayed, but US supplements cluster munitions- 22 Sep 2023. 10
Another round of mobilization in Russia seems inevitable. The only question is when. 11
Philippines-China: The Philippines is exploring legal options against China, accusing it of destroying coral reefs in its exclusive economic zone (EEZ) in the South China Sea, a charge Beijing rejects as an attempt to "create political drama." (Reuters/AOL). 12
Implementing strategic deterrence through testing. 13
Bulgaria and Romania present the third Danube bridge project to the European Commission. 15
Bulgaria wants its gas network to become the backbone of the South-East Hydrogen Corridor. 16
Greece wants to deepen cooperation with Turkey on climate crisis and illegal migration. 17
EURACTIV: Let's talk about… treaty change. 18
Karabakh is Azerbaijan and Azerbaijan is Turkey. 20
In the Dardanelles Strait, ship movements have been suspended due to the breakdown of the tanker 21
Three new ships move into Ukrainian ports along a temporary corridor. 21
The Russians have once again damaged the ecology of the Black Sea. 22
NATO exercises with new unmanned maritime systems in Portugal 22
Thales demonstrates mine neutralisation capability of remotely operated underwater vehicle. 23
Navantia signs contract to audit Fridtjof Nansen-class frigates. 24
Raytheon – improving FDI partnership in RAM programme. 25
Navy brings unmanned ships to Japan to support fleet integration. 25
Next-generation naval defense: laser weapon system targets drones, missiles and more. 27
Philippines finds massive damage to coral reefs from Chinese harvesting. 28
Polish Prime Minister Mateusz Morawiecki has accused the Ukrainian leader of insulting Poles in his speech at the United Nations this week.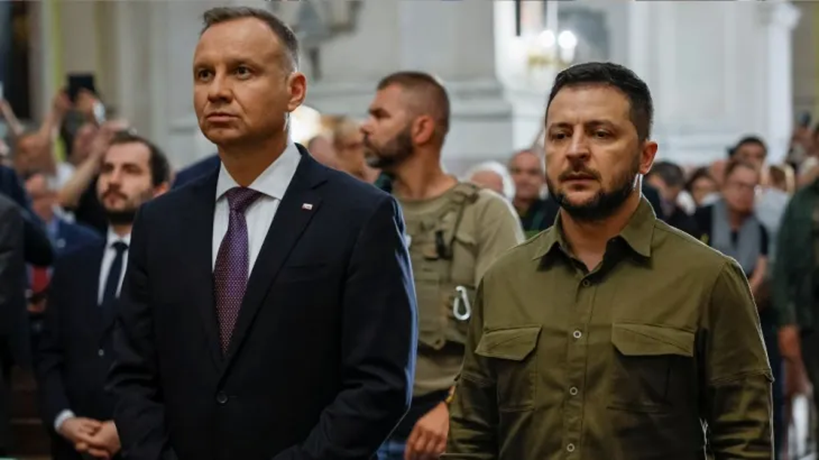 Poland's prime minister told Ukrainian President Volodymyr Zelenskyy to never "insult" Poles again, returning to harsh rhetoric against Kiev after the Polish president tried to defuse a simmering dispute between the two countries over Ukrainian grain imports.
Zelenskyy angered his neighbours in Warsaw – a key military ally against Russia – when he told the United Nations General Assembly in New York this week that Kiev is working to preserve land routes for its grain exports amid Russia's blockade of the Black Sea, but that "political theatre" around grain imports helps Moscow's cause.
Poland last week extended its ban on Ukrainian grain imports in a unilateral move that violated a European Union decision. The move has shaken Kiev's relationship with Warsaw, which has been considered one of its staunchest allies since Russia invaded Ukraine last February.
"I … want to tell President Zelenskyy never to insult Poles again, as he did recently during his speech at the UN," Prime Minister Mateusz Morawiecki told an election rally on Friday, according to the state news agency PAP.
UN GENERAL ASSEMBLY 2023: Ukraine's Zelenskyy accuses Russia of genocide
Earlier on Friday, Polish President Andrzej Duda said the dispute between Poland and Ukraine over grain imports would not significantly affect good bilateral relations, in an apparent move to reduce tensions.
"I have no doubt that the dispute over grain supplies from Ukraine to the Polish market is an absolute fragment of the whole Polish-Ukrainian relationship," Duda told a business conference. "I don't think it can have a significant impact on them, so we have to resolve this issue between us."
Duda's comment followed Prime Minister Morawiecki's reported statement that Poland would no longer send arms to Ukraine amid the grain dispute.
"We are no longer transferring weapons to Ukraine because we are now arming Poland with more modern weapons," Morawiecki said on Wednesday, according to a local media report.
How will the war in Ukraine affect Poland's future?
Poland is due to hold parliamentary elections on 15 October, and Morawiecki's ruling nationalist Law and Justice (PiS) party has been criticised by the far right for what it sees as the government's subservient attitude towards Kiev.
Polish Foreign Minister Zbigniew Rau said in an article published by Politico that Poland wants to see "a strong Ukrainian state emerging from this war with a vibrant economy" and that Warsaw "will continue to support Ukraine's efforts to join NATO and the EU".
However, speaking to reporters in New York, Rau said that while Poland has not changed its policy towards Ukraine, there has been a "radical change in the perception of Polish public opinion" about the relationship between the two countries.
Asked by the PAP news agency what it would take to improve this perception, Rau said repairing the atmosphere would require a "titanic" diplomatic effort.
Slovakia, Poland and Hungary have imposed national restrictions on Ukrainian grain imports after the EU executive decided not to extend the ban on imports to these countries, as well as EU member Bulgaria and Romania.
Grain exports from Ukraine: Russian attacks threaten remaining supply routes
The countries have argued that cheap Ukrainian farm produce – mainly destined for transit further west and to ports – is being sold locally, hurting their own farmers.
Speaking in Canada on Friday, Zelenskyy did not mention tensions with Poland, but said that when Ukraine was deprived of support, Russia stepped up.
Help either Ukraine or Russia. There will be no mediators in this war. By weakening assistance to Ukraine, you will strengthen Russia," Zelenskyy told reporters after a meeting with Canadian Prime Minister Justin Trudeau.
"And a strong Russia and what to expect from it… I think history in books and witnesses has long answered that question. If someone wants to take a risk, fine, loosen assistance to the Ukrainians," he said, according to a statement posted on the Ukrainian president's website.
"To be frank and honest, one must fight for freedom, democracy and human rights," he added.
The Kremlin said on Friday it was closely monitoring the situation between Kiev and Warsaw, adding that tensions would inevitably rise between Kiev and its European allies as the grain dispute intensified.
"We predict that this friction between Warsaw and Kiev will increase. Friction between Kiev and other European capitals will also increase over time. This is inevitable," Kremlin spokesman Dmitry Peskov told reporters.
"Of course, we are watching this closely," Peskov said, calling Kiev and Warsaw the "main" centres of Russophobia.
https://www.aljazeera.com/news/2023/9/23/polands-pm-tells-ukraines-zelenskyy-to-never-insult-polish-people-again
USAFE F-16 fighter jets have arrived in Romania on to further strengthen "NATO Air Policing" in the Black Sea region. Photo Source: NATO.
A United States Air Force Europe (USAFE) detachment of about 100 military personnel and four F-16 Fighting Falcon aircraft arrived on Friday, 22 September, at the 86th Air Base "Locotenent Gheorghe Mociorniță" in Borcea.
The US military will perform Enhanced Air Policing missions, as well as joint training missions with the Romanian Air Force's military and F-16 Fighting Falcon aircraft.
The joint air policing and training missions contribute to increasing responsiveness and deterrence, as well as enhancing interoperability between the Romanian and US Air Forces.
Four US Air Force F-16 fighter jets arrived at Fetești Air Base in Romania on 22 September 2023 to further strengthen NATO's air policing mission in the Black Sea region.
NATO welcomes US decision to deploy F-16 aircraft to Romania
"I welcome the deployment by the United States of additional F-16 fighter jets for NATO's air policing mission in Romania," said NATO Acting Spokesperson Dylan White.
"This sends a clear message that we will protect every ally. As Russia continues its brutal war of aggression against Ukraine, we have seen a series of strikes on Ukrainian infrastructure very close to NATO territory. We remain vigilant and in close contact with Allies in the region," Dylan White added.
Following Russia's military invasion of Ukraine, NATO has strengthened its presence in the eastern part of the Alliance, including with new multinational battle groups, an increased air and maritime presence and regular surveillance flights.
https://www.defenseromania.ro/f-16-americane-au-aterizat-in-romania-mapn-a-anuntat-si-numarul-de-avioane-pe-care-sua-l-au-dislocat-la-borcea_624693.html
Ukrainians strike weapons depots in Sevastopol, Crimea
Heavy explosions erupted in Sevastopol on Friday 22 September. The Moscow-appointed administration announced a missile attack on the headquarters of the Black Sea Fleet of the Russian Federation.
The governor of the federal city of Sevastopol, Mikhail Razvozhaev, wrote on his Telegram channel that on 22.09.2023, the Ukrainian army executed a missile attack on the town, hitting the building of the General Staff of the Russian Black Sea Fleet (FRMN).
"The enemy launched a missile attack on the fleet headquarters. The debris of a missile fell near the Lunacharsky theater. If you find such items, please stay away and call 112. All emergency services have arrived on the scene. Information about casualties is being clarified," Razvozhaev said in his message.
Although the Russian authorities have asked residents not to post photos and videos taken in the city on social media, the internet is already full of images depicting the alleged aftermath of the Ukrainian missile strikes. They are being actively distributed by Ukrainian intelligence warehouses run by TsIPSO.
"Please remain calm and do not post photos and videos from the city," Governor Razvozhaev also urged Sevastopol residents.
According to preliminary information, up to eight missiles were involved in the attack, most of them shot down by Russian air defences. One of the missiles was just above the city centre and another hit the MNRF headquarters building, damaging the central part of it. Russian officials expect more attacks and have asked residents not to leave their homes.
"Attention everyone! Another attack is possible. Please do not travel to the city center. Do not leave the buildings! All those who are near the fleet headquarters, at the sound of a siren, go to shelters," the governor's Telegram message also reads.
The missile attack on Sevastopol was also confirmed by the Russian Defence Ministry, which said five missiles were shot down by air defences. According to Russian officials, one serviceman lost his life in the hit on the historic MNRF General Staff building.
The Crimean Wind Telegram channel reported on the explosions in the occupied city, publishing a photo showing black smoke coming "as if from a ship". Before that, the Russians again created a "smoke curtain" over the bay, NV reports.
The first comments from Ukrainian officials came from Natalya Humeniuk, one of the army spokespersons: "There are still many such 'dots' on the map of Crimea and we have to work on them for a long time. We will keep working, the 'cotton' season continues. There will be much more informative and interesting things," Humeniuk stressed.
https://www.defenseromania.ro/sediul-flotei-ruse-a-marii-negre-din-crimeea-atacata-cu-rachete_624690.html
Illustrative image – Ukrainian armoured vehicle
Ukrainian tanks and other armoured vehicles are already operating south of the last line of the main Russian defensive structure, which is currently under attack by the Armed Forces of Ukraine in the Zaporijia region.
As we reported yesterday, it seems that Ukrainian armoured vehicles have managed to manoeuvre behind Russian-made fortifications in southern Ukraine.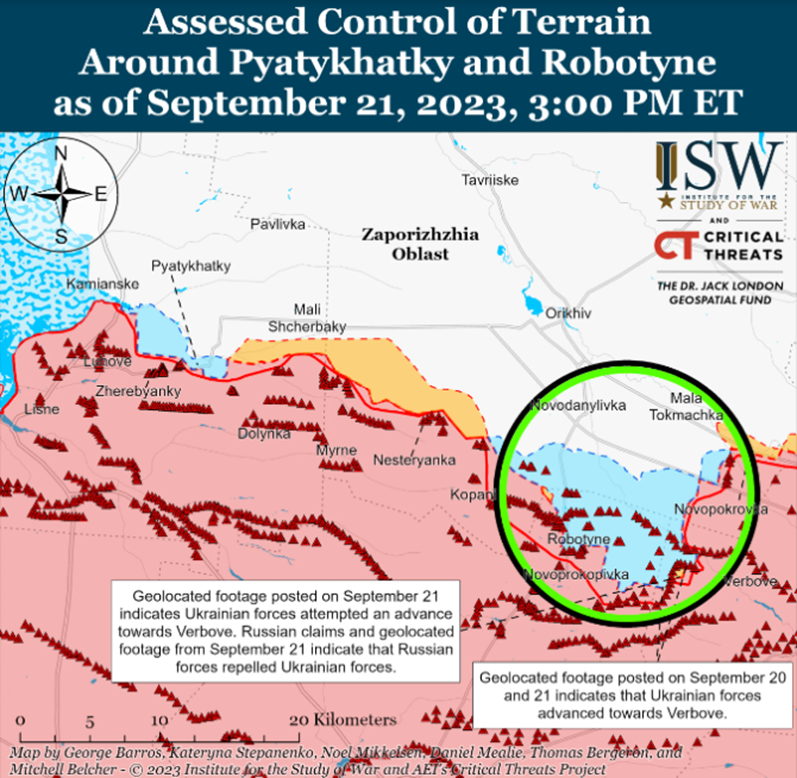 ISW analysts refer to geolocated images from 21 September, which show that the Defence Forces' armoured vehicles have advanced south of the enemy's anti-tank trenches and so-called "dragon teeth", which are part of the three-tier defence. The Armed Forces engaged in limited fighting west of Verbove, which is 18 km southeast of Orihiv.
OSINT analysts, based on battlefield news, were announcing as early as yesterday that the Ukrainian Armed Forces had taken heavy Stryker and Marder equipment beyond the fortifications of the Surovikin Line, although it was not clear which area was breached.
According to experts, this is the first recorded case of Ukrainian troops' armoured vehicles being used beyond the occupiers' final three-tier defence line. This indicates that the Ukrainians have passed the first two lines of this fortification complex and have secured themselves sufficiently to let equipment pass through the breach and operate armoured vehicles beyond the final line of fortifications.
Analysts suggest that Ukrainian forces suppressed Russian artillery and other anti-tank systems in the area enough to bring their equipment through. The ability of the Ukrainian army to deliver armoured vehicles to the strongest Russian defensive line, and to use them near prepared enemy defensive positions, is an important sign of progress in this counteroffensive.
With the end of August, the Armed Forces of Ukraine managed to inflict significant losses on the Russian invaders in the Robotin region of Zaporozhye region.
Russian forces, currently trying to defend themselves in western Zaporozhyev region, have failed to halt the slow but steady Ukrainian advance, even despite the redeployment of elite Russian units to this area to reinforce Russian Federation defence operations.
What lies ahead could be more difficult
Forbes notes in turn that the Marder or Stryker armoured vehicles of the 82nd Air Assault Brigade have achieved a significant breakthrough and are conducting combat action in the area of Verebove. However, the Ukrainian vehicle and infantry crews that broke through the Surovikin line are now in open ground.
In order to enter Verbove and take shelter in its westernmost buildings, Ukrainian troops have to march east for about two kilometres while in the path of Russian artillery. However, as ISW pointed out, a significant part of the Russian artillery's capability is likely to have been disabled by the precise strikes of recent weeks by Ukrainian forces.
https://www.defenseromania.ro/blindatele-fortelor-ucrainene-au-spart-linia-principala-de-aparare-in-zona-zaporijia-isw_624681.html
F-35A taking off from a highway in Tervo, Finland /Photo: Ole Andreas Vekve, Norwegian Armed Forces
The Royal Norwegian Air Force has become the first force in the world to operate the F-35A from highways, which is seen as a real "game changer" – a new approach to aircraft survivability in the event of a major conflict when air bases are usually targeted.
"This is a milestone, not only for the Norwegian Air Force, but also for the Nordic countries and NATO… It demonstrates our ability to apply a dispersal concept. Fighter jets are vulnerable on the ground, so by being able to use small airfields – and now highways – it can increase our survivability in war," said the head of the Norwegian Air Force, Major General Rolf Folland.
The operation of F-35A aircraft on highways took place as part of joint exercises between Norway and NATO's newest member, Finland, with Finnish highways being the main focus.
F-35A on a highway in Tervo, Finland / Photo: Ole Andreas Vekve, Norwegian Armed Forces
The Norwegian F-35 aircraft were also hot refuelled from the highway, meaning that fuel was loaded without shutting down the aircraft's engines, reducing the time it took to get them back in the air. Although less fuel-efficient, this provides a way to reduce the rate of aircraft exits, while also reducing vulnerability by shortening the time each aircraft spends on the ground.
The F-35A developed for the US Air Force was designed to use traditional runways, without the ability to use austere airfields, unlike the F-35B variant developed for the US Navy, which is capable of short takeoffs and vertical landings from makeshift runways.
However, the F-35B is about 50% more expensive and has much higher operational costs, a much shorter range, lower weapons payload and significantly lower combat capability.
The ability to deploy the F-35A from highways, along with the use of the hot refuelling technique are seen by experts as key force multipliers, especially in the early hours of a war, allowing F-35 units of different sizes to execute multiple missions in a given period of time.
The importance of the aircraft's ability to use makeshift airfields with minimal logistics has recently been demonstrated by the Ukrainian Air Force, which uses Soviet Su-27 and MiG-29 fighters and Su-25 attack aircraft, all of which are suitable for operation from austere airfields.
Finland awaits F-35 jets to replace F-18C/D Hornet fleet
Regarding Finland's own preparations to use highways for combat operations, a Finnish Defence Forces press release on the exercises states, "The Air Force regularly conducts flights from airfields other than its home airfields in order to be capable of rapid dispersal throughout the country when necessary… Operations from road bases are part of the training of all Air Force pilots."
Finland itself placed its first F-35 order in December 2021, 16 months before joining NATO. It paid about 25% less than Norway for its F-35 jets, although it will receive more advanced models from later production batches that are more efficiently manufactured on a larger scale. But unlike Norway, Finland is not a partner in the programme, which means it will not have access to shared ownership of key related technologies.
Although it was the only non-Warsaw Pact state to buy Soviet MiG-21 fighter jets, Finland currently relies on fourth-generation F-18C/D Hornet fighters, which it expects to replace with the 64 F-35As on order. In May, it was announced that the country is also in talks with the US to host US Air Force F-35 units, which would be well positioned for deterrence in Russia's western and Arctic regions.
https://www.defenseromania.ro/norvegia-este-prima-tara-care-opereaza-f-35a-de-pe-autostrazi-capacitate-considerata-un-game-changer_624682.html
The US could reach a defence deal with Saudi Arabia similar to those with its Asian allies Japan and South Korea-22 Sep 2023
US daily The New York Times reports that the United States is discussing with Saudi Arabia a defence treaty similar to those signed by Washington with Japan and South Korea.
According to the newspaper, despite American fatigue with the wars in the Middle East, the White House sees the potential treaty as an incentive for Saudi Arabia to normalise its diplomatic relations with Israel.
Under the agreement, the United States would generally commit to providing Saudi Arabia with military support if the latter is attacked.
Current and former U.S. officials have said that Crown Prince Mohammed bin Salman considers the joint defense agreement with the United States to be the most important element in his talks with the Biden administration on Israel. Saudi officials say a strong defense agreement would help deter potential attacks by Iran or its armed partners, even if the two regional rivals restore diplomatic relations.
Prince Mohammed bin Salman is also asking the Biden administration to help his country develop a civilian nuclear program, which some US officials fear is a cover for a nuclear weapons program to confront Iran.
The newspaper argued that any treaty with Saudi Arabia similar to those with its East Asian allies would raise strong objections in Congress. Some senior US lawmakers, including top Democrats, see the Saudi government as an unsafe partner with little regard for US interests or human rights.
The deal would also raise questions about whether Biden will make the United States more militarily engaged in the Middle East. Such a treaty would also conflict with the Biden administration's stated goal of redirecting US military resources and combat capabilities to the Asia-Pacific region to deter China.
Talks with Saudi Arabia and Israel have mainly revolved around Crown Prince Mohammed bin Salman's demands to the Biden administration. This diplomacy was expected to be presented on 20 September at a meeting between Biden and Israeli Prime Minister Benjamin Netanyahu on the sidelines of the United Nations General Assembly in New York. Biden cited the benefits of countries normalising relations with Israel in a wide-ranging speech at the United Nations on Tuesday morning.
The US military has bases and forces in both Japan and South Korea, but US officials say there are currently no serious discussions about having a large contingent of US troops in Saudi Arabia as part of a new defense agreement. The Pentagon has just under 2,700 US military personnel in the kingdom, according to a letter the White House sent to Congress in June.
US officials said the diplomatic agreement would serve as an important symbol for defusing Arab-Israeli tensions and could also have geopolitical significance for the United States. They argue that bringing Saudi Arabia closer to the United States could remove the kingdom from China's orbit and weaken Beijing's efforts to expand its influence in the Middle East.
Separate U.S. defense treaties with Japan and South Korea were concluded after devastating wars in the mid-20th century and as the Cold War intensified, forcing the United States to form alliances around the world to counter the global Soviet presence.
https://www.defenseromania.ro/sua-ar-putea-ajunge-la-un-acord-de-aparare-cu-arabia-saudita-similar-celor-incheiate-cu-aliatii-sai-asiatici-japonia-si-coreea-de-sud_624683.html
Collins-class submarines (HMAS Collins, HMAS Farncomb, HMAS Dechaineux and HMAS Sheean) in formation while transiting Cockburn Sound, Western Australia. Collins-class submarines are a key part of Australia's naval capability, providing a strategic advantage in surveillance and protection
The US has set in motion a series of measures that reactivate the US anti-submarine programme active during the Cold War.The US is reactivating a major submarine detection programme abandoned at the end of the Cold War
The revival of the multi-billion dollar project, known as the Integrated Undersea Surveillance System (IUSS), comes as China has stepped up military exercises around Taiwan, sparking concerns about a potential conflict over the territory, a Reuters analysis shows.
The original network of fixed spy cables, which sit in secret locations on the ocean floor, was designed to monitor Soviet submarines seven decades ago, Reuters sources said.
At its peak in the 1980s, the IUSS consisted of thousands of sailors analysing data sent from ships and submarine cables to 31 different processing units. The existence of the IUSS was not made public until 1991, at the end of the Cold War, and details of its operations remain top secret.
With the collapse of the Soviet Union in the 1990s, the IUSS project was significantly reduced in scope. Its analysts switched to monitoring marine life and earthquakes at sea. Today, there are only two monitoring sites: one unit located inside Naval Air Station Whidbey Island in Washington state and another at Naval Station Dam Neck in Virginia Beach, Virginia.
What the Underwater Monitoring System will contain
As far as is publicly known, the project involves upgrading the existing US network of underwater acoustic spy cables and then equipping a fleet of surveillance vessels with state-of-the-art sensors and underwater microphones.
The US has agreed to sell similar technology to Australia to help boost allied defences in the Pacific region.
The IUSS reactivation plan includes:
o Deploying a fleet of marine drones to listen in on enemy aircraft;
o placing portable 'underwater satellite' sensors on the seabed to search for submarines;
o using satellites to locate ships by monitoring their radio frequencies;
o using artificial intelligence software to analyse maritime intelligence data.
IUSS is led by Captain Stephany Moore, a veteran of naval intelligence. The programme operates under the command of the US Pacific Fleet Submarine Forces, led by Rear Admiral Richard Seif. In response to questions from Reuters , a spokesman for US Pacific Fleet Submarine Forces said the Navy could not discuss details of its submarine surveillance system for "operational security reasons".
China is the main threat
China, meanwhile, is working on its own underwater spying programme, known as the Great Undersea Wall, two US Navy sources said. The system, already under construction, consists of cables equipped with listening sensors laid along the seabed in the South China Sea. China is also building a fleet of drones and underwater and surface ships to search for enemy submarines.
The pressure on the US Navy to strengthen this surveillance has been driven by three main factors.
The first is China's rapid rise as a maritime power and the potential for its ships to attack Taiwan or sabotage critical underwater infrastructure, including oil pipelines and fiber-optic internet cables.
Another factor is Ukraine's success in using new naval and submarine warfare tactics. Ukraine has used relatively cheap unmanned maritime vehicles to attack enemy ships and bridges. This trend has exposed the vulnerability of large surface ships to naval drone attacks and the need for the US Navy to master this technology for its own offensive operations, as well as learn ways to defend against it. This, in turn, could increase the importance of submarine warfare in any conflict with China, Reuters sources said.
Finally, rapid technological change, including more sensitive underwater sensors, artificial intelligence and maritime drones, is fuelling a surveillance arms race between Beijing and Washington.
https://www.defenseromania.ro/china-ia-locul-urss-ului-sua-reactiveaza-un-program-major-de-supraveghere-submarina-abandonat-la-sfarsitul-razboiului-rece_624687.html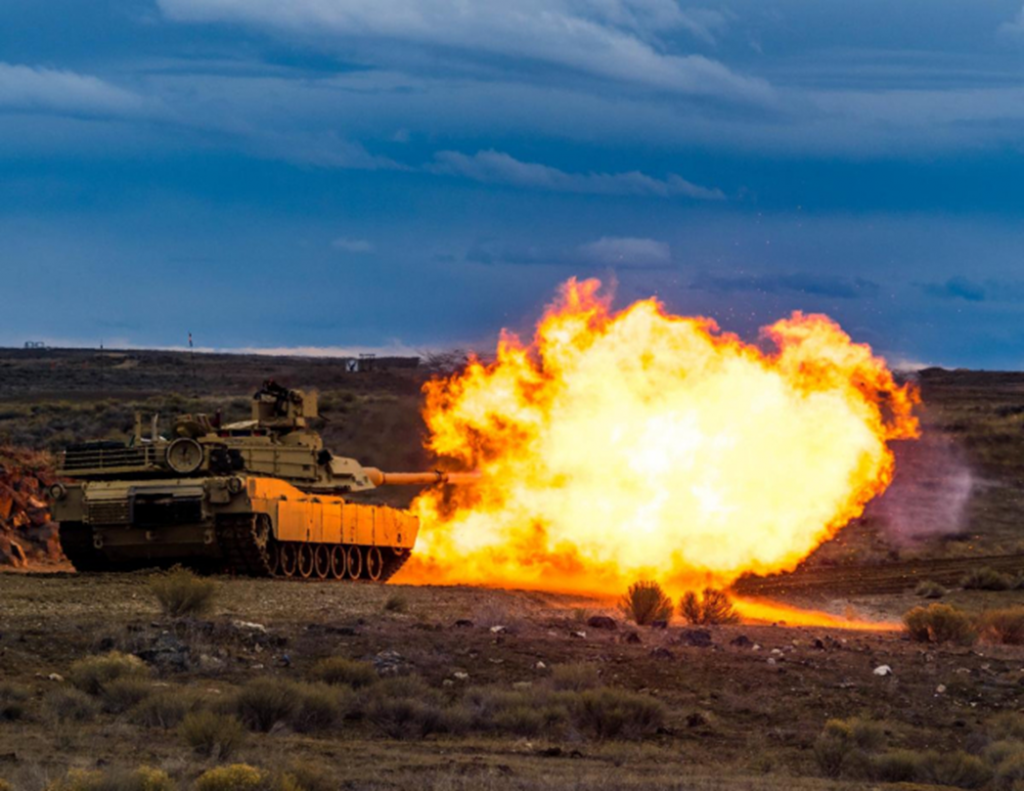 Abrams Tank / US Army
The world's heaviest tanks weighing 80 tons, they will arrive in Ukraine in the near future.
The first US Abrams tanks will be delivered to Ukraine next week, Joe Biden said after meeting the Ukrainian president on Thursday. Meanwhile, US Secretary of State Antony Blinken on Thursday released a new US aid package for Ukraine. However, the ATACMS missiles requested by Ukraine are not included in the new tranche of military aid.
"Today (Thursday) we approved another tranche of US security assistance to Ukraine, including artillery, ammunition, more anti-tank weapons, and next week the first American Abrams tanks will be delivered to Ukraine," Biden said.
The United States will provide Ukraine with $128 million in new security assistance as well as $197 million in weapons and equipment as part of previously authorized withdrawals, US Secretary of State Antony Blinken announced Thursday, according to CNN.
The package also includes TOW and AT4 anti-tank weapons and Javelin anti-tank systems. Ammunition for HIMARS rocket launchers, AIM-9M air defence missiles; Avenger air defence systems; 155mm artillery projectiles, including cluster munitions (DPICM) will also be delivered.
ATACMS may later
According to him, the package contains additional air defence munitions "to help strengthen Ukraine's air defence against air attacks from Russia now and in the coming winter, when Russia is likely to resume its attacks on Ukrainian critical infrastructure".
"It also contains artillery munitions, anti-tank munitions, as well as cluster munitions that will further enhance Ukraine's ability to continue a counter-offensive against Russian forces," Blinken added.
Despite Ukraine's requests, the U.S. is still not providing tactical missile systems (ATACMS). However, National Security Adviser Jake Sullivan said, according to CNN, that "even if Biden doesn't provide them in this package, the option remains on the table.
Since the start of the Russian invasion on 24 February, the US has provided Ukraine with $43.9 billion in security assistance.
https://www.defenseromania.ro/tancurile-abrams-vor-ajunge-in-ucraina-inca-de-saptamana-viitoare-a-spus-biden-rachetele-atacms-se-amana-dar-se-suplimenteaza-munitia-cu-dispersie_624685.html
Russia's first wave of mobilisation began with a decree by Vladimir Putin on 21 September 2022. In the months that followed, according to official figures, the army called up about 300,000 people. This allowed the Kremlin to supplement the ranks of its existing formations, which suffered heavy losses in the first six months of the invasion and were not fully equipped even at the start of the full-scale war. In addition, more than 65 new "territorial" regiments were formed from some 150,000 recruits, most of whom have now been sent to the front. A year later, Putin has yet to issue a decree to end mobilisation, which means that the campaign is technically still ongoing.
The Russian authorities claim that going forward they will use "volunteer" forces to fight in the war; they plan to commit 420,000 fighters by the end of 2023 alone, and have supposedly already recruited 300,000 since the beginning of the year. However, both figures seem greatly inflated. Between September 2022, when Moscow began its mass enlistment campaign for new contract fighters, and December, only about 20,000 "volunteers" signed up to fight, according to official data. Before that, the army's only "volunteer" unit was the 3rd Army Corps, which consisted of about 15,000 men. The recruitment drive for new contract soldiers may not even have produced enough fighters to make up for the losses caused by the termination of contracts by servicemen who joined the army before the full-scale war (contract termination was officially allowed until September 2022).
At the same time, the Russian army continues to suffer substantial battlefield losses. By the end of May 2023, the Russian Armed Forces and the Wagner Group have suffered some 47,000 casualties (not including Ukrainian citizens who fought in military units of the self-proclaimed "People's Republics" of Donetsk and Luhansk). From May to early September, rough estimates (based on obituary data collected by Mediazona and the BBC) indicate that another 15,000 Russian soldiers were killed. That's not to mention fighters who have been released due to critical injuries (figures on this are unclear, but indirect evidence suggests that, when injuries are taken into account, Russia's total irrecoverable losses are three times the number of deaths). Moreover, in 2023, some 50,000 pardoned convicts who had previously fought with the Wagner Group had their contracts terminated, although the Ministry of Defense has since begun actively recruiting "volunteers" from Russian prisons (the number is unknown).
In the meantime, according to the Defence Ministry's plan, the army is scheduled to grow by half a million men. In 2023, the agency's plan was to create two new combined arms armies and an army corps. But Russia's significant losses mean that even if the army carries out its plan to recruit new contract soldiers, its ability to increase the size of the army (which is essential if it is to maintain parity with Ukraine's forces, let alone overtake them) is under threat.
In addition, the Ministry of Defence may soon have to rotate recruits called up in 2022. Trying to force them to fight until the end of the war in Ukraine could be costly (although the military is not officially obligated to demobilize anyone until Vladimir Putin issues a decree ending the "partial mobilization" campaign). A failure to rotate personnel could lead to a decrease in the combat effectiveness of units, and current sentiment among frontline recruits suggests that this is becoming increasingly likely.
Judging by the numbers alone, the prospect of another round of mobilization in Russia seems to be a matter of when, not if. The longer the war in Ukraine drags on, the more likely another wave becomes – and the closer it gets.
Source: https://meduza.io/en/feature/2023/09/21/another-round-of-mobilization-in-russia-appears-inevitable-the-only-question-is-when
Taiwan's Defense Ministry said Friday that in the past 24 hours it had detected 24 Chinese air force aircraft entering Taiwan's air defense zone. (Reuters / US News)
AMERICAS
The Mexican Foreign Ministry on Thursday urged US authorities not to take "unilateral measures" that complicate trade at the border with the United States as some ports of entry have been closed. (Reuters / US News)
U.S. Army, Marine Corps leaders confirmed; other military promotions still in limbo
WASHINGTON, Sept 21 (Reuters) – The U.S. Senate on Thursday confirmed General Randy George as Army Chief of Staff and General Eric Smith to lead the Marine Corps, while lawmakers confirmed some of the top senior officers whose promotions were blocked by a Republican senator's blockade.
The Senate on Wednesday confirmed Gen. Charles Q. Brown as the top U.S. military official.
The Senate backed George to be Army chief by a vote of 96 to 1 and Smith 96 to 0 to be commandant of the Marine Corps.
Majority Leader Chuck Schumer, a Democrat, used a procedural maneuver to avoid a block by Republican Senator Tommy Tuberville.
Tuberville began blocking confirmations to Pentagon leadership positions in March to protest a Defense Department policy adopted last year that provides paid leave and reimbursement for service members who travel for an abortion.
Schumer's action does not address the hundreds of other military promotions that are still being delayed by Tuberville's blockade.
Military officials said the blockade of hundreds of military promotions could have a far-reaching impact on the armed forces, hurting troops and their families and affecting national security.
"From the Defense Department's perspective, we've been very clear that we would like to see the hold lifted so that we can make sure we have the right officers in the right jobs at the right time," Pentagon spokesman Brig. Gen. Pat Ryder told reporters.
Advertisement – Scroll to continue
Senate approval of military promotions is usually smooth. Tuberville's position may not prevent the Democratic-majority Senate from voting on any promotion, but it could drastically slow the process.
Source: https://www.reuters.com/world/us/us-senate-confirms-chief-army-hundreds-military-officials-remain-limbo-2023-09-21/
U.S. defense leaders can use private-sector solutions to maintain the country's position in the Indo-Pacific region and jump ahead of its competitors in hypersonic testing and development.
China is making remarkable progress in developing new long-range and hypersonic strike capabilities. Their main priority is to disrupt and overhaul the balance of power in the Indo-Pacific theatre by threatening high-value targets such as overseas military bases, naval assets and allied military assets. Such threats jeopardise the vision of the United States and its allies to maintain a free and open Indo-Pacific region.
The realization of this critical risk prompted the recent Congressional adoption of the bipartisan Pacific Defense Initiative (PDI), a clear and coherent framework for strengthening the offensive and defensive posture of U.S. and allied forces in this vital region. Specifically, the IDP is "focused on strengthening missile defence, intelligence, surveillance and reconnaissance programmes, infrastructure, pre-positioned equipment and munitions, logistics, training and exercises, and improving allied capabilities". Countering adversary hypersonic strike capabilities, facilitated by the rapid integration of new and existing capabilities and the appropriate testing of these capabilities with innovative commercial test activities, is a critical objective of the initiative.
Central to a successful PDI hypersonic defense and deterrence strategy is the defense of Guam, a linchpin for US power projection in the Indo-Pacific region. According to current INDOPACOM commander Admiral John Aquilino, China's military buildup "may encourage them to unilaterally change the status quo before our forces can provide an effective response." Without Guam, the United States would be significantly challenged to sustain its armed forces, which would risk ceding the entire region to China while greatly eroding the protection of our allies. Continued creation of a more robust deterrence architecture for Guam and INDOPACOM requires an integrated mix of new, distributed offensive and defensive capabilities – all of which will individually require substantial testing to qualify and deploy. The importance of a national test infrastructure up to this task cannot be understated, and the Department of Defense knows this. Improved and modernized test assets, rapid cadence, and the adoption of a "test often, fail fast, and learn" approach are commonly referred to as core elements of a successful national hypersonic development strategy.
We are making good progress, but we need to move even faster. The Pentagon is trying to increase the pace of testing to one flight test per week. How will they do this? Partnering with private sector solutions. One such example of promising innovation in this area is the Test Resource Management Center's (TRMC) SkyRange program, which uses decommissioned unmanned aircraft systems to rapidly test and deploy new hypersonic sensor systems, the program allows for rapid test area clearance using autonomous aircraft that can self-deploy in a few hours of activity, versus ships. Another example is the MACH-TB program led by TRMC and the Naval Surface Warfare Center's Crane Division to test, transition and deploy high-speed systems in a significantly faster timeframe while mobilizing more commercial partners. The goal of the program is to engage non-traditional firms that do not typically work with DoD, but bring innovative new ideas and solutions to an area generally dominated by larger defense contractors. "If we really want to increase operational tempo and reduce costs, [we] need to open this up to more commercial entities," says Scott Wilson, the Navy's chief of test development for hypersonics and advanced capabilities. Other efforts, such as the Hypersonic and High-Cadence Airborne Testing Capabilities (HyCAT) program hosted by the Defense Innovation Unit (DIU), are pursuing the same goals and similarly mobilizing non-traditional commercial partners to achieve this goal.
In response to this signal demand for hypersonic testing from the DoD, new commercial players are rising to the occasion, receiving a well-timed wave of private investment. Never have so many unconventional offerings been available from non-traditional commercial providers. Through programmes such as those above, the government is already testing these new approaches. The ability to responsively test both defensive and offensive systems in any theater now exists – and in many cases using the same commercial platform. Using the defense of Guam as an example, and according to former INDOPACOM commander Admiral Phil Davidson, "The single most important action the Pentagon can take to increase U.S. military capability in the Pacific is to introduce a persistent 360-degree air and missile defense capability in Guam." Existing commercial hypersonic flight test and detection solutions needed to test such a system, from any direction and on-site at Guam, are now being exercised through other ongoing government testing initiatives. The ability to uniquely adapt threat trajectories, accurately mimic heat and radar signatures, and rapidly repeat in-theater test campaigns are now realities in the new arsenal of U.S. commercial test solutions. Sometimes they may even involve allied partnerships through Australia, Japan and other Indo-Pacific nations.
Programs such as SkyRange, MACH-TB, and HyCAT, among others, point to a promising new horizon of commercial possibilities to bring the United States back to the forefront of this critical area with both defensive and offensive implications. All government actors interested in hypersonic testing and research should use these programs as a blueprint to supercharge their own development timelines with the help of unconventional commercial partners and solutions.
Source: https://breakingdefense.com/2023/08/implementing-strategic-deterrence-through-test/?utm_campaign=Breaking%20Defense%20Sea&utm_medium=email&_hsmi=275240705&_hsenc=p2ANqtz–YOiFrk6kEWP6puurIpQsPb1GT9HuTbOCNW7qtJOrxYz89F9z0EGWXSNguD1bg8NLjEKa4UP6l19BqdgDstbfXQErHiz-BeG9u2JrXrNHXntc2L5o&utm_content=275240705&utm_source=hs_email
SEGA (Bulgaria), 21 September 2023 – Bulgaria and Romania have started concrete actions for the construction of a third bridge over the Danube, the Ministry of Transport in Sofia announced. The two countries have submitted to the European Commission a joint project for a preliminary design study of the second bridge at Ruse-Giurgiu, and with it the process of implementing the project has practically begun. The new bridge will again be near Ruse-Giurgiu and will be a combined road and rail bridge over the Danube.
Bulgarian Minister of Transport and Communications Gheorghi Gvozdeikov signed a joint letter of commitment with the Romanian Minister of Transport and Infrastructure, in which the two countries confirm the position that the project is a priority and the two governments will work for its implementation, the Transport Ministry press release said.
The coordinators of the activities will be the Bulgarian Ministry of Transport and Communications and the Romanian Ministry of Transport and Infrastructure. The Bulgarian Ministry, together with its associated partners, the National Railway Infrastructure Company and the Road Infrastructure Agency, will carry out the study on connecting infrastructure in the country.
The financial participation of the Bulgarian side in the feasibility study is worth €1.4 million and up to 50% of the amount is expected to be grants under the European Interconnection Mechanism.
Once the studies are completed, an analysis will be made of the different routes and points from which the bridge will start at Ruse and Giurgiu and will support the choice of a technical solution. In early 2024, it is expected to be announced whether the project has been approved for funding. The timetable foresees the signing of a contract with the European Commission by mid-2024 and implementation by the end of 2026, when the two countries will decide on the location and financing of the new bridge.
The possibility of using public-private partnership mechanisms to build the bridge will also be explored. This would significantly shorten the deadlines for the full realisation of the bridge and attract additional funding from other sources.
The idea of the third Danube bridge project is almost 20 years old. It was revived during the "Petkov" cabinet, when Nikolai Sâbev was Bulgarian transport minister. He announced then that he wanted to build at least five bridges across the Danube.
Exactly one year ago, Bulgaria and Romania agreed on a third bridge across the Danube near Ruse – Giurgiu. An agreement was signed at that time between the two countries' vice-prime ministers, Hristo Alexiev and Sorin Grindeanu, at a meeting in Bucharest.
https://www.segabg.com/category-economy/bulgariya-i-rumuniya-predstavyat-proekta-za-dunav-most-3-pred-ek
MEDIAPOOL (Bulgaria), 21 September 2023 – "Thanks to its well-developed gas infrastructure, the future Bulgartransgaz hydrogen network will be fundamental for the construction of the priority South-East Hydrogen Corridor for the supply of the European Union," said the director of the Bulgarian state gas operator Vladimir Malinov. This came during talks in the US with representatives of one of the leading American research corporations, RAND Corporation, the company announced. The meeting discussed Bulgaria's role in the development of hydrogen energy and the transition to carbon neutrality.
Over the past year, Bulgartransgaz has been particularly active in initiatives related to hydrogen, which is considered a clean fuel whose share in the economy and energy will increase significantly. Together with the Greek operator DESFA, the construction of a hydrogen pipeline from Thessaloniki to Sofia has been initiated, which will apply for European funding. A consultant has been hired to say whether Bulgaria's current gas transmission network can also transport hydrogen and in what percentage ratio it should be to gas. The company has also announced a non-binding market study on the demand for hydrogen transfer services. There is interest in this from both potential producers and users of hydrogen, Malinov now says.
The RAND Corporation has announced its willingness to provide Bulgaria with an analysis of further opportunities to enhance energy security.
During his visit to the US, Malinov met with Assistant Secretary of the US State Department's Bureau of Energy Resources Laura Lohman. The two discussed how the diversification of gas supplies in Europe is evolving and their security.
Interest in more gas shipments from Greece to Romania
Malinov informed that a high commercial interest has been declared in the ongoing non-compulsory phase of the market test for increasing the capacity of the interconnection points with Greece – Kulata/Sidirokastro and Romania – Kardam/Negru Voda, in order to be able to transfer more liquefied gas through Bulgaria to South-East Europe.
"We continue to rely on our partnership with US companies, as with the development of new terminals and regasification capacity, demand for LNG is expected to increase. This is especially true for the South-East Europe region after the Alexandroupolis terminal is commissioned next year," said the head of the company, which holds a 20% stake in the project.
Interconnection with Serbia to be ready within a month
The interconnector with Serbia is planned to be built by the end of next month, which will allow liquefied natural gas deliveries from terminals in Greece and to our western neighbour," Malinov added. He noted that with the increased capacities and bi-directional connectivity of the Bulgartransgaz network with neighbouring countries, Romania, Ukraine, Moldova and North Macedonia already have access to liquefied natural gas through Bulgaria.
More money for gas storage in Ciren
Malinov discussed with international financial institutions the possibilities of crediting the expansion of the Ciren gas depot. There were discussions in this direction in February, when the head of Bulgartransgaz met with representatives of the American Corporation for International Development (U.S. DFC), as well as with EXIM Bank – the U.S. Federal Export Credit Agency.
However, it seems that nothing has been agreed yet, as it has been announced that the discussions about participation in the financing of the Ciren project are continuing. Its value is €308 million, according to the latest official figures announced by Bulgarian Energy Minister Rumen Radev.
The European Commission has allocated €78 million for the drilling and above-ground part of the project. Separately, Blugartransgaz has benefited from almost €208 million from a state-guaranteed loan from the European Bank for Reconstruction and Development, and the owner of the operator, Bulgarian Energy Holding, has provided a loan of around €30 million to cover the increased drilling costs. It has not yet been announced what funding, in what amount and for what purpose Bulgartransgaz is seeking in the US.
https://www.mediapool.bg/bulgaria-iska-gazovata-y-mrezha-da-stane-osnova-za-yugoiztochen-vodoroden-koridor-news351581.html
SABAH (Turkey), September 21, 2023 – Greek Prime Minister Kyriakos Mitsotakis said his country wants to deepen cooperation with Turkey on issues such as the climate crisis and illegal migration.
Mitsotakis made the statement following his meeting with President Recep Tayyip Erdoğan at Turkevi (Turkey House, a building across the street from the UN headquarters – ed.) in New York, during the 78th United Nations (UN) General Assembly.
Stating that the meeting with Erdoğan, which was also attended by foreign ministers and diplomatic advisers, was productive, Mitsotakis stressed: "We decided to continue to work together to deepen the positive climate that has flourished in Turkish-Greek relations in recent months. We will continue on the same path to increase the level of future meetings and contacts on political dialogue, confidence building measures and a positive agenda".
Mitsotakis recalled that they had decided to hold the next meeting of the High Level Cooperation Council in Thessaloniki on 7 December and noted that they had the opportunity to discuss the common problems faced by both countries.
Stating that the issue of illegal migrants was also discussed, Mitsotakis said, "Cooperation with Turkey is essential to minimise migration flows."
Mitsotakis added that among the issues discussed at the meeting was the climate crisis and pointed out that Turkey and Greece are two Mediterranean countries that have faced serious natural disasters this summer.
The Greek Prime Minister said, "I believe that this area of cooperation can be deepened. Thus, it could be the subject of one of the agreements to be signed at the High Level Cooperation Council in Thessaloniki in December".
Erdoğan – Mitsotakis meeting in New York
President Erdoğan, who travelled to New York to attend the 78th United Nations (UN) General Assembly, welcomed Mitsotakis to Turkevi. A statement from the Turkish Presidency's Communication Directorate said the meeting was also attended by the two countries' foreign ministers, Hakan Fidan and Yorgo Gerapetritis.
According to the press release, the two leaders confirmed the current positive climate in relations between Turkey and Greece and their determination to maintain it, and the deputy foreign ministers responsible for developing political dialogue will meet in mid-October. Meetings on confidence-building measures will take place in November and a meeting of the Turkey-Greece High Level Cooperation Council will be held in Thessaloniki on 7 December.
The statement also said that the two leaders exchanged views on regional and international issues, and discussed cooperation on the climate crisis and illegal migration.
https://www.sabah.com.tr/dunya/yunanistan-iklim-krizi-ve-duzensiz-gocte-turkiye-ile-isbirligini-artirmak-istiyor-6632588
It's been a long time since anyone mentioned treaty change. But now, suddenly…
EURACTIV (Belgium), 21 September 2023 – First it was Commission head Ursula von der Leyen who included the topic in her State of the Union address on 13 September. To reform the EU and make it better, she said, it is necessary to have a European Convention and to amend the treaties if and where necessary.
A few days later, a joint report commissioned by the French and German governments was published on how the EU could best be reformed and prepared for enlargement. The reform it proposes clearly requires changes to the treaties.
It is widely assumed that changing the EU treaties – after the painful ratification of the Lisbon Treaty, which dragged on for more than two years – is "mission impossible".
Even if EU leaders could agree on a set of changes, it would also have to pass ratification by national parliaments and, in some cases, the extremely difficult test of a referendum.
The Franco-German report essentially proposes that member states agree that some will be formally designated as second-class members.
It proposes that the EU move forward in four circles: 1. Inner circle; 2. The EU itself; 3. Associate members; 4. European Political Community.
"The 'inner circle' is made up of the members of the eurozone and the Schengen area. Today some Schengen members, namely the Netherlands and Austria, are keeping Romania and Bulgaria at arm's length, effectively preventing them from joining this 'inner circle' of the club.
This situation could become permanent.
The report also proposes either reducing the number of Commissioners, so that not all Member States will be represented in the College, or introducing a distinction between "Lead Commissioners" and "Commissioners", with only Lead Commissioners having voting rights in the College.
The proposals require states to agree to reduce their number of MEPs to make room for new EU members and to agree to change the current veto so that it can only be exercised in conjunction with at least one other state.
The Franco-German proposal also invokes the possibility of an EU budget "suitable for operating with smaller groups of member states depending on the decision-making areas".
If we had to guess, we would say that none of the 13 members who joined the EU this century – and who already suspect they are second-class members, even if not officially – would accept the formalisation of this differentiation.
If the EU were a gentlemen's club gathering to sample rare drinks and expensive cigars, the proposed change would be tantamount to telling ordinary members that the club's new policy bans alcohol and tobacco, except in a small room where only France and Germany can sit (but they can invite one or two other countries if they want).
The famous phrase "all animals are equal, but some are more equal than others" from George Orwell's Animal Farm is given a new lease of life. The author of this article has heard this phrase mentioned by interlocutors whenever the Franco-German relationship has come up.
The report outlines ways to adopt reforms without amending the treaties, introducing the concept of a "treaty or additional treaties" between "willing Member States".
However, it also recognises that such a path also entails legal challenges and risks. Another trick explained by the paper would be to link treaty reform to reformed accession treaties, which would also amend the founding treaties.
I do not believe that France and Germany are advocating treaty change to make EU enlargement possible. Rather, the report uses enlargement as a pretext to try to finger-point at desirable reforms in Paris and Berlin.
We do not know if this is the aim of the report, but the reforms listed discourage even the biggest supporters of EU enlargement from advocating further enlargement – given that the sacrifices involved are so great.
Perhaps that's why Von der Leyen said in her speech that enlargement should not wait until after the treaties were changed: she needed to reassure the candidates.
But they too should be aware that the real decisions come from Paris and Berlin.
Article by Georgi Gotev
MILLIYET (Turkey), September 21, 2023 – By his words and actions, Armenian Prime Minister Pushkin gives the impression that he is both a liar and a shameless person. On the one hand, he acknowledges the territorial integrity of Azerbaijan and says that "Karabakh belongs to Azerbaijan", on the other hand, he tries to do things that are diametrically opposed to these words. Of course, urged and prodded by the countries pulling the strings… Therefore, it continues to be a very useful device. I mean, there is no sign that Pashinian is getting any wiser. Normally there would be no problem if he had stuck to the text he signed in Moscow, but as the side that lost the war, he decided to force the text. Even though he lost the 44-day war in 2020 and assumed some obligations, he did not give up his dirty dreams about Karabakh. He has rounded up 10,000 Armenian soldiers in areas behind Russian peacekeepers… He prepared for a conventional war with weapons, equipment, ammunition, armored vehicles and air defense systems.
On the other hand, the Azerbaijani army has been harassed on the territory of Karabakh with terrorist activities… There have even been kamikaze drone attacks. The most recent attempt was the creation of an event within Azerbaijan's borders with the so-called presidential elections… In fact, Azerbaijan's patience has been tested by the separatist Armenians of Karabakh, who are deeply integrated into the Armenian Armed Forces. As the attacks intensified, Azerbaijan gave the expected response. It has resolutely done what was necessary in the sphere of the anti-terrorist operation it launched to restore the constitutional framework. Predetermined targets were destroyed one by one with precise fire… This is called an operation in the official literature, but the Azerbaijani army actually hit critical targets of conventional warfare, air defense systems, command and control centers, electronic warfare systems, vehicles and armored vehicles. While doing these, the Azerbaijani army made its just cause and the inevitable necessity of intervention very clear to the world. The messages it conveyed were also very clear: This will continue until the terrorist centres in question are destroyed and Armenia puts an end to its illegitimate actions and dreams and withdraws all its armed elements… It is clear at this point…
There are different interpretations as to why Armenia, which has again been defeated by the Azerbaijani army, is still deliberately pursuing unsavory goals. For example, although Putin's anger towards Pashtun is well known, some people insist that separatist Armenians in Karabakh cannot carry out attacks without Russia's knowledge. So, according to them, Russia is the one who set Armenia on fire. And others say that this is not the case, that in fact Armenia is instigated by the US and France, who wanted to create instability in the South Caucasus They claim that: 'The US is resorting to provocations through Pushkin. Pushinian does not listen to Russia".
One way or another, there is one truth observed on the ground right now. That is Azerbaijan's determination not to accept being confronted with faits accomplis on its territory and to demonstrate that it has the means and the military capability to do so. Moreover, the images received, the result achieved in 24 hours, and the desperation of Armenia and Pashinian confirm this…
In short, what we are saying is that Azerbaijan, which liberated 76% of its Karabakh territory from occupation during the 44-day war in 2020, is now liberating the remaining 24% from terrorists. Azerbaijan is also extremely determined to liberate its rightful lands. If Armenia is wise, it will meet Azerbaijan's legitimate, justified expectations… If not, eventually Azerbaijan will snatch by fire and sword what rightfully belongs to it on the ground and conclude by saying "Karabakh is Azerbaijan". Its opportunity and ability to do so are obvious. Now there is a completely different Azerbaijani army, which has become stronger thanks to ground, air and naval forces equipped with drones and modern defence and attack systems. Moreover, in Azerbaijan, which is a country of stability not only in the military sense, but also in terms of administration and economy, all politicians, the government, the opposition and the people form a unity. There is no contradictory voice or movement. Everyone is united by the belief and determination of the common cause. In other words, as President Ilham Aliyev said, Azerbaijan is tight, like an iron fist. The world knows and has seen very clearly once again that Turkey will not stand still and pursue these despicable attacks, both from the perspective of the alliance born through the Shushka Declaration and because of the unconditional support given to brother Azerbaijan even without that declaration…
https://www.milliyet.com.tr/yazarlar/tunca-bengin/karabag-azerbaycandir-azerbaycan-turkiyedir-7008520?sessionid=2
The movement of ships in the Dardanelles Strait is temporarily suspended in one direction due to the breakdown of the tanker.
This is reported by the Turkish TV channel A Haber, reports the Russian website PortNews.
According to the latest data, the 183-metre Sappho tanker under the Liberian flag was sitting at the mouth of the strait at the exit of the Sea of Marmara from the Aegean Strait due to engine failure while travelling from Istanbul to Greece. The tugs of the General Directorate of Coastal Safety of the Turkish Ministry of Transport and Infrastructure, Kurtarma-13 and Kurtarma-15, headed to the scene.
It is noted that the movement of ships along the Bosphorus in a south-north direction has been temporarily suspended.
Source: https://www.blackseanews.net/read/208884
Three new ships are moving towards Ukrainian ports for loading export products.
According to CFTS, this was announced by Oleksandr Kubrakov, Deputy Prime Minister for Restoration of Ukraine, Minister for Communities, Territories and Infrastructure Development of Ukraine.
The vessels AZARA, YING HAO 01, ENEIDA have confirmed their readiness to use the temporary corridor for civilian vessels and are moving towards the ports of Pivdennyi and Chornomorsk.
After loading more than 127 thousand tons. tons of Ukrainian agricultural products and iron ore, the ships will depart for China, Egypt and Spain.
According to vessel traffic monitoring services, the bulk carrier AZARA is now at the entrance to the territorial waters of Ukraine in the Sulina area. Meanwhile, the other two ships are approaching Chornomorsk.
The first corridor temporarily installed by the Navy of the Armed Forces of Ukraine was used by the bulk carriers RESILENT AFRICA and AROYAT, which exported more than 20 thousand tons. tons of Ukrainian agricultural products to Asian and African countries.
Source: https://www.blackseanews.net/read/208883
In the Black Sea near the port of Novorossiysk, the sunken ship Roksolana 2 is gradually being destroyed.
Rosprirodnadzor conducted a survey at the flood site: analysis of the samples showed that pollutants are entering the water and the amount of damage to nature exceeded 151 million rubles. The head of the department, Svetlana Radionova, wrote about this on her Telegram channel, reports the Russian website PortNews.
According to her, the Krasnodar Territory administration did not take measures for the safe removal and disposal of the ship and left unanswered the request for voluntary payment for the damage caused to nature.
Earlier, Russia's Transport Ministry approved a list of sunken property whose disposal is mandatory. The list includes the Krasnodar Territory ship Roksolana 2. The document states that the ship poses a threat of damage to the marine environment through pollution, complicates the construction, reconstruction, repair and operation of hydraulic structures, submarine cables and pipelines. Work on the installation is scheduled to start in 2025.
Source: https://www.blackseanews.net/read/208869
Two exercises focusing on the integration of new maritime technologies into NATO operations and the ability of autonomous underwater vehicles to operate together are taking place in Portugal this month.
Starting on Monday (18 September 2023), the NATO-led exercise Dynamic Messenger 23 focuses on the integration of unmanned maritime systems into operations, including personnel, training and readiness issues. Dynamic Messenger 23 brings together more than 2000 civilians and military personnel ashore and on board ships as part of the exercise. Fourteen NATO allies, including host nation Portugal, are participating in the exercise, along with partner Sweden. This is the second iteration of the Dynamic Messenger series which began in 2022. The exercise is being conducted under the joint leadership of NATO's Allied Command for Transformation in the United States and NATO's Allied Maritime Command MARCOM in Northwood, UK.
Exercise REPMUS 23 (Robotic Experimentation and Prototyping with Maritime Unmanned Systems) takes place in the same region and focuses on capability development and interoperability. REPMUS is led by the host nation Portugal, with NATO being a key player since 2019. The exercise is co-organised by the NATO Centre for Maritime Research and Experimentation (CMRE), the Underwater Systems and Technology Laboratory (LSTS) of the University of Porto and the NATO Maritime Unmanned Systems Initiative (MUSI). Fifteen NATO countries are participating in the exercise, along with partners Ireland and Sweden.
Both REPMUS 23 and DYNAMIC MESSENGER 23 have developed significant partnerships between the private sector and academia and provide guidance for technological advances, operational concepts, doctrine and future work programmes. Both exercises are taking place around the Troia Peninsula in Portugal. Exercise Dynamic Messenger 23 takes place from 18-29 September 2023 and Exercise REPMUS 23 takes place from 11-22 September 2023.
Source: https://defence-industry.eu/nato-exercises-with-new-maritime-unmanned-systems-in-portugal/
During sea trials conducted remotely from its command centre in Brest, France, Thales successfully demonstrated the performance of the final component of its innovative mine countermeasures system – the remotely operated underwater vehicle – and its ability to neutralise sea mines.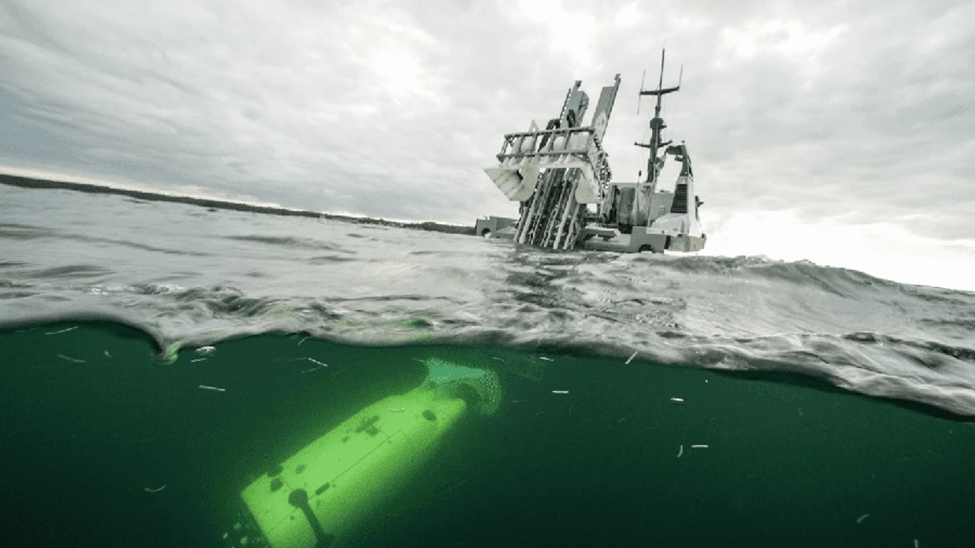 The MMCM programme draws on the latest developments in autonomous technologies, artificial intelligence, cyber security and unmanned systems to manage challenging operational scenarios as defined by the French Navy and Royal Navy. The first two prototype MMCM systems have been delivered gradually following qualification at sea in conditions up to and including sea state 41. Since the end of 2021, the naval forces have been conducting operational assessments and will receive the six mass-produced systems in 2024 and 2025.
As prime contractor and lead system integrator for the MMCM programme and working with an extensive network of partners, Thales has further strengthened its position as a global leader in drone-based mine countermeasures.
Successful testing is the latest milestone for the programme. Conducted with representatives from the French Navy, the French Defence Procurement Agency, the Royal Navy, the UK Ministry of Defence and OCCAr, sea trials demonstrated the system's ability to relocate and identify sea mines, and the remotely operated underwater vehicle successfully deployed exercise charges on a bottom mine and an anchored mine2 so that the neutralisation cycle could be completed. The demonstrations were conducted in realistic conditions at sea, with the Thales Operations Centre in Brest controlling the systems remotely and performing the functions of the Portable Operations Centre (POC) with the support of personnel from the French Navy.
This latest technological achievement is further confirmation of Thales' expertise in naval systems engineering, high-performance sonar, artificial intelligence, cyber security and autonomous technologies and demonstrates the ability of its M-Cube mission management system to integrate a range of different types of subsystems. It promises to redefine the concept of mine countermeasures operations, ensuring that naval personnel stay out of the mine danger zone. Human operators rely on advanced systems to detect, classify, locate, identify and neutralize even the most sophisticated and well-hidden mine threats with a high level of accuracy and reliability. A state-of-the-art processing and visualisation system, powered by artificial intelligence algorithms, performs real-time (in-step) and/or post-mission analysis of sonar data.
Integration of the first mass-produced subsystems into the overall system of systems has begun at the Brest plant, with delivery to the naval forces scheduled for early 2024. These subsystems include unmanned surface vehicles using either the towed array TSAM sonar or the remotely operated underwater vehicle (ROV) for mine identification and neutralisation. Mission preparation, monitoring, control and evaluation are carried out by operators in the Portable Operations Centre (POC) or Shore Operations Centre (SOC).
"Since signing the contract in 2015, our teams and partners have invested their skills, energy and passion to ensure that Thales can meet the technological challenges of this extraordinary programme. We are fully committed to providing the French Navy and Royal Navy with the most innovative technologies to protect their strategic assets and keep naval personnel out of harm's way. These latest milestones provide further proof of our unwavering determination to meet these goals," says Gwendoline Blandin-Roger, Vice President, Underwater Systems, Thales.
Source: https://defence-industry.eu/thales-demonstrates-mine-neutralisation-capability-of-remotely-operated-underwater-vehicle/
The Directorate of Material Procurement (NDMA) of the Norwegian Ministry of Defence has just congratulated Navantia on the excellent execution of the contract for the Fridtjof Nansen class (F-310) frigate configuration audit, concluded this year.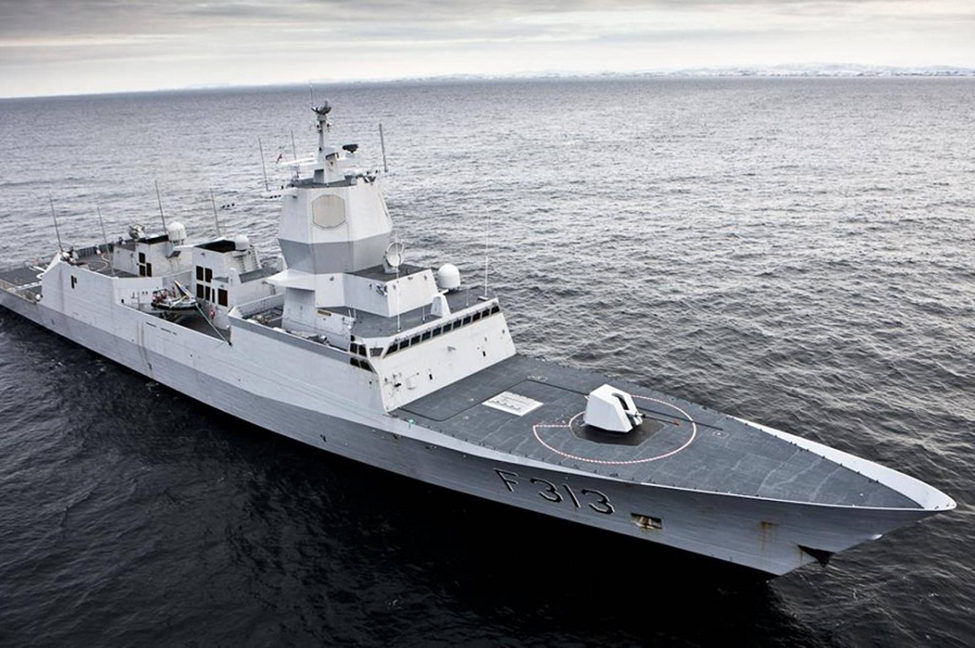 This work, contracted in January 2022, consisted of carrying out configuration audits corresponding to the Nansen frigates in order to integrate into the design documentation all changes introduced by NDMA in the frigates since their delivery. This work, carried out under full coordination between Navantia and NDMA, allows the start of the modernization phase of the frigates to be facilitated and for which Navantia is in permanent contact with NDMA.
This commendation from NDMA joins the ongoing strengthening of the relationship between the Norwegian Ministry of Defence and Navantia, as evidenced by additional contracts such as the feasibility phase of the modernisation programme and major modifications (I-Mods) on Nansen frigates.
Source: https://defence-industry.eu/navantia-concludes-contract-for-audit-of-fridtjof-nansen-class-frigates/
Intracom Defense (IDE) has signed a contract with Raytheon Technologies for the production of electronic modules to support and sustain the Rolling Airframe Missile (RAM) surface-to-air missile.
The contract, valued at $4.16 million, signifies an extension of the two companies' long-standing and successful cooperation and strengthens IDE's position as a key supplier in Raytheon Technologies' global supply chain, IDE said in a statement.
Intracom Defense is a highly regarded defense systems company in Greece with an outstanding record of domestic program participation and exports to quality-oriented international customers. The company uses state-of-the-art technologies in the design and development of advanced products in the fields of missile electronics, tactical IP communications, C4I systems, surveillance, hybrid power systems and unmanned systems.
Source: https://defence-industry.eu/raytheon-ide-partnership-enhancement-in-the-ram-programme/
The Lewis and Clark-class ship USNS Charles Drew (T-AKE 10) conducts an at-sea refueling with the unmanned surface ship Ranger, while the Arleigh Burke-class guided-missile destroyer USS Shoup (DDG 86) watches during Integrated Battle Problem (IBP) 23.2, Sept. 16, 2023. IBP 23.2 is a Pacific Fleet exercise to test, develop and evaluate the integration of unmanned platforms into fleet operations to create combat advantages. (MC2 Jesse Monford / US Navy)
Four unmanned ships are now operating out of Japan for the first time as part of the U.S. Navy's Integrated Battle Problem 23.2 exercise, which aims to deploy these unmanned ships into routine fleet operations.
These unmanned surface ships do not operate under special protocols or additional safety measures: the commander of USV Division 1 told reporters that they are being used as fully operational, not experimental, tools to help manned ships carry out their missions in the Pacific as part of this exercise.
The medium-sized Sea Hunter and Sea Hawk and the Mariner and Ranger, which are prototypes for the Navy's planned program for large unmanned surface ships later this decade, left Southern California earlier this summer to transit the Pacific for this exercise. They arrived in Yokosuka, the headquarters of the U.S. 7th Fleet, this week.
Along the way, the USVs integrated with the Carl Vinson Carrier Strike Group during full-scale Exercise 23, with other ships they passed along the way and with Japanese commands, including the 7th and 15th Destroyer Squadrons, Task Force 76 and III Marine Expeditionary Force, said 1st USV Division commander Cmdr. Jeremiah Daley, to reporters Thursday evening.
During all of these engagements, 1st USV Division personnel embarked with ships and command staff, much like a helicopter detachment or law enforcement detachment would embark on a ship and play a central role in operations. They immersed themselves in the mission planning process, offering USVs as a fully operational tool to help deploy missions – even though these USVs are prototypes that have never deployed this far from home port and many of these operations are the first of their kind.
This has been a challenge, Daley admitted – but not necessarily because his ships are unmanned.
"Even if we were a new traditional ship – manned – integrating, planning and using something new into already established tactics, techniques and procedures is not an easy task to do," he said.
During operations in Southern California, which were considered development and training activities, the USV 1st Division attempted to integrate its ships into manned combatant operations, but these short-lived collaborations were limited in scope.
"Nothing can replace being on the ground, so to speak, or conducting real-world operations. You can try to simulate that in a more static environment, but you really don't get that direct feedback from the fleet as quickly or as effectively as if you're conducting real-world operations, where planning has to be much more concise and well thought out," Daley said.
During this overseas deployment, he said the team stretched, transferring command and control of ships from the maritime operations center in Port Hueneme, California, to command stations on nearby ships at shore locations.
USVs have been kept in fully autonomous mode as much as practical – though they are always under human control when entering and exiting ports, and Ranger and Mariner have had a master mariner on the bridge around the clock to monitor the autonomy software, which is still part of an ongoing development effort.
Unmanned surface ships Mariner and Ranger maneuver in the Pacific Ocean during Integrated Battle Problem (IBP) 23.2, Sept. 16, 2023. IBP 23.2 is a Pacific Fleet exercise to test, develop and evaluate the integration of unmanned platforms into fleet operations to create combat advantages. (MC2 Jesse Monford / US Navy)
The geography itself has also stretched division personnel in ways they couldn't replicate at home.
Daley said the ships don't use different protocols or other procedures while operating out of Japan versus at home.
Source : https://www.defensenews.com/naval/2023/09/22/navy-brings-unmanned-vessels-to-japan-to-bolster-fleet-integration/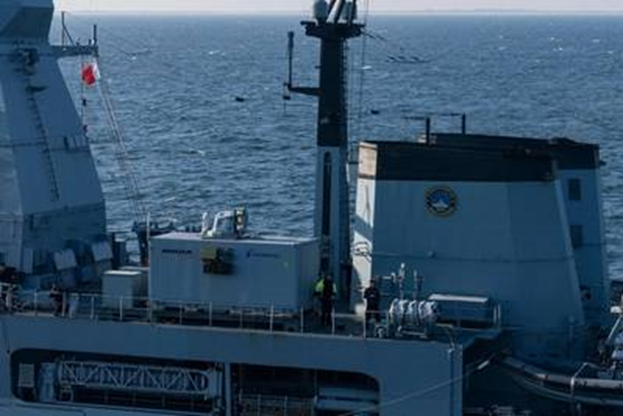 Laser Weapon Demonstrator (LWD) tests aboard the German frigate Sachsen have been successfully completed, following the integration of the LWD in June 2022, MBDA, a European multinational group specialising in complex weapon systems.
The Naval High Energy Laser Demonstration Group (or ARGE), consisting of MBDA Deutschland GmbH and Rheinmetall, is responsible for the development and construction of the LWD and for supporting the tests planned and organised by the Federal Office of Equipment, Information Technology and Service Support (BAAINBw).
According to MBDA, during the tests, which included six campaigns lasting almost a year, the combat effectiveness of the LWD was proven in increasingly complex scenarios, under realistic operating conditions and against different types of targets.
This included all aspects of LWD: from detection and tracking (including highly agile targets); the interaction of sensors, command and weapons engagement systems and effectors; possible rules of engagement; and successful engagement of targets with a high-energy laser beam.
"LWD has conducted more than one hundred test firings aboard the Sachsen and has proven that a laser is capable of successfully engaging targets in a maritime environment.
At the end of the tests, the LWD's capabilities were successfully demonstrated at two VIP days in front of senior representatives of the Federal Office for Equipment, Information Technology and In-Service Support (BAAINBw), the German Navy and Army, as well as the Bundeswehr Office for Defence Planning (PlgABw), which included shooting down a drone. Representatives of the British, Dutch and Norwegian navies also took part in the demonstration.
"The huge success of the test campaign was due to the excellent cooperation between BAAINBw and its subordinate detachments, the German Navy and in particular the crew of the frigate Sachsen and ARGE, the industry working group," MBDA said.
After almost a year of testing, BAAINBw and the defence industry have gained valuable knowledge about the operational possibilities, performance capabilities and development potential of high-energy laser effectors. The demonstrator is currently undergoing a detailed examination, after which it will be transferred to the Bundeswehr Technical Centre 91 in Meppen. The test results and subsequent analysis will be used to minimise risks in a possible next phase, namely the development of an operational laser weapon system, MBDA said.
"The prerequisites for the development of a first laser weapon have generally been established. Both companies have launched internal preparations for the development phase in their own area of responsibility," MBDA added.
"Complementing weapon-based systems and guided missiles, an operational laser weapon system lends itself particularly well to countering the threat of drones, drone swarms, speedboats and possibly missiles at very close range. In the future, it could also undergo a performance upgrade for destroying supersonic missiles, rockets, mortars and artillery shells," MBDA said.
Source: https://www.marinelink.com/news/nextgen-naval-defense-laser-weapon-system-508255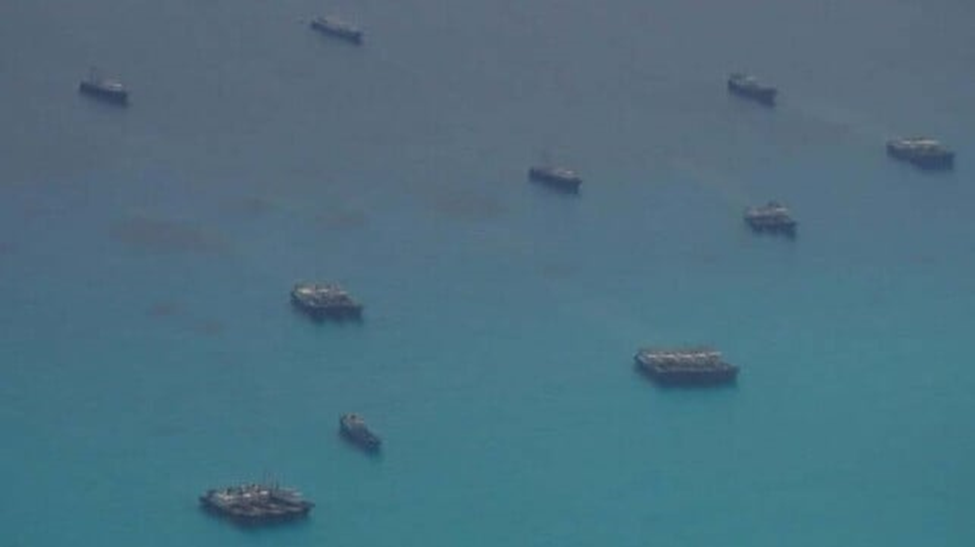 Chinese fishing vessels at Iroquois reef, September 2023 (Armed Forces of the Philippines)
The Philippine armed forces have accused Chinese fishing interests of illegally damaging coral on a large scale at Iroquois Reef, a disputed land feature in the Spratly Islands.
China maintains a large fleet of subsidized, militia-operated fishing vessels in the Spratly Islands and deploys them for presence and intimidation missions. In the past, Chinese fishing operators have long been accused of illegally harvesting in this region of the Philippine exclusive economic zone, often with oversight provided by Chinese Coast Guard cutters. Giant clams are prized for their shells in China, and Chinese fishermen will destroy reef structures to expose and catch valuable specimens.
In a recent patrol near Iroquois Reef, AFP discovered what it believes is evidence of "massive" destruction of corals by Chinese fishing vessels. The boats left when Philippine forces arrived.
"When they left, we sent our divers to do an underwater survey and… We saw there were no more corals. The corals were destroyed," Vice Admiral Alberto Carlos, head of AFP's Western Command, told a news conference.
Philippine forces were stationed at the scene to protect the reef for a long time, but eventually had to return to port. After they left, the Chinese fishing vessels went down to the reef, Carlos said.
"We are the only ones who have the right to the West Philippine Sea and it seems someone is exercising that right without our permission," Carlos said. "We would like to maintain 100 percent [presence], 365 days a year. But. Our troops have to go back to port to refuel, to rest."
Western Command has seen an increase in the number of maritime militia vessels in the Spratlys lately, with about 30 of the subsidized fishing vessels operating in Philippine waters. This is less than the more than 200 vessels sighted at Union Banks in 2021, but is still a cause for concern.
The good news for the Philippine government is that the destruction of the resource could provide sufficient justification for a new lawsuit against China. Former attorney general Francis Jardeleza told the Manila Times over the weekend that the Philippines could sue China for actual damages at the Permanent Court of Arbitration in The Hague (PCA), based on the 2016 PCA ruling in favor of the Philippines. In that case, the PCA rejected China's maritime claims in the South China Sea – but could not rule on damages because no claim for compensation was sought. According to Jardeleza, Manila could also sue for China's impact on fisheries and other resources within the Philippine EEZ and could also get compensation for exemplary (punitive) damages.
Source: https://www.maritime-executive.com/article/philippines-finds-massive-coral-reef-damage-from-chinese-harvesting