1st Black Sea Security Conference – Article for information
Ukraine and Romania organised the first Black Sea Security Conference under the aegis of the International Crimean Platform in Bucharest on 12-13 April at the National Military Circle. The conference was organised by the Ministry of Foreign Affairs of Ukraine, the Ministry of Defence of Ukraine, the Ministry of Foreign Affairs of Romania, the Ministry of National Defence of Romania and the Centre for Defence Strategies (Ukraine).
The conference was held in a two-day format, with three panel discussions, political-military level (lessons learned, plan for the present, future) and expert level analysis.
The main purpose of the Conference was to discuss the consequences of Russia's war of aggression against Ukraine for the wider Black Sea region and the world at large, in order to develop recommendations for further measures to strengthen security in the Black Sea region.
More than 20 states and international organisations participated in the Black Sea Security Conference, held in Bucharest under the aegis of the International Crimean Platform, at the level of Minister, Secretary of State or other senior officials (such as Ukraine, Republic of Moldova, Germany, France, Lithuania, Latvia, Slovakia, Bulgaria, Hungary, Turkey, Luxembourg, Finland, Netherlands, Montenegro, North Macedonia, Georgia, NATO (Deputy Secretary General), Council of Europe (Secretary General), Organisation for Democracy and Economic Development – GUAM (Secretary General)). Foreign ministers and high-level representatives from 7 other countries and international organisations also spoke online (Sweden, Greece, Spain, Japan, Australia, Guatemala, Organisation for Security and Cooperation in Europe – OSCE (Secretary General)). A number of foreign delegations were represented through their embassies in Bucharest, and in total more than 250 representatives from 30 countries attended the Conference.
The Maritime Security Forum was represented at the conference by Cam. (ret.) CONSTANTIN CIOROBEA and Cdor (r) prof. univ.CRĂCIUN IOAN
On the first day, expert-level discussions were held, coordinated by experts from the International Crimean Platform and the Centre for Defence Strategies (Ukraine).
In the first panel, Crimean Platform experts presented a vision on the future security configuration in the Black Sea region "Vision for a prosperous, peaceful and secure Black Sea Region".
The second panel looked at cyber threats and methods to combat Russian disinformation. "The first cyber war. Combating Russian disinformation".
The third panel looked at how Russia's information warfare works (as an example the situation of the Crimean peninsula during the temporary Russian occupation was developed) and why these issues can pose challenges to the international security system.
Relevant issues presented in expert-level discussions:
-The liberation of Crimea is of decisive importance for the old Europe
-EU to amend Maritime Security Strategy according to new realities in Eastern Europe
-NATO to seriously address the security issues in the Black Sea, an HQ in the region is needed
-Establish an early warning centre with input from countries in the region
-building a coalition of forces for future mine action
-The militarisation of Crimea has been a security challenge for countries in the region, but it has facilitated support for Russia's actions in the Mediterranean, and Russia is currently working to establish a base in Sudan in addition to its base in Syria.
-A common and united approach to the challenges of the Russian Federation by all regardless of the regions. There should be no higher priority areas on NATO's eastern flank
-Regional solutions must take account of Turkey's interests
On the second day, at the politico-military level, agenda items included: discussions on Black Sea security, analysis of lessons identified from Russia's large-scale invasion, prospects for the democratic world.
Foreign Minister Bogdan Aurescu, together with his Ukrainian counterpart Dmytro Kuleba (via VTC), Romanian Minister of National Defence Angel Tilvăr and Ukrainian Minister of Defence Oleksii Reznikov, opened the conference.
The first panel, "Lessons Learned: the large-scale invasion of the Russian Federation in Ukraine, its multidimensional impact, lessons for the democratic world", was moderated by Emine Dzhaparova, First Deputy Minister of Foreign Affairs of Ukraine, and introductory remarks were presented by Peter Van Praagh, President of the Halifax International Security Forum, Canada and Simona Cojocaru, Secretary of State, Ministry of National Defence Romania.
Discussion points:
-Lessons learned from the war against Ukraine
-Security situation in the Black Sea and Azov regions
-Major threats to Euro-Atlantic and global security
Halifax Peter Van Praagh/ President of the International Security Forum "Good things happen when the good guys win wars. Putin must fail"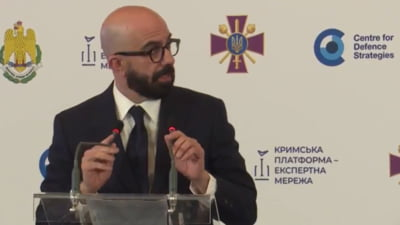 Halifax Peter Van Praagh presented three views:
It is important to realise where we are. The Black Sea region and the whole world are in a much stronger position today than in February 2022. The world and the whole region is stronger because Russia is weaker. In February 2022 a new era began for the whole world. Putin launched an invasion of Ukraine. And Ukraine fought back. Despite the conventional narrative, it was not Russia's attack on Ukraine that brought unity to the allies. No. It was Ukraine's struggle and sacrifice that gave the US, Canada, the EU, NATO and others unity. Ukraine not only saved itself, it saved us. If Ukraine had surrendered, as some European leaders demanded, we would have ended up with a weakened Europe, a divided NATO, a humiliated America, all facing Russia while Xi Jinping smiles from behind in China."
"Black Sea neglect must be acknowledged"
Russia has allowed itself to invade Georgia and Crimea at a time when the US administration has been weakened, and that mistakes like neglecting the Black Sea area must not be repeated. "President Zelenski's Ukraine has taught us again that our democracies are worth saving. We must be indebted to every Ukrainian. They are all heroes for reminding us of this fundamental truth.
We must also acknowledge past mistakes. At the NATO summit in Bucharest, President Bush officially announced three hours beforehand that he was supporting the MAP, the plan by which Georgia and Ukraine could join NATO. The next day, that American initiative was rejected by Merkel's Germany and Sarkozy's France. A few months later, Obama was elected president. It was the low point of American influence. Then Putin invaded Georgia, invaded Crimea. The neglect of the Black Sea region must be acknowledged. It's the only way to avoid more such mistakes."
"Europe will be under peace only when Ukraine is under peace"
Many of these good things cannot be foreseen now. At present we cannot imagine what the world will be like after victory, with a defeated Russia. But it will come. The Black Sea region will benefit from Ukraine's combat experience to ensure that Russia does not subject other states to aggression. It is late, but not too late for all allies to unite in a common vision to win the war. If I had to make a prediction, this is it. Europe will soon realise that Europe, whole, free and at peace will only happen when Ukraine is whole, free and under peace, together with Moldova and Georgia."
///////////////////////
The second panel "The Immediate Plan, Necessary Responses to Current Threats and Challenges in the Wider Black Sea Region", was moderated by Andriy Shevchenko, Deputy Minister of Defence of Ukraine, with introductory remarks by Iulian Fota, State Secretary, Ministry of Foreign Affairs and Damir Črnčec, State Secretary, Ministry of Defence of Slovenia.
Discussion points:
-Ensuring freedom and safety of navigation, demining of sea lanes
-Developing situational awareness
-Strengthening the resilience and defence capabilities of states in the region
-Resolving protracted conflicts
The closing panel of the Conference consisted of the Head of the Romanian diplomacy, together with the Ministers of Defence of Romania and Ukraine, the First Deputy Foreign Minister of Ukraine Emine Dzapharova, together with the Deputy Secretary General of NATO and the Minister of Foreign Affairs of the Republic of Moldova where the topic "Future Configuration. What is the future of regional security in the Black Sea and Sea of Azov regions? Towards a Euro-Atlantic Strategy for a Stable, Secure and Prosperous Black Sea Region", was moderated by Alina Frolova, Vice President of the Centre for Defence Strategies (Ukraine), and the introductory remarks were presented by Iulian Chifu, State Counsellor, Oleksandr Khara, Expert, Crimea Platform.
Discussion points:
-Consolidating deterrence and defence
-Improving the security of critical infrastructure
-Strengthening resilience
-Developing regional energy and food security; developing stronger regional economic links.
Minister Bogdan Aurescu presented his vision, in 7 priority points, on how the strategic importance of the Black Sea region can be translated into practice:
-full and effective implementation of international law instruments (including on Crimea and holding Russia accountable for its crimes);
-development of defence and deterrence capabilities, across the board of allied states, including Eastern Flank posts) and partners;
-projecting stability and avoiding further conflict, in the complex context of protracted conflicts in the region that need to be resolved;
-developing sustainable and resilient democratic and security systems;
-addressing security in a broad sense – including components such as protection of energy infrastructure, civil protection, natural disaster management, de-mining and others;
-addressing the wider Black Sea region, including all relevant actors;
-maintaining the transatlantic projection of the Black Sea and increasing US involvement.
In his speech, Minister Bogdan Aurescu underlined the essential importance of the Black Sea for regional, European and Euro-Atlantic security, as well as the stakes of the developments in the region for the rules-based international order. "A stable and prosperous Black Sea region would generate security and economic benefits for the whole of Europe, the Euro-Atlantic region and the whole world. I invite all of you to project such a vision and contribute to such an effort."
Synthesis of the Maritime Security Forum