POLAND-A possible way to follow-Author: Aurel POPA[1]
EDITORIAL
Europe focuses again on Russia
The security environment in Europe has changed unexpectedly in Russia's favour, due to a number of factors such as NATO enlargement, decisions by European states to strengthen their military capabilities and additional US commitments. This situation has arisen after decades of various US presidents encouraging European states to increase their defence spending.
In the wake of Russia's invasion in 2022, Europe's security concerns have shifted east and north, and Russia has become a major focus of defence policy and defence procurement plans. Although the Western reaction has been led by the United States, their concerns are not universally valid. China remains Washington's main challenge, and many Middle Eastern and African states have taken a wait-and-see approach to the conflict in Ukraine.
However, Russia's invasion in 2022 has prompted Finland and Sweden to formally apply to join NATO, leading to a reassessment of defence priorities in many European countries. Germany, for example, has announced a €100 billion defence fund to deal with new threats[2]. Poland has also decided to increase its defence budget from 2% to 3% of GDP in 2023 and has begun a rapid programme to modernise its ground forces with new equipment.
As for the position of other states, China and India have remained neutral in the conflict but have taken an observer position, while others have had more hard-line calculations about how the conflict may directly affect them, for example in relation to the supply of hydrocarbons or military equipment.
It is clear that Russia will remain an important issue in Europe's defence and security policy over the next decade. At the same time, other threats, such as China, need to be considered and ways of collaboration and cooperation found to address these global challenges.
In recent years, Poland has become a strong ally of NATO and a vocal defender of Ukraine's security and sovereignty. Russia's invasion in 2022 has brought these concerns to the forefront, forcing Poland to take additional steps to ensure its national security. Moreover, it has also changed Poland's perception of Russia, which until then had been an important neighbour and trading partner.
In the days immediately following the invasion, Poland made an urgent appeal to NATO to ensure that the alliance was prepared to deal with any threat from Russia. In addition, Poland sent weapons and other aid to Ukraine via Rzeszów-Jasionka airport. These efforts to help Ukraine have made Poland a target of Russian threats.
Although Poland and Russia have had a tense relationship in the past, the invasion of Ukraine brought these tensions to an unprecedented level[3]. Russia's military operations in Ukraine have shown how brutal Russia can be in attacking a neighboring nation and have changed Poland's perception of Russia, which has been revised as an aggressive and unfriendly country. At the same time, Poland has strengthened its relations with NATO and become a stronger partner in the alliance, contributing to its efforts to prepare for a potential threat from Russia.
The invasion of Ukraine brought significant changes in Poland's security policy and its perception of Russia. Poland made considerable efforts to help Ukraine and became a stronger NATO ally. However, tensions between Poland and Russia are becoming increasingly high and Poland must be prepared to deal with any threat to its national security.
Indeed, towards the end of 2022, a broad consensus has emerged among the Polish political class that Russia has evolved into a serious long-term threat. Polish leaders assume that Moscow's desire to erase Ukraine's sovereignty will persist as a policy regardless of the outcome of the war. Warsaw also fears that Russia, will continue to pose an existential threat to its neighbors, with Poland as the flanking nation at the forefront.
A change to the budget
This shift in Poland's threat perception has been accompanied by a rapid increase in defence spending. Before 24 February, Warsaw was planning to gradually increase its defence budget from 2.2% of GDP in 2022 to 2.6% of GDP in 2026. This was changed in March, and a new spending level was set at 3% of GDP from 2023. In May, an extra-budgetary fund (Funduszu Wsparcia Sił Zbrojnych, FWSZ), which had been announced in 2021[4], was also set up to finance investments by issuing sovereign bonds. The plan is for the fund to add $6.3-8.4 billion to the $20.8 billion base defence budget in 2023, which could potentially increase Poland's total defence spending to over $29 billion. The latter figure would be close to 4% of GDP, making Poland the largest defence contributor in NATO by this measure[5].
First lessons from the war in Ukraine
The conduct of military operations in Ukraine led Poland to double its priorities for technical modernisation and force transformation. From the Polish perspective, while anti-armour weapons, man-portable air defence systems and armed unmanned aerial vehicles (UAVs) enabled an effective Ukrainian defence immediately after 24 February, Russia's attack was ultimately mitigated by armour, firepower, air defence and manpower.
In the meantime, Poland donated a significant amount of its own weapons to Ukraine. The transfers involved about 230 T-72 main battle tanks (MBTs), constituting the bulk of Poland's inventory; an unspecified number of other systems, such as PT-91 MBTs (a Polish derivative of the T-72), post-Soviet MBTs, and various artillery systems, including 54 of Poland's newly designed Krab self-propelled howitzers[6]. However, these donations led to gaps in Poland's armoured and mechanised inventories. and affected Polish stockpiles.
New purchases[7]
The scale of Poland's arms transfers to Ukraine, the first operational lessons learned from the war, and Poland's changing threat perceptions all underpinned Warsaw's decision to visibly accelerate defence investment. In the months since 24 February, Poland has launched several ambitious armament programmes. While the total cost of these projects is unclear at this point, as some contract terms and equipment specifications have not yet been finalised, they could be worth between $30 and $40 billion[8]. Moreover, this figure is in addition to existing flagship programmes that are already underway, and does not include planned investments such as the long-delayed programme for new submarines. The total value of Polish investment between 2022-2035 could reach $135 billion[9].
Land-based systems comprise the bulk of new investment. In July, in a historic return to an Asian prime contractor, Poland signed a framework agreement with South Korea for the delivery and licensed production of up to 1,000 K2 MBTs and 672 K9 Thunder self-propelled howitzers[10]. The first contracts were signed in August for 180 K2s and 212 K9s to be delivered between 2022-26. These are designed to fill the most pressing gaps in Polish armoured capabilities. In December, the first vehicles arrived at sea in Gdinya, Poland. In total the value of both contracts is $6.06 billion. Contracts are also expected for the licensed production of further vehicles after 2026. These will be more advanced versions, tailored to Polish needs and called K2PL and K9PL. It is worth noting that the government highlighted security of supply issues in justifying the choice of South Korea as a strategic partner. This suggests that the bilateral defence relationship could be driven, at least in part, by the idea that South Korean munitions and spare parts could be useful should the war in Europe escalate[11].
In May, Poland sent a letter of request to the US regarding the potential purchase of up to 500 M142 HIMARS launchers[12]. This would be equivalent to 80 standard US military batteries and, if the contract were to proceed on this scale, could be worth well over $10 billion. However, in October, Poland signed a framework contract to deliver 288 K239 Chunmoo launchers from South Korea between 2023-28, stating that the US would not be able to deliver the desired number of HIMARS systems in that timeframe. In July, Poland secured an agreement to deliver 116 M1A1 SA Abrams MBT units from US military stocks in 2023-2024. The main motivation behind the Abrams decision was to quickly fill the gap in Poland's armoured brigades; it will be partly funded by the US through the Foreign Financing system[13]. Meanwhile, Poland's 2021 request for 250 M1A2 SEPv3 Abrams remains on track. General Dynamics Land Systems said in August that it had received the order. That same month, a training school opened in Poland for Abrams tanks .
In a move to bolster its close air support capability, which until now has relied on some Soviet-era Mil Mi-24 helicopters, Poland announced in September its interest in purchasing 96 AH-64E Apache attack helicopters[14]. A letter of request was sent to the United States and included a proposal to lease helicopters owned by the US military until the new helicopters could be delivered. It is difficult to estimate the total value of the programme, but it could be around $12-15 billion. A smaller contract, worth $1.7 billion, was signed in July with the Italian firm Leonardo for the purchase of 32 AW149 multirole helicopters (with some close air support capability). Intelligence, surveillance and reconnaissance capabilities will be augmented with MQ-9A Reaper systems, which were leased in October from the US as a "bridge" option, allowing both rapid delivery of a new capability and the creation of a training package ahead of the procurement process. In this context, new investment in the air force seems less ambitious. Seeking a replacement for its ageing fleet of MiG-29 Fulcrums and Su-22 Fitters, in September Poland signed a contract worth about $3.02bn for 48 FA-50 Fighting Eagle multirole aircraft as part of its wider partnership with South Korea. The first batch of 12 FA-50 aircraft will be delivered in 2022-23 in a basic trainer configuration. This will be followed by 32 upgraded FA-50PL aircraft from 2025-2028, which include features such as an active radar with electronic scanning and are designed to serve in both air-to-air and ground attack roles.
The scale of the investment in new capabilities is accompanied by an ambitious plan to grow the armed forces to 300,000 by 2035. This total would comprise around 187,000 professionals (in 2022, this number was around 114,000), plus 50,000 volunteer members of the Territorial Defence Forces (32,000 at the end of 2021) and a further 50,000 recruited under a new one-year service. While this plan may resemble conscription, with troops undergoing one month of basic training and up to 11 months of specialist training, they are salaried (troops will be paid more than previous years' recruits) and designed for volunteers only[15]. The new staffing plan stems from the decision to create two more divisions (which would bring the total to six divisions) and to reinforce the existing mechanized divisions with one additional armored brigade each. These are understood to be key assumptions of the Polish "Model 2035" concept[16]. The process of establishing the fifth division began in September. It will be deployed in eastern Poland, between the 16th Mechanized Division, which is generally oriented to the north and northeast (including the Suwalki Gap and the area bordering the Russian exclave of Kaliningrad), and the 18th Mechanized Division, which is responsible for the defense of eastern and southeastern Poland[17].
The latter unit is still under development and will be equipped with M1A1 SA and M1A2 SEPv3. Abrams MBT and, in the future, with AH-64 Apache aircraft – resembling, in fact, the structures of the US Army. The intention is for the unit to provide defence and deterrence against potential Russian-Belarusian operations in the direction of Brest (a city in Belarus)[18].
Sustainability
Poland's technical modernization and transformation forces can be seen as an attempt to develop a posture capable of at least mitigating, and possibly stopping, potential Russian aggression against NATO's eastern flank below the nuclear level. The security guarantees provided for in Article 5 of the Washington Treaty are unquestioned by the political class in Poland. So is the broader strategic relationship with the US, which involves American deployments in Poland. And Poland welcomed as a step in the right direction the review of NATO's defence and deterrence posture towards Russia at the 2022 summit in Madrid. However, Warsaw appears to be considering a scenario in which the US and NATO military response to a potential Russian escalation could be slower than necessary – perhaps because of a military contingency in the Indo-Pacific. This is also important in the context of longstanding US demands that its European allies shoulder more of the burden of defense and deterrence in Europe. The Madrid Summit in 2022 was followed by a process of updating not only NATO's capability plans, but also the requirements that will be expected of allies. The sustainability of Poland's plans for modernising and equipping the army depends on a number of factors, such as the country's economic situation, the availability of resources and investment in research and development.
Questions were raised about the sustainability of Poland's plans. Concerns include a lack of personnel and inadequate infrastructure, as well as doubts about the ability of the Polish economy to continue funding defence at such a historically high level. High inflation (17.2% p.a. in September 2022) and a possible recession are important factors that may limit Polish investment ambitions. In October, the $3.2 billion bond issue[19] intended to provide money for the extra-budgetary modernisation fund was abruptly halted. According to analysts, this may suggest only limited interest from financial markets. These investments will be needed in areas other than equipment purchases. Poland's new systems will require a separate modernisation effort for military infrastructure such as training and maintenance facilities. In addition, there are doubts about whether the armed forces can attract enough young people to reach the 300,000 target, even with the flexibility offered by the new types of service.
Conclusions
Territorial defence and NATO membership are central pillars of Poland's defence policy. The main objective of the 2017-32 defence concept[20] is to prepare the armed forces to deter Russian aggression. Russia is characterised as a direct threat to Poland and a stable international order, a view accentuated by Russia's invasion of Ukraine in February 2022. Poland is one of the main European contributors to Ukraine's support efforts and has delivered a variety of defence equipment to Ukraine, including armour and anti-armour systems. There has been a rapid increase in defence spending to support investment projects. An extra-budgetary fund will provide additional funds to the basic defence budget[21]. The government continues to pursue the goal of permanently stationing US troops in the country. The US Army's V Corps Command has been established in Poznań at the end of 2020. There are ambitious plans to increase the number of personnel to 300,000 by 2035, including 50,000 to be recruited under a new one-year paid service programme. This stems from plans to set up an additional heavy division in the east.
Procurement reform has been underway for some time and a central armaments agency was established in January 2022. A technical modernisation plan covering the period 2021-2035 was published in October 2019, which extended the planning horizon from ten to 15 years. Ambitious modernisation plans are underway. The F-35A is due to arrive from 2024, and ground force capabilities will be boosted by the arrival of Abrams main battle tanks. Agreements have been signed with South Korea in 2022 for the purchase of FA-50 fighter jets, K2 MBTs and K9 self-propelled artillery pieces. Chunmoo MRLs will also be bought, along with US HIMARS systems. Warsaw is continuing its plans to strengthen its national defence industrial base, much of which is now consolidated into the state holding PGZ, using technology transfers and international partnerships such as agreements with South Korea. Apart from PGZ, several international defence companies have subsidiaries in Poland.
The Polish Defence Minister signed on Tuesday 28 March 2023 a contract with a subsidiary of defence holding PGZ for the purchase of 1400 Borsuk infantry vehicles described as the biggest project of the Polish defence industry in the last 50 years.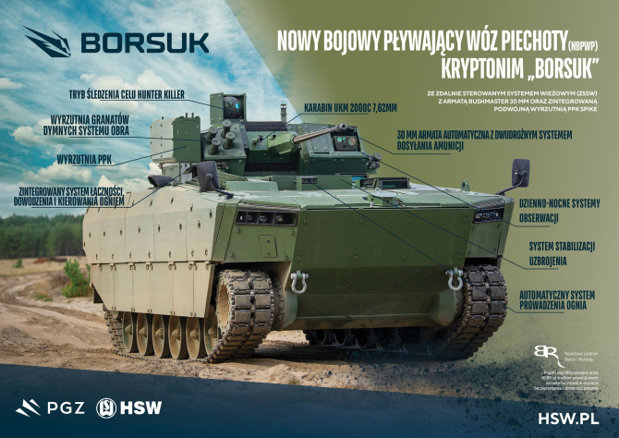 On the battlefield, the Borsuk armoured vehicles will cooperate with the South Korean Black Panther K2s that Warsaw ordered last year. In total, the Polish army will receive 1,000 tanks, 180 of which will be produced by Hyundai Rotem in South Korea, while another 820, in the K2PL variant, will be jointly produced by the two countries' defence industries. The first K2 tanks were delivered to Poland at the end of 2022.
*****************************************************
[1] Admiral(rtr) PhD. Aurel POPA. President of the Maritime Security Forum
[2] In January 2022, the German government announced that it would increase the defence budget by 2.1 billion euros this year, bringing the total to 50.3 billion euros. At the same time, spending on the development and procurement of military equipment will be increased by 1.4 billion euros, bringing the total to 12.4 billion euros. These are the first significant increases in the defence budget in recent years, and Germany aims to strengthen its military capabilities and play a more active role in European security policy. Sources: Politico, Reuters.
[3] "Poland's defence minister: Russia poses 'real threat' to Europe" (Reuters, 23 March 2022)
[4] The extra-budgetary fund (Funduszu Wsparcia Sił Zbrojnych, FWSZ) was announced in April 2021 as part of a $47 billion investment programme over the next 15 years to modernise and develop Poland's armed forces. The main purpose of this fund is to finance the acquisition of military equipment and the modernisation of Poland's military infrastructure. The fund is financed by taxes imposed on companies and has an annual budget of around $1 billion. The purpose of the fund is to provide financing for modernisation projects and the purchase of military equipment that cannot be covered by the state budget. The Fund is managed by a board consisting of representatives of relevant Polish ministries as well as representatives of the private sector and universities. "Poland to create $44 billion military investment fund," Defense News, January 22, 2021: https://www.defensenews.com/global/europe/2021/01/22/poland-to-create-44-billion-military-investment-fund/
[5] "Poland to Boost Military Budget by $2 Billion After Russian Invasion of Ukraine" – January 14, 2023 article on The New York Times website (https://www.nytimes.com/2023/01/14/world/europe/poland-military-budget-russia.html). The article describes Poland's decision to increase its defense budget by $2 billion and plans to modernize its armed forces following Russia's invasion of Ukraine.
[6] THE MILITARY BALANCE 2023
[7] "Poland Prepares for Russian Invasion of Ukraine" (Foreign Policy, March 2, 2022) The article "Poland Prepares for Russian Invasion of Ukraine" published in Foreign Policy on March 2, 2022, describes Poland's efforts to prepare for a possible Russian invasion of Ukraine. According to the article, Poland has mobilized over 100,000 troops and has begun to reinforce its borders with Ukraine by installing barriers and fortifications. Poland has also signed military cooperation agreements with countries such as the United States, Britain and Canada, and has begun receiving military assistance from them. The article points out that Poland fears not only a direct invasion by Russia, but also possible hybrid aggression, which could involve cyber or propaganda operations.
[8] "Poland's modernisation program seeks to tackle conventional and hybrid threats," Defense News, March 7, 2023. rticle in Defense News published on March 7, 2023 refers to Poland's modernization program aimed at strengthening its military capabilities in the face of conventional and hybrid threats. The article points out that Poland is allocating $44 billion to modernise its armed forces by 2035. Among the equipment to be purchased are tanks, fighter jets, warships, anti-ship missiles and air defence systems. The article highlights the importance of modernising Poland's land and air capabilities, as well as the need for significant investment in cyber and intelligence.
The article also highlights that the modernisation of Poland's armed forces is taking place in the context of tensions with Russia and in an attempt to deal with hybrid threats, including cyber attacks and propaganda. The article also stresses the importance of international cooperation in this effort, including with NATO allies and regional partners in Central and Eastern Europe.
[9] "Poland Seeks to Strengthen Its Military Capabilities Amid Russian Threat," The Wall Street Journal, March 12, 2023. This article describes Poland's plans to spend $44 billion to modernize its armed forces and purchase military equipment, including air defense systems and combat ships.
[10] The article on armyrecognition.com reports that Poland has signed a framework agreement with South Korea for the purchase and licensed production of up to 1,000 K2 main battle tanks and 672 K9 Thunder self-propelled howitzers. These vehicles are designed to fill gaps in Polish armoured capabilities and will be delivered between 2022-2026. In addition, contracts are expected for the licensed production of further vehicles after 2026. The total value of the two contracts is $6.06 billion. The article points out that Poland chose South Korea as a strategic defence partner because of security of supply concerns, suggesting that the bilateral relationship could be driven by the prospect of a potential war in Europe.
[11] "Poland's defense ministry unveils ambitious modernization plan" – 26 January 2023 article on the Defense News website (https://www.defensenews.com/global/europe/2023/01/26/polands-defense-ministry-unveils-ambitious-modernization-plan/). The article details Poland's armed forces modernization plans, which include the purchase of modern military equipment and improved cyber defense capabilities.
[12] In April 2021, Poland sent a letter of request to the United States regarding the potential purchase of up to 500 M142 HIMARS (High Mobility Artillery Rocket System) long-range rocket launchers. This purchase would be part of Poland's efforts to modernise its military capabilities and strengthen its national defence in the context of the growing Russian threat. In July 2021, the US State Department gave the green light to this purchase, and Poland signed an agreement to buy 20 HIMARS launchers in November 2021. Deliveries are expected to start in 2023 and continue until 2026. The total value of the purchase is estimated at $414 million.
[13] https://www.gov.pl/web/finanse/system-finansowania-zagranicznego-projektu. Foreign Financing System (FFS) is a program implemented by the Polish Government to enhance cooperation and economic and trade relations with other countries and international organizations. The programme aims to attract foreign investment and financing for the development of the Polish economy and for infrastructure and research projects. The main objectives of the FFS include: improving access to foreign financing for Polish enterprises, increasing exports of goods and services, attracting foreign direct investment and encouraging bilateral and multilateral cooperation with other countries. The programme is coordinated by the Polish Ministry of Development and Finance and provides support in accessing external financing through government agencies and international financial institutions. The FFS is an ongoing programme and is regularly updated to respond to the current economic and political needs of Poland and its international partners.
[14] In September 2021, Poland announced its interest in purchasing 96 AH-64E Apache attack helicopters. This would be Poland's largest military equipment purchase ever and would be primarily aimed at improving its air defence capabilities against potential threats from Russia. Poland plans to allocate a budget of $3.5 billion for the purchase of the Apache helicopters. According to plans, the first equipment would be delivered in 2026 or 2027, and the purchase would be completed in 2030.
[15] THE MILITARY BALANCE 2023
[16] "Model 2035" is Poland's long-term strategic development concept, which was launched in 2020 by the country's Ministry of Development and European Funds. It aims to modernise infrastructure, increase economic competitiveness, increase investment in research and development, improve quality of life and sustainable development by 2035. The concept also aims to develop military capabilities by investing in modern equipment and developing the defence industry to deal with hybrid and conventional threats. Model 2035 also includes measures to modernise and improve military infrastructure, including military bases, weapons depots and communications equipment, to enable the Polish Armed Forces to carry out their missions efficiently and effectively.
[17] "Poland to create fifth division for eastern border protection" – Defense News, 7 March 2022.
[18] THE MILITARY BALANCE 2023
[19] Extrabudgetary Fund (Funduszu Wsparcia Sił Zbrojnych, FWSZ)
[20] https://www.gov.pl/web/obrona-narodowa/koncepcja-obrony-rzeczypospolitej-polskiej-2017-2032. Poland's Defence Concept 2017-32 is a strategic document that sets out Poland's national security and defence priorities and objectives for the period 2017-2032. The document was drafted by the Ministry of National Defence in cooperation with other government institutions and was approved by the Supreme Council of National Defence in 2017. The main objective of the defence concept is to protect Poland's sovereignty and territorial integrity against any threat, regardless of its nature. Among the main threats identified in the document are military aggression by other states, cyber and cyber attacks, terrorism and illegal migration. The document states that Poland's main defence force is the Polish Armed Forces, and investment in their modernisation and development will be a priority. Other important objectives include improving intelligence and counter-intelligence capabilities, strengthening cyber security and reinforcing cooperation with international partners, especially NATO and other European countries.
[21] Extra-budgetary Fund (Funduszu Wsparcia Sił Zbrojnych, FWSZ)